Have a great time for
Christmas
, check out our latest
Christmas jokes of 2021
on:
Christmas jokes collection
As the bus pulled away, Janet ...
As the bus pulled away, Janet realized she had left her purse under the seat. Later she called the company and was relieved to find out the driver had found her bag. When she went to pick it up, several off- duty bus drivers surrounded her.
One of the men handed over her pocketbook, two typewritten pages, and a box containing the contents of Janet's purse.
"We're required to inventory lost wallets and purses," he explained. "I think you'll find everything there."
As she started to put my belongings back into the pocketbook, the man continued, "I hope you don't mind if we watch. Even though we all tried, none of us could fit everything into your purse... and we'd like to see just how you do it."
#joke
"The carpenter came r...
"The carpenter came round the other day, he made the best entrance I have ever seen."
Funny video of the day - Best Fails of the Week 3 October 2014
Q. How many programmers does i...
Q. How many programmers does it take to change a light bulb?
A. None. That's a hardware issue.

Waiting
Jim was startled to see the nonchalant way Jon was taking the fact that his lady love was seen with another man.
"You said you love her and yet you saw her with another man and you didn't knock the guy down?"
"I'm waiting," Jon said.
"Waiting for what?" asked Jim.
"Waiting to catch her with a smaller man."
#joke
What Was Its Name?
Two elderly couples were enjoying friendly conversation when one of the men asked the other, "Fred, how was the memory clinic you went to last month?"
"Outstanding," Fred replied. "They taught us all the latest psychological techiniques-visulization, association-it made a huge difference for me."
"That's great! What was the name of the clinic?"
Fred went blank He thought and thought, but couldn't remember.
Then a smile broke across his face and he asked, "What do you call that flower with the long stem and thorns?"
"You mean a rose?"
"Yes, that's it!" He turned to his wife. . ."Rose, what was the name of that clinic?"
#joke
The story of the bats
Two vampire bats wake up in the middle of the night, thirsty for blood. One says, "Let's fly out of the cave and get some blood."
"We're new here," says the second one. "It's dark out, and we don't know where to look. We'd better wait until the other bats go with us."
The first bat replies, "Who needs them? I can find some blood somewhere." He flies out of the cave.
When he returns, he is covered with blood.
The second bat says excitedly, "Where did you get the blood?"
The first bat takes his buddy to the mouth of the cave. Pointing into the night, he asks, "See that black building over there?"
"Yes," the other bat answers.
"Well," says the first bat, "I didn't."
#joke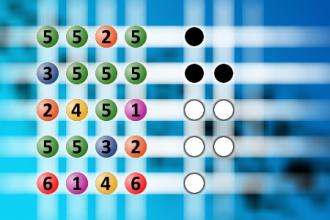 What a winning combination?
The computer chose a secret code (sequence of 4 digits from 1 to 6). Your goal is to find that code. Black circles indicate the number of hits on the right spot. White circles indicate the number of hits on the wrong spot.
Q: What do you call a Filipino...
Q: What do you call a Filipino contortionist?
A: A Manila folder.
Hot Tomato
Q: Why did the tomato blush?
A: He saw the salad dressing.
Just Fred
A cop stops a car for traveling faster than the posted speed limit. Since he's in a good mood that day he decides he might give the fellow a break and write him out a warning instead of a ticket.
So, he asks the man his name.
"Fred," the driver replies.
"Fred what?" the officer asks.
"Just Fred," the man responds.
When the officer presses him for a last name, the man tells him that he used to have a last name but lost it.
The officer thinks he has a nut case on his hands but plays along with it.
"Tell me Fred, how did you lose your last name?"
The man replies, "It's a long story so stay with me. I was born Fred Dingaling. I know, funny last name. The kids used to tease me all the time. So I stayed to myself. I studied hard and got good grades.
"When I got older I realized that I wanted to be a doctor. I went through college medical school, internship, residency, finally got my degree so I was Fred Dingaling, MD.
"After a while I got bored being a doctor so I decided to go back to school. Dentistry was my dream. Got all the way through school, got my degree so I was now Fred Dingaling, MD, DDS.
"Got bored doing dentistry so I started fooling around with my assistant. She gave me VD. So, I was Fred Dingaling, MD, DDS with VD.
Well, the ADA found out about the VD so they took away my DDS so I was Fred Dingaling MD with VD.
Then the AMA found out about the ADA taking away my DDS because of the VD, so they took away my MD leaving me as Fred Dingaling with VD.
Then the VD took away my dingaling . . . so now I'm just Fred."
The officer walked away in tears, laughing.
Viagra/Gore
What's the difference between Viagra and Al Gore.....Viagra
really works !
Weeping Willows are a result o...
Weeping Willows are a result of Chuck Norris yelling at trees for not being tough enough.
True or false?
A little kid's in school, taking a true-false test and he's flipping a coin. At the end of the test he's flipping the coin again. The teacher says, "What are you doing?" He says, "Checking my answers."
Ponderings Collection 34
Whose cruel idea was it for the word "lisp" to have an "s" in it?
Since light travels faster than sound, isn't that why some people appear bright until you hear them speak?
How come abbreviated is such a long word?
If it's zero degrees outside today and it's supposed to be twice as cold tomorrow, how cold is it going to be?
Since Americans throw rice at weddings, do Asians throw hamburgers?
Why are they called apartments, when they're all stuck together?
Why do banks charge you a "non-sufficient funds fee" on money they already know you don't have?
If a tree falls in the forest and no one is around to see it, do the other trees make fun of it?
When two airplanes almost collide why do they call it a near miss?? It sounds like a near hit to me!!
Do fish get cramps after eating?
#joke
Patton Oswalt: Obituary Fear
My other big obituary fear is, when I die, theyll have my picture, and they always have underneath it, in quotes, He loved to laugh. Oh, he loved to laugh. Well, that doesnt tell you anything. Everybody loves to laugh -- youre laughing! Thats like saying, He hungered for food.