Q: How do astronomers organize...
Q: How do astronomers organize a party?
A: They planet.
A young man took his new girlf...
A young man took his new girlfriend to a football game.
The young couple found seats in the crowded stadium and were watching the action. A substitute was put into the game, and as he was running onto the field to take his position, the boy said to his girlfriend,
"Take a good look at that fellow. I expect him to be our best man next year."
His girlfriend snuggled closer to him and said, "That's the strangest way I ever heard of for a fellow to propose to a girl. Regardless of how you said it, I accept."
#joke
Funny video of the day - Monkey Does The Laundry
"He's got a phonograp...
"He's got a phonographic memory. He repeats the exact same old lines like a scratched record."
Computer Programmer
Q. How many programmers does it take to change a light bulb?

A. None. That's a hardware issue.
"Diane, I just don't understan...
"Diane, I just don't understand?! I don't have a boyfriend or a husband, I can never get a date and guys just don't seem interested in me. I don't know what's wrong with me."
"You know what", her friend replied, "I know a Chinese doctor that can help you".
So, her friend gave her the doctor's address and the next day she went to see him.
She tells the doctor what her problem was and he proceeded to give her instructions.
"Take off your crows", the doctor says.
"What, what did you say?" she replied.
"take off your crows", the doctor repeated, motioning for her to take off her clothes.
"Ok, now craw to the window".
"What?", she asks.
"Craw to the window" he said as he got down on all fours to show her what he meant.
So she crawled to the window.
"Now craw back to me" he says motioning her to come back.
"Ah-ha!", he says, "I know what your problem is".
"Well, doctor, what is it?" she says anxiously.
"You have Zachary disease".
"Zachary disease, what's that?" she asks.
"Well, your face looks Zachary like your butt".
You got me!
A customer walks into a restaurant and notices a large sign on the wall, "$500 IF WE FAIL TO FILL YOUR ORDER!"
When his waitress arrives, he orders elephant tail on rye. She calmly writes down his order and walks into the kitchen where all hell breaks loose!
The restaurant owner comes storming out of the kitchen. He runs up to the customer's table, slaps five $100 bills down on it and says, "You got me that time buddy, but I want you to know that's the first time in ten years we've been out of rye bread!"
#joke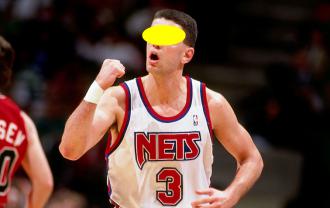 Can you name the athletes by the picture?
Can you name the athletes by the picture?
Would You Define OCR?
OCR - Optical Character Recognition
A technology that can take written words and convert them back into computer-readable form, provided they're in the right font, using the correct colors sometimes, at the right point size and pitch, dark enough on the paper, and you're prepared to spend several centuries correcting all the 1's that came out as l's, all the O's that came out as 0's, and all the :'s that come out like ;'s.
#joke
Ultimate rejection
What's the ultimate rejection?
When you're masturbating and your hand falls asleep.
Baseball Field
Q: What goes all the way around a baseball field but never moves?
A: The fence.
Competition at the retirement home
An old man and an old woman are together every night. They aren't married, but for years and years they have spent every night together. All they ever do is sit on the couch buck naked and watch TV while she holds his weiner.
Every night, like clockwork, they do this - sit on the couch watching TV while she holds his weiner.
One night he doesn't show up. Then a second night goes by - no show. She calls him up.
"Where you been?" "Oh ... I've been down at what's her name's." "What are you doing there?"
"Pretty much the same thing we do - sitting naked on the couch watching TV while she holds my weiner."
"Well, what does she have that I don't have?"
"Parkinson's."
#joke
A lawyer walks into a bar and ...
A lawyer walks into a bar and sits down next to a drunk who is closely examining something held in his fingers. The lawyer watches the drunk for a while till he finally gets curious enough to ask what it is.
"Well," said the drunk, "it looks like plastic and feels like rubber."
"Let me have it," said the lawyer. Taking it, he began to roll it between his thumb and forefinger, examining it closely. "Yes," he finally said, "it does look like plastic and feel like rubber, but i don't know what it is. Where did you get it?"
"From my nose," the drunk replied.
Free advice at social affairs?
A doctor and a lawyer were attending a cocktail party when the doctor was approached by a man who asked advice on how to handle his ulcer. The doctor mumbled some medical advice, then turned to the lawyer and remarked, "I never know how to handle the situation when I'm asked for medical advice during a social function. Is it acceptable to send a bill for such advice?" The lawyer replied that it was certainly acceptable to do so.
The next day, the doctor sent the ulcer-stricken man a bill. The lawyer also sent one to the doctor.
There were two guys working fo...
There were two guys working for the city. One would dig a hole -- he would dig, dig, dig.
The other would come behind him and fill the hole -- fill, fill, fill. These two men worked furiously; one digging a hole, the other filling it up again.
A man was watching from the sidewalk and couldn't believe how hard these men were working, but couldn't understand what they were doing. Finally he had to ask them.
He said to the hole digger, "I appreciate how hard you work, but what are you doing? You dig a hole and your partner comes behind you and fills it up again!"
The hole digger replied, "Oh yeah, must look funny, but the guy who plants the trees is sick today."
#joke
Damon Wayans: Bicycle Cop
I got pulled over by a bicycle cop in L.A. -- not a motorcycle cop, a bicycle cop. And Im in my car, and he gets out -- hes sweating, hes got these little shorts on. You know how fast you were going? Yeah, a lot faster than that bike.
Under a tack ....
Driving to work, a gentleman had to swerve to avoid a box that fell out of the truck in front of him. Seconds later, a policeman pulled him over for reckless driving. Fortunately, another office had seen the carton in the road. The policemen stopped traffic and recovered the box. It was found to contain large upholstery tacks.
"I'm sorry, Sir," the first trooper told the driver, "but I am still going to have to write you a ticket."
Amazed, the driver demanded to know the reason.
The trooper replied . . . "Tacks evasion."