"The high school musi
"The high school music teacher was quite controversial. He told his students to read band books."
Where will they ear wr
Where will they ear wrecked the Museum of Loud Music?
Funny video of the day - Black cat training ninja climbing skills
A picky customer comes to a sm
A picky customer comes to a small food shop and sees a new delivery of fresh fruit.
"Give me two kilograms of oranges and wrap every orange up in a separate piece of paper, please," he says to the saleswoman.
She does.
"And three kilograms of cherries, please, and wrap up every one in a separate piece of paper, too."
She does.
"And what is that there," he asks pointing out a bushel basket in the corner.
"Raisins," says the saleswoman, "but they are not for sale!"
#joke
Apple pie....
Little Johnny and his family lived in the country, and as a result seldom had guests. He was eager to help his mother after his father appeared with two dinner guests from the office.
When the dinner was nearly over, Little Johnny went to the kitchen and proudly carried in the first piece of apple pie, giving it to his father who passed it to a guest.
Little Johnny came in with a second piece of pie and gave it to his father, who again gave it to a guest.
This was too much for Little Johnny, who said, "It's no use, Dad. The pieces are all the same size."
#joke
Yo Mama Is So Bald
Yo mama so bald even a wig wouldn't help!
Yo mama so bald you can see whats on her mind
Yo mama so bald that she took a shower and got brain-washed.
Why Didn't Cain Please God?
Q: Why didn't Cain please God?
A: Because he just wasn't Able.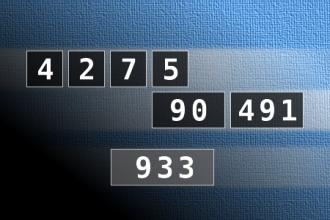 Calculate the number 933
NUMBERMANIA: Calculate the number 933 using numbers [4, 2, 7, 5, 90, 491] and basic arithmetic operations (+, -, *, /). Each of the numbers can be used only once.
Three engineers and three acco
Three engineers and three accountants were traveling by train to a conference. At the station, the three accountants each bought tickets and watched as the three engineers bought only one ticket.
"How are three people going to travel on only one ticket?" asked an accountant.
"Watch and you'll see", answered an engineer.
They all boarded the train. The accountants took their respective seats, but the three engineers all crammed into a rest room and closed the door behind them. Shortly after the train departed, the conductor came around collecting tickets. He knocked on the restroom door and said, "Ticket, please".
The door opened just a crack and a single arm emerged with a ticket in hand.
The conductor took it and moved on.
The accountants saw this and agreed it was a quite clever idea. So, after the conference, the accountants decide to copy the engineers on the return trip and save some money (being clever with money, and all that). When they got to the station, they bought a single ticket for the return trip. To their astonishment, the engineers didn't buy a ticket at all.
"How are you going to ride without a ticket"? said one perplexed accountant.
"Watch and you'll see", answered an engineer.
When they boarded the train, the three accountants crammed into a restroom and the three engineers crammed into another one nearby. The train departed. Shortly afterward, one of the engineers left his restroom and walked over to the restroom where the accountants were hiding. He knocked on the door and said, "Ticket, please."
#joke
There were two lovers, who wer
There were two lovers, who were really into spiritualism and reincarnation. They vowed that if either died, the other one remaining would try to contact the partner in the other world exactly 30 days after their death.Unfortunately, a few weeks later, the young man died in a car wreck. True to her word, his sweetheart tried to contact him in the spirit world exactly 30 days later. At the seance, she called out, "John, John, this is Martha. Do you hear me?"
A ghostly voice answered her, "Yes Martha, this is John. I can hear you."
Martha tearfully asked, "Oh John, what is it like where you are?"
"It's beautiful. There are azure skies, a soft breeze, sunshine most of the time."
"What do you do all day?" asked Martha.
"Well, Martha, we get up before sunrise, eat some good breakfast, and there's nothing but making love until noon. After lunch, we nap until two and then make love again until about five. After dinner, we go at it again until we fall asleep about 11 p.m."
Martha was somewhat taken aback. "Is that what heaven really is like?"
"Heaven? I'm not in heaven, Martha."
"Well, then, where are you?"
"I'm a rabbit in Arizona."
#joke
Light and hard
Q: What's the difference between light and hard?
A: You can sleep with a light on.
Charging Elephant
Q: How do you stop an elephant from charging?
A: Take away his credit card.
Yo mama is so fat on Halloween
Yo mama is so fat on Halloween she threw on a white sheet and went as Antarctica.
A dentist was getting ready to...
A dentist was getting ready to clean an elderly lady's teeth. He noticed that she was a little nervous, so he began to tell her a story as he was putting on his surgical gloves...
"Do you know how they make these rubber gloves?" She said, "No?"
"Well", he spoofed, "down in Mexico they have this big building set up with a large tank of latex, and the workers are all picked according to hand size. Each individual walks up to the tank, dips their hands in, and then walk around for a bit while the latex sets up and dries right onto their hands! Then they peel off the gloves and throw them into the big 'Finished Goods Crate' and start the process all over again."
And she didn't laugh a bit!!! Five minutes later, during the procedure, he had to stop cleaning her teeth because she burst out laughing.
The old woman blushed and exclaimed, "I just suddenly thought about how they must make condoms!"
#joke
Marriage - a childs perspective
HOW DO YOU DECIDE WHO TO MARRY? (written by kids)
You got to find somebody who likes the same stuff. Like, if you like sports, she should like it that you like sports, and she should keep the chips and dip coming. -- Alan, age 10
No person really decides before they grow up who they're going to marry. God decides it all way before, and you get to find out later who you're stuck with. -- Kristen, age 10
WHAT IS THE RIGHT AGE TO GET MARRIED? Twenty-three is the best age because you know the person FOREVER by then. -- Camille, age 10
HOW CAN A STRANGER TELL IF TWO PEOPLE ARE MARRIED? You might have to guess, based on whether they seem to be yelling at the same kids. -- Derrick, age 8
WHAT DO YOU THINK YOUR MOM AND DAD HAVE IN COMMON? Both don't want any more kids. -- Lori, age 8
WHAT DO MOST PEOPLE DO ON A DATE? Dates are for having fun, and people should use them to get to know each other. Even boys have something to say if you listen long enough. -- Lynnette, age 8 (isn't she a treasure)
On the first date, they just tell each other lies and that usually gets them interested enough to go for a second date. -- Martin, age 10
WHAT WOULD YOU DO ON A FIRST DATE THAT WAS TURNING SOUR? I'd run home and play dead. The next day I would call all the newspapers and make sure they wrote about me in all the dead columns. -- Craig, age 9
WHEN IS IT OKAY TO KISS SOMEONE? When they're rich. -- Pam, age 7
The law says you have to be eighteen, so I wouldn't want to mess with that. - - Curt, age 7
The rule goes like this: If you kiss someone, then you should marry them and have kids with them. It's the right thing to do. -- Howard, age 8
IS IT BETTER TO BE SINGLE OR MARRIED? It's better for girls to be single but not for boys. Boys need someone to clean up after them. -- Anita, age 9 (bless you child)
HOW WOULD THE WORLD BE DIFFERENT IF PEOPLE DIDN'T GET MARRIED? There sure would be a lot of kids to explain, wouldn't there? -- Kelvin, age 8
And the #1 Favorite is........ HOW WOULD YOU MAKE A MARRIAGE WORK? Tell your wife that she looks pre tty, even if she looks like a dump truck. -- Ricky, age 10
#joke
Stopped By The Police
John and Jessica were on their way home from the bar one night and John got pulled over by the police. The officer told John that he was stopped because his tail light was burned out. John said, "I'm very sorry officer, I didn't realize it was out, I'll get it fixed right away."
Just then Jessica said, "I knew this would happen when I told you two days ago to get that light fixed."
So the officer asked for John's license and after looking at it said, "Sir your license has expired."
And again John apologized and mentioned that he didn't realize that it had expired and would take care of it first thing in the morning.
Jessica said, "I told you a week ago that the state sent you a letter telling you that your license had expired."
Well by this time, John is a bit upset with his wife contradicting him in front of the officer, and he said in a rather loud voice, "Jessica, shut your mouth!"
The officer then leaned over toward Jessica and asked. "Does your husband always talk to you like that?"
Jessica replied, "only when he's drunk."
#joke
Cory Kahaney: Handling Halloween
Halloween is pay day, folks. A lot of parents are strange; they say, Ration the candy. I say, Let them eat as much as they want -- they throw up, the rest is mine. Thats how I handle Halloween.
Going to the movies
Why do folks from Arkansas go to the movie theater in groups of 18 or more?
17 and under are not admitted.