Tough choice
A wife asks her husband: "What do you like most in me, my pretty face or my sexy body?"
He looks at her from head to toe and replied: "I like your sense of humor!"
A cab driver picks up a nun...
A cab driver picks up a nun. She gets into the cab, and the cab driver won't stop staring at her.
She asks him why he is staring.
He replies: "I have a question to ask you, but I don't want to offend you".
She answers, "My son, you cannot offend me. When you're as old as I am and have been a nun as long as I have, you get a chance to see and hear just about everything. I'm sure that there's nothing you could say or ask that I would find offensive."
"Well, I've always had a fantasy to have a nun kiss me."
She responds, "Well, let's see what we can do about that. But first, you have to be single and you must be Catholic."
The cab driver is very excited and says, "Yes, I'm single and Catholic!"
"OK" the nun says. "Pull off to the side of the road, "maybe we will see what we can do."
The nun plants a whopper of a kiss on the cabbie! But when they get back on the road, the cab driver starts crying.
"My dear child," said the nun, why are you crying?"
"Forgive me, but I've sinned. I lied. I must confess, I'm married and I'm Jewish."
The nun says, "That's OK, my name is Kevin and I'm going to a Halloween party."
Funny video of the day - Epic Faceplants Compilation
The Guardian Angel's Mistake
A middle aged woman has a heart attack and is taken to the hospital. While on the operating table she has a near-death experience. During that experience she sees her guardian angel and asks if this is her time. The angel says no and explains that she has another 30-40 years to live. Upon her recovery she decides to just stay in the hospital for a few more days and have a facelift, liposuction and a tummy tuck. She even has someone come in and change her hair color. She figures since she's got another 30 or 40 years she might as well make the most of it. She walks out the hospital after the last operation and is killed by an ambulance speeding up to the hospital.
She arrives in heaven again, sees her guardian angel and says, "I thought you said I had another 30-40 years!!"
The angel replies, "Sorry. I didn't recognize you."
#joke
A man is in his front yard att...
A man is in his front yard attempting to flya kite with his son. However, every time thekite gets up into the air, it comes crashingback down.
This goes on for a while, when his wife sticksher head out of the front door and yells, "Youneed more tail."
The father turns to his son and says, "Son,I'll never understand your mother. Yesterday,I told her I needed more tail, and she told meto go fly a kite!"
#joke
Fairy tales...
When Chelsea Clinton was eight, Hillary was reading one of her favorite fairy tales.
"Mommy," asked Chelsea, "Do all fairy tales begin with "Once Upon a Time...?""
"No, dearest," replied Hillary, "sometimes they start with 'Darling, I have to work a little late at the office tonight...'"
 A Burglar Is In Big Trouble
A burglar has just made it into the house he's intending ransacking, and he's looking around for stuff to steal. All of a sudden, a little voice pipes up, "I can see you, and so can Jesus!"
Startled, the burglar looks around the room. No one there at all, so he goes back to his business.
"I can see you, and so can Jesus!"
The burglar jumps again, and takes a longer look around the room. Over in the corner by the window, almost obscured by curtains, is a cage in which sits a parrot, who pipes up again, "I can see you, and so can Jesus!"
"So what," says the burglar, "you're only a parrot!"
To which the parrot replies, "Maybe, but Jesus is a rottweiler!"
#joke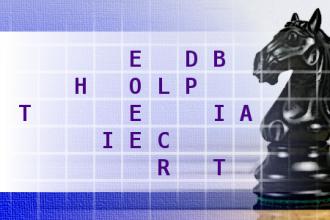 Chess Knight Move
Find the title of novel, using the move of a chess knight. First letter is T. Length of words in solution: 3,8,5.
Male strip club
What do you call a male strip club?
A cockpit.
Submitted by Calamjo
Edited by Tantilazing
Bathtime for Criminals
Q: Why'd the robber take a bath?
A: He wanted to make a clean getaway.
Yo momma's so fat, the Hogwar
Yo momma's so fat, the Hogwarts Sorting Hat put her in all 4 houses!
The best thing to ca...
"The best thing to carry with you when you start feeling tired is a knapsack."
There once was a "smart guy," ...
There once was a "smart guy," a "not that smart guy," and an all round "not smart at all guy." They were going to cross the Sahara Desert. The "smart guy" says, "meet here in an hour with something useful to cross the desert with!" Later on an hour passes. The "smart guy" says I brought some ice packs to keep our heads cool, the "not so smart guy" says I brought a pail of water to keep us hydrated. The "not smart at all guy" says, "I brought a car door so I can roll the window down when it gets hot!"
#joke
A brunette who really hated bl...
A brunette who really hated blondes was walking through the desert when she came across a magic lamp. After rubbing the lamp the genie told her that she got three wishes with one catch: All the blondes in the world would get twice whatever she asked for. So the brunette thought a while and then wished for a million dollars.
'Every blonde in the world will get two million.' The brunette said that was fine and then she asked for an incredibly handsome man.
'Every blonde in the world will get two incredibly handsome men.'
The brunette said that was fine too and the genie granted her wishes. 'Now for your third wish.' said the genie.
'See that stick over there?', asked the brunette, 'I want you to beat me half to death with it.'
Gas Station Fill-up
There was this gas station in "redneck country" trying to increase it's sales, so the owner put up a sign saying "Free Sex with Fill-up."
Soon a "redneck" customer pulled in, filled his tank, and then asked for his free sex.
The owner told him to pick a number from (1) to (10), and if he guessed correctly, he would get his free sex. The buyer then guessed (8) and the proprietor said, "No, you were close. The number was (7). Sorry, no free sex this time but maybe next time".
Some time thereafter, the same man, along with his buddy this time, pulled in again for a fill-up, and again he asked for his free sex. The proprietor again gave him the same story and asked him to guess the correct number. The man guessed (2) this time, and the proprietor said, "Sorry, it was (3). You were close but no free sex this time".
As they were driving away, the driver said to his buddy, "I think that game is rigged and he doesn't give away free sex". The buddy replied, "No, it's not rigged -- my wife won twice last week."
#joke
Good Question!
And Moses looked upon the Lord and said:
"We are your chosen people and you want us to cut the tips off of our WHAT?"