A man and his wife received a...
A man and his wife received a letter from their daughter who went to study overseas:
My beloved Parents, I miss you so much. I don't know when I'm coming home, but it seems not anytime soon. It breaks my heart to think that by the time I get back you'll be too old. So enclosed you will find a bottle of a potion I have invented. It will make you young, so when I return you'll be the same age as I left you.
NOTE: "Please take only one drop"
So they opened the envelope and in it there is a bottle with a red potion. The husband looks at the wife and says: "You go first."
So the wife opens the bottle and takes a drop, there after the husband follows. Indeed they do turn 5 years younger.
Years later the daughter returns home to find her mother young and beautiful, carrying a baby on her back.
The mother proceeds to tell her daughter how the potion worked and made her look young.
The daughter is delighted and asks about her father.
"Your father? Hmmm, my child, your father was so jealous that I was young and beautiful so he drank the whole bottle."
"So where is he?"
"Oh, that's him I have on my back."
#joke
Actual Lines from Resume
I am very detail-oreinted.
My intensity and focus are at inordinately high levels, and my ability to complete projects on time is unspeakable.
Thank you for your consideration. Hope to hear from you shorty!
Enclosed is a ruff draft of my resume.
I am sicking and entry-level position.
It's best for employers that I not work with people.
Here are my qualifications for you to overlook.
I am a quick leaner, dependable, and motivated.
If this resume doesn't blow your hat off, then please return it in the enclosed envelope.
My fortune cookie said, "Your next interview will result in a job." And I like your company in particular.
You hold in your hands the resume of a truly outstanding candidate!
I saw your ad on the information highway, and I came to a screeching halt.
Insufficient writing skills, thought processes have slowed down some. If I am not one of the best, I will look for another opportunity.
Please disregard the attached resume—it is terribly out of date.
Seek challenges that test my mind and body, since the two are usually inseparable.
Reason for leaving last job: The owner gave new meaning to the word paranoia. I prefer to elaborate privately.
Previous experience: Self-employed--a fiasco.
Exposure to German for two years, but many words are inappropriate for business.
My experience in horticulture is well-rooted.
Experience: Watered, groomed, and fed the family dog for years.
I am a rabid typist.
Education: College, August 1880 - May 1984.
I have a bachelorette degree in computers.
Excellent memory; strong math aptitude; excellent memory; effective management skills; and very good at math.
Graduated in the top 66% of my class.
Accomplishments: Completed 11 years of high school.
Strengths: Ability to meet deadlines while maintaining composer.
Special skills: Experienced with numerous office machines and can make great lattes.
I worked as a Corporate Lesion.
Special Skills: Speak English.
Served as assistant sore manager.
Reason for leaving last job: Pushed aside so the vice president's girlfriend could steal my job.
Married, eight children. Prefer frequent travel.
Education: B.A. in Loberal Arts.
Objective: To have my skills and ethics challenged on a daily basis
#joke
Funny video of the day - Ultimate Topless Fails | "Dude, Put A Shirt On"
"I was going to tell
"I was going to tell you a joke about infinity, but it didn't have an ending!"
What's with the nuts?
A guy goes into a bar. He's sitting on the stool, enjoying his drink when he hears, "You look great!" He looks around - there's nobody near him. He hears the voice again, "No really, you look terrific."
The guy looks around again. Nobody. He hears, "Is that a new shirt or something? Because you are absolutely glowing!" He then realizes that the voice is coming from a dish of nuts on the bar.
"Hey," the guy calls to the bartender, "What's with the nuts?"
"Oh," the bartender answers, "They're complimentary."
#joke
 Amusing Jokes About The Irish
Mrs. Ryan, a mean looking woman, claimed her husband was not thoughtful. In this she was wrong; her husband thought about her too much. One morning on his way to work, he thought about her so much that he got off the subway at 34th Street and went to the Greyhound Terminal and took a bus to Yuma, Arizona.
Murphy and his wife, a middle-aged couple, went for a stroll in the park. They say down on a bench to rest. They overheard voices coming from a secluded spot. Suddenly Mrs. Murphy realized that a young man was about to propose.
Not wanting to eavesdrop at such an intimate moment, she nudged her husband and whispered, "Whistle and let that young couple know that someone can hear them."
Murphy said, "Whistle? Why should I whistle? Nobody whistled to warn me."
#joke
Friendly Pastor
After the birth of their child, an Episcopal priest, wearing his clerical collar, visited his wife in the hospital. He greeted her with a hug and a kiss, and gave her another hug and kiss when he left. Later, the wife's roommate commented, "Your pastor is sure friendlier than mine."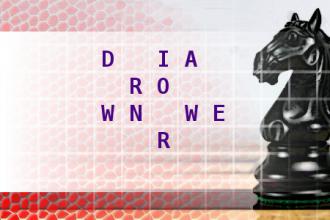 Chess Knight Move
Find the title of movie, using the move of a chess knight. First letter is R. Length of words in solution: 4,6.
If you own a plastic surgery c
If you own a plastic surgery clinic then you have firm botox.
A very successful businessman...
A very successful businessman had a meeting with his new son-in-law. I welcome you into the family," said the man. "To show you how much we care for you, I am making you a 50-50 partner in my business. All you have to do is go to the factory everyday and learn the operation."
The son-in-law interrupted. "I hate factories. I can't stand the noise." "I see." replied the father-in-law, "Well, then you'll work in the office and take charge of some of the operations." "I hate office work," said the son-in-law. "I can't stand being stuck behind a desk." "Wait a minute," said the father-in-law. "I just made you half owner of a money-making industry, but you don't like factories, and won't work in an office. What am I going to do with you?" "Easy," said the son-in-law. "Buy me out."
#joke
Official Announcement
The government today announced that it is changing its emblem from an Eagle to a CONDOM because it more accurately reflects the government's political stance.
A condom allows for inflation, halts production, destroys the next generation, protects a bunch of pricks, and gives you a sense of security while you're actually being screwed.
Damn, it just doesn't get more accurate than that."
#joke
Hypothetically Speaking
A little boy goes up to his father and asks: "Dad, what's the difference between hypothetical and reality?"
The father replies: "Well son, I could give you the book definitions, but I feel it could be best to show you by example. Go upstairs and ask your mother if she'd have sex with the mailman for $500,000."
The boy goes and asks his mother: "Mom, would you have sex with the mailman for $500,000?" The mother replies: "Hell yes I would!"
The little boy returns to his father: "Dad, she said 'Hell yes I would!'"
The father then says: "Okay, now go and ask your older sister if she'd have sex with her principal for $500,000."
The boy asks his sister: "Would you have sex with your principal for $500,000?" The sister replies: "Hell yes I would!"
He returns to his father: "Dad, she said 'Hell yes I would!'"
The father answers: "Okay son, here's the deal: Hypothetically, we're millionaires, but in reality, we're just living with a couple of whores."
#joke
Yo momma's so ugly, the gover...
Yo momma's so ugly, the government moved Halloween to her birthday!
A fellow bought a new Mercedes...
A fellow bought a new Mercedes and was out on the Yellowhead for a nice evening drive. The top was down, the breeze was blowing through his hair and he decided to open her up. As the needle jumped up to 80 mph he suddenly saw a flashing red and blue light behind him.
"There ain't no way they can catch a Mercedes," he thought to himself and opened her up further. The needle hit 90, 100 110 and finally 120 with the lights still behind him. "What in heck am I doing?" he thought and pulled over.
The Mountie came up to him, took his license without a word and examined it and the car. "I've had a tough shift and this is my last pull over. I don't feel like more paperwork so if you can give mean excuse for your driving that I haven't heard before you can go."
"Last week my wife ran off with a cop," the man said, "and I was afraid you were trying to give her back!"
"Have a nice night", said the officer.
#joke
I Get No Respect 05
"I knew a girl that was so ugly that... She was known as a two bagger. That's when a girl is so ugly that you put a bag over your head in case the bag over her head breaks"
"I knew a girl that was so ugly that... I bent down to pet her cat only to find that it was the hair on her legs."
"I knew a girl that was so ugly that... I took her to a dog show and she won first prize."
"I knew a girl that was so ugly that... I took her to the top of the Empire State building and planes started to attack her."
"I knew a girl that was so ugly that... She looks like she came in second in a hatchet fight!"
"I knew a girl that was so ugly that... The last time I saw a mouth like hers it had a hook on the end of it."
I knew a girl that was so ugly that... She has a face like a saint--A saint bernard!"
"One day...as I came home early from work...I saw a guy jogging naked. I said to the guy...Hey buddy...why are you doing that for? He said..Because you came home early."
#joke
Occupational Hazard
Three men are on a road trip when they pull over to stay at a hotel that they see. They go in and see the lady who apparently runs the joint and they ask her for a vacant room.
She replied, "Sure, but only if you DON'T go into the basement!".
The men agree and she gives them a room.
That night, the men are so curious that they sneak into the basement... only to find that it's full of chopped off dicks!! The woman that runs the places sees them and says, "Okay, now I'm going to have to add you all to my collection."
She asks the first man, "What does YOUR father do for a living?" and he says "Well, my dad is in the lawnmoving business."
So the woman finds a lawnmover and off goes his dick.
The woman asks the second man, "What does YOUR father do for a living?" and he replies in tears "My dad is in the tool supply industry."
So she finds a saw and off does his dick.
The woman then turns to the third guy only to see that he is laughing hysterically! "Why the hell are you laughing?!? Don't you know what's going to happen to you!?!"
He smiles and says, "Yeah, my dad is in the lollipop business - you're gonna hafta suck mine off!"
#joke
John Ramsey: Old Security Passwords
So they ask me, Would you like to answer your secret security password question? I think, Oh yeah, surely I can answer a question posed by slightly younger me.
There are no weapons of mass d...
There are no weapons of mass destruction in Iraq. Chuck Norris lives in Oklahoma.