Happy Thanksgiving
Check out our latest
Thanksgiving jokes
and quotes on:
Thanksgiving jokes collection
A lawyer was trying to console
A lawyer was trying to console a weeping widow. Her husband had passed away without a will.
"Did the deceased have any last words?" asked the lawyer.
"You mean *right* before he died?" sobbed the widow.
"Yes," replied the lawyer. "They might be helpful if it's not too painful for you to recall."
"Well," she began, "he said 'Don't try to scare me! You couldn't hit the broad side of a barn with that gun.'"
"Chefs learn their tr
"Chefs learn their trait in the Cook Islands."
Funny video of the day - Car Fails
Smartness
There once was a "smart guy," a "not that smart guy," and an all round "not smart at all guy." They were going to cross the Sahara Desert.
The "smart guy" says, "meet here in an hour with something useful to cross the desert with!"
Later on an hour passes.
The "smart guy" says I brought some ice packs to keep our heads cool, the "not so smart guy" says I brought a pail of water to keep us hydrated.
The "not smart at all guy" says, "I brought a car door so I can roll the window down when it gets hot!"
#joke
The robbery....
Two friends, Jim and Paul are in a bank, when, suddenly, armed robbers burst in.
While several of the robbers take the money from the tellers, others line the customers up against a wall and proceed to take their wallets, watches, etc.
While this is going on, Jim slips something into Paul's hand. Without looking down, Paul whispers, "What is this?"
Jim replies, "It's that $50 I owe you."
#joke
Horse Pulls The Car
An out-of-towner drove his car into a ditch in a desolated area. Luckily, a local farmer came to help with his big strong horse named Buddy.
He hitched Buddy up to the car and yelled, "Pull, Nellie, pull." Buddy didn't move.
Then the farmer hollered, "Pull, Buster, pull." Buddy didn't respond.
Once more the farmer commanded, "Pull, Jennie, pull." Nothing.
Then the farmer nonchalantly said, "Pull, Buddy, pull." And the horse easily dragged the car out of the ditch.
The motorist was most appreciative and very curious. He asked the farmer why he called his horse by the wrong name three times.
The farmer said, "Oh, Buddy is blind, and if he thought he was the only one pulling, he wouldn't even try!"
#joke
Behold, I Come Quickly
The new preacher had just begun his sermon. He was a little nervous, and about ten minutes into the sermon his mind went blank. After a brief second of complete panic, he remembered what they had taught him in seminary about situations like this: repeat the last point. His teacher assured him this would help him remember what was supposed to come next. So he gave it a try.
"Behold, I come quickly," he said. Still his mind was blank. He tried again. "Behold, I come quickly." Still nothing.He tried one more time -- speaking and gesturing with such force that he fell forward, knocking the pulpit to one side, tripping over the flower pot, and falling into the lap of a little old lady in the front row.
The young preacher apologized profusely.
"That's all right, young man," said the little old lady. "It was my fault. I should have gotten out of the way. You told me three times you were coming!"
#joke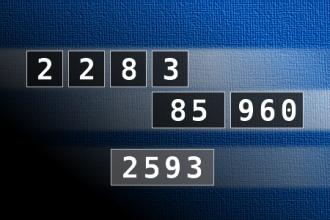 Calculate the number 2593
NUMBERMANIA: Calculate the number 2593 using numbers [2, 2, 8, 3, 85, 960] and basic arithmetic operations (+, -, *, /). Each of the numbers can be used only once.
The best answer to the questio
The best answer to the question asked in an interview, "Where do you see yourself in 5 years' time?" . . . "In the mirror as always . . "
Firm THIS Up
One morning while making breakfast, a man walked up to his wife and pinched her on the butt and said, "If you firmed this up, we could get rid of your control top pantyhose." While this was on the edge of intolerable, she kept silent.
The next morning, the man woke his wife with a pinch on each of her breasts and said "You know, if you firmed these up, we could get rid of your bra."
This was beyond a silent response, so she rolled over and grabbed him by his penis. With a death grip in place, she said, "You know, if you firmed this up, we could get rid of the gardener, the postman, the poolman and your brother."
#joke
Divorced Barbie
Q: What comes with the new Divorced Barbie?
A: All of Ken's stuff.
A little kid was out trick-or-
A little kid was out trick-or-treating on Halloween dressed as a pirate. He rang a house's doorbell and the door was opened by a lady. "Oh, how cute! A little pirate! And where are your buccaneers?" she asked. The boy replied, "Under my buckin' hat."
Fact or fiction?
Fact  or fiction (you make the  call):   
1.  Marriages  are made in heaven. But so again, are thunder and lightning.     
2.  After marriage, husband and wife become two sides of a coin… they can't face each  other, but, they still stay together.     
3.  Married  life is very frustrating.  In the first year  of marriage, the man speaks and the woman  listens.  In the second year, the woman speaks and the man listens. In the third year, they  both speak and the neighbours listen..     
4. When a  man opens the door of his car for his wife, you  canbe sure of one thing: either the car is new or the wife is.     
5.  Marriage is when a man and woman become as one. The trouble starts when they try to decide which  one.     
6.  Before  marriage, a man will lie awake all night  thinking about something she says. After marriage, he will fall asleep before she finish.     
7.  Every man wants a wife who is beautiful, understanding, economical, and a good cook. But the law allows only one wife.       
8.  They say when a man holds a woman's hand before  marriage, that is LOVE. After marriage, that is SELF DEFENSE.     
9.  A wife becomes a "SEX OBJECT" when every time the  husband asks for sex she objects!       
10.  Marriage is the only war where you get to sleep with the enemy.       
11.  There  are two  four-letter words that are offensive to men in marriage : "don't" and  "stop",  unless, they are used together ("don't stop").
12.  Marriage  is an institution where the man loses his Bachelor's Degree and the woman gets her Master's  Degree.
13.  In  marriage, a man can have words with his wife, but, a woman can have paragraphs with her  husband.
14.  Marriage is love. Love is blind. Therefore, marriage is an institution for the blind.
15.  There  are 3 stages of SEX in a married life: Tri-weekly, try weekly and try weakly.
16.  LOVE is a  long sweet dream; MARRIAGE is the alarm clock.
17.  When a newly married man looks happy, we know why. But, when a 10-year married man looks happy, we wonder why.
18.  Marriage is not a word. It is a sentence … a LIFE SENTENCE.
#joke
It was considered a unique fin
It was considered a unique find and the writings were said to be at least Three thousand years old!The piece of stone was removed, brought to the museum, and archaeologists from around the world came to study the ancient symbols.They held a huge Meeting after months of conferences to discuss the meaning of the markings.The President of the society pointed to first drawing and said: "This is a Woman. We can see these people held women in high esteem. You can also tell they were intelligent, as the next symbol is a donkey, so they were smart enough to have animals help them till the soil. The next drawing is a shovel, which means they had tools to help them."
Even further proof of their high intelligence is the fish which means that if a famine hit the earth and food didn't grow, they seek food from the sea. The last symbol appears to be the Star of David which means they were evidently Hebrews.
The audience applauded enthusiastically.
Then a little old Jewish man stood up in the back of the room and said, "Idiots, Hebrew is read from right to left...... It says: 'Holy Mackerel Dig the Ass on that Chick.' "
#joke
A lady is walking down the str...
A lady is walking down the street to work and see's a parrot in a pet store. She stops to admire the bird. The parrot says to her, "hey lady, you are really ugly."
Well, the lady is furious! She storms past the store to her work.
On the way home she saw the same parrot in the window and the parrot upon seeing her says, "hey lady, you are really ugly."
She was incredibly ticked now. The next day on the way to work she saw the same parrot and once again it said, "hey lady, you are really ugly."
The lady was so furious that she stormed into the store and threatened to sue the store and have the bird killed. The store manager appologized profusely and promised the bird wouldn't say it again.
When the lady walked past the store after work the parrot said to her, "hey lady."
She paused and said," yes?"
The bird said, "you know."
#joke
Let him believe
One day in the Garden of Eden, Eve called out to God... "Lord, I have a problem!"
"What's the problem, Eve?"
"Lord, I know you've created me and have provided this beautiful garden and all of these wonderful animals, and that hilarious comedic snake, but I'm just not happy."
"Why is that, Eve?" came the reply from above.
"Lord, I am lonely. And I'm sick to death of apples."
"Well, Eve, in that case, I have a solution. I shall create a man for you."
"What's a 'man,' Lord?"
"This man will be a flawed creature, with aggressive tendencies, an enormous ego and an inability to empathize or listen to you properly. All in all, he'll give you a hard time.
But, he'll be bigger, faster and more muscular than you. He'll also need your advice to think properly. He'll be really good at fighting and kicking a ball about, hunting fleet-footed ruminants, and not altogether bad in the sack."
"Sounds great," says Eve, with an ironically raised eyebrow. "What's the catch, Lord?"
"Yeah, well.... you can have him on one condition."
"What's that, Lord?"
"You'll have to let him believe that I made him first."
Submitted by Calamjo
Edited by Yisman
#joke
Petroleum Jelly
One day while doing door-to-door market research, this guy knocks on a door and is greeted by a beautiful young housewife.
"Hello," he starts, "I'm doing some research for a petroleum jelly manufacturer. Have you ever used the product?"
"Yes. My husband and I use it during sex," she answers.
The researcher is taken aback. "Um, er, I admire you for your honesty," he continues. "Can you tell me exactly how you use it?"
"Sure, we put it on the doorknob so the kids can't get in."
#joke
A duck walks into a Dairy
A duck walks into a dairy and says
"Give me some chapstick, put it on my bill!"
But the cash register attendee doesn't speak English and cannot understand him.
He does, however, question whether his God is punishing him because as all people know, Ducks cannot speak, however, this hallucination must be punishment for a horrid misdeed.
The employee breaks down into tears and begins reciting prayer.
The duck, slightly miffed, walks out, pondering why he'd need chapstick anyway, since he has no lips... heh heh heh
#joke
Splenda sales are up because C...
Splenda sales are up because Chuck Norris has no Equal.