Funny video of the day - Roller coaster house tour
A blackjack dealer and a playe
A blackjack dealer and a player with a thirteen count in his hand were arguing about whether or not it was appropriate to tip the dealer.
The player said, "When I get bad cards, it's not the dealer's fault. Accordingly, when I get good cards, the dealer obviously had nothing to do with it so, why should I tip him?"
The dealer said, "When you eat out do you tip the waiter?"
"Yes."
"Well then, he serves you food, I'm serving you cards so you should tip me."
"Okay. But the waiter brings me whatever I order. So I'll take an eight."
#joke
Deadly prophecy...
A medieval astrologer prophesied to a king that his favorite mistress would soon die.
Sure enough, the woman died a short time later. The king was outraged at the astrologer, certain that his prophecy had brought about the woman's death. He summoned the astrologer and gave him this command: "Prophet, tell me when you will die!"
The astrologer realized that the king was planning to kill him, immediately, no matter what answer he gave. So he said, finally, "I do not know when I will die. I only know that whenever I die, you will die three days later."
#joke
Stop Credit Card Fraud
The following is supposedly a true story. To be included, besides being true, the story is most likely strange, weird, surprising, or funny.
Many folks have written with perfectly plausible explanations about why merchants take my phone number on a credit card charge. What these fail to address, however, is that if I'm perpetrating a fraud in the use of this credit card, I'm not about to give out a correct phone number. They make no effort to validate the phone number before I leave, so what they're doing is collecting the phone numbers of a bunch of honest people.
Now then... Why are they collecting the phone numbers of a bunch of honest people?
I once asked why you are asked for your phone number when using your charge cards. The clerk explained that theives have been caught because they stupidly put down THEIR home phone number, not the phone number of the person who "owned" the card.
#joke
Birthday cake for wife
On wife's b'day, man ordered a cake on phone.
Salesman: What message to put on the cake?
Man: Write "Getting older but U R getting better."
Salesman: kaise likhna hai message ?
Man: Well.. put "U R getting older" at the top and "but U R getting better" at the bottom.
When the cake was opened all guests died laughing at the message.
It read: "You are getting older at the top, but you are getting better at the bottom!"
#joke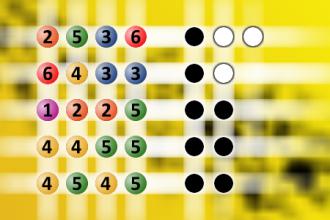 Which is a winning combination of digits?
The computer chose a secret code (sequence of 4 digits from 1 to 6). Your goal is to find that code. Black circles indicate the number of hits on the right spot. White circles indicate the number of hits on the wrong spot.
When accusing an elderly comed
When accusing an elderly comedian of assault, there has to be probable Cosby.
By the time the soldier pulled
By the time the soldier pulled into the little town, every hotel room was taken. "You've got to have a room somewhere", he pleaded with a proprietor. "Well, I do have a double room with one occupant, but he is an Air Force guy" admitted the manager, and he might be glad to split the cost. But to tell you the truth, he snores so loudly that people in adjoining rooms have complained in the past. I'm not sure it'd be worth it to you.
" No problem." the tired Army guy assured him, "I'll take it." The next morning the soldier came down to breakfasts bright-eyed and bushy tailed. "How'd you sleep?" asked the manager. "Never better", said the soldier. The manager was impressed. "No problem with the other guy snoring all night long?" "No, I shut him up in no time", explained the soldier.
"How'd you manage that?" asked the proprietor.
"Well, he was already in bed, snoring away, when I walked into the room, so I gave him a kiss on the cheek" explained the soldier. "Then, I whispered in his ear 'Good night beautiful', and he sat up all night watching me."
#joke
Personal Ads That Were Probabl
Personal Ads That Were Probably NEVER Answered
SWM: Roommate needed for six bedroom north side condo.$800/month plus 1/2 utilities. Must enjoy garlic, taxidermy & clock repair.
SWF: Seeks any M, age 16-52, for immediate marriage.Willing to beg. Call 24/hours, 7/days 1-800-I'm-4you.
SWM: 39, enjoys assault rifles, heavy drinking, and testosterone.Seeks like-minded SF, W only, to listen to political conspiracy theoriesand help stock secluded mountain shelter. Don't bother to write, I already know where you live.
SWF: 25, enjoys poetry recitals, interpretive dance, herb tea, New Agemusic, Communing with Gaian nature spirits, and Jello sculpting.Seeks aloof, analytic whimp.
SWM: 59, wide range of interests including: Star Trek, Battlestar Galactica, Power Rangers, and Sea Quest.ISO compatible F.
SM: Seeking an adventurous SF Interested in underwater bondage with orw/o scuba gear And albino livestock breeding. No weirdos please.
SBM: Vegetarian Truck-driving Republican juggler Wishes to meet womanof similar interests Must be ambidextrous.
DWF: Crazy ppl Need Love Too. If you enjoy destroying good furniture, Police lineups and locking yourfriends in closets, We already have three things in common !Let's get together.
DM: Physician, 35 Desires to meet that special woman with real innerbeauty. Send latest X-rays.
DWM: Compulsive Liar Seeks beautiful woman to share my million dollarRiviera chateau. Visa Gold Card a must. Private plane a plus.
SWM: 32, my life's work is verifying, in detail, all the episodes shownon"The X-Files". ISO SWF with like dedication. Must be willing to travel a lot
#joke
Geriatric Viagra
An elderly gentleman went to the local drug store and asked the pharmacist for Viagra. The pharmacist said "That's no problem. How many do you want?"
The man answered, "Just a few, maybe four, but cut each one in four pieces."
The pharmacist said, "That won't do you any good."
The elderly gentleman said, "That's alright. I don't need them for sex anymore. I am over 80 years old. I just want it to stick out far enough so I don't piss on my shoes."
#joke
On a windy day, an old lady is
On a windy day, an old lady is standing on a street corner, holding on to her hat with both hands, even though her dress is flying up over her face. An old man across the street sees her and runs over. As he approaches her, he says, "Sister, you ought to be ashamed of yourself, standing over here in all this wind with your dress flying over your head, exposing your paraphernalia, and you're holding that damn hat with both hands. You ought to be ashamed." She looked at him and said, "Look here, fool, everything down there is 80 years old, but this hat is brand new."
#joke
Honey, What Did the Doctor Say?
A middle aged man goes into the doctor's office for a check-up with a litany of complaints.
The doctor speaks to the man's wife alone and says, "There is nothing the matter with your husband. If you make a couple of meals for him a day, let him watch his sports. Do not complain at him too much and require him to listen. Limit his exposure to in-laws and make love to him once a week. Then, he'll probably live another 20 years."
She returns to her husband's side in the waiting room. He asks, "What did the doctor tell you?"
"You are going to be dying soon, my dear."
-
Joke shared by Beliefnet member zenman1
"The girl quit her jo
"The girl quit her job at the doughnut factory because she was fed up with the hole business."
A married couple were asleep w...
A married couple were asleep when the phone rang at 2 in the morning, thewife (undoubtedly blonde), picked up the phone, listened a moment andsaid, "How should I know, that's 200 miles from here?" and hung up.
The husband said, "Who was that?" The wife said, "I don't know, someyoung woman wanting to know 'if the coast is clear."
English School
Donald MacDonald from Scotland went to study at an English university and was living in the hall of residence with all the other students there. After he had been there a month, his mother came to visit him (no doubt carrying reinforcements of tatties, salt herring, oatmeal and whisky).
"And how do you find the English students, Donald?" she asked.
"Mother," he replied, "they're such terrible, noisy people. The one on that side keeps banging his head on the wall and won't stop. The one on the other side screams and screams all night."
"Oh Donald! How do you manage to put up with these awful noisy English neighbors?"
"Mother, I do nothing. I just ignore them. I just stay here quietly, playing my bagpipes."
#joke
Furniture
There were these two ovaries and they were cleaning their house when they heard a knock at the door.
"I'll get the door." says the first ovary.
She looks out the peep hole and says, "Did you order furniture?"
"No, why?" askes the other ovary.
"Because there are two nuts at the door trying to shove in an organ!"
Submitted by Curtis
Edited by Glaci
#joke
Email of the species
The email of the species is more deadly than the mail.