Happy New Year 2021!!
"If you want a big ba
"If you want a big bang for your dollar, buying balloons is okay, but buying wood to build a fire works."
Funny video of the day - What do you get when you cross PING PONG and SOCCER??? HEADIS!
100 Dollars
Little Billy wanted $100 badly and prayed for two weeks but nothing happened.
Then he decided to write God a letter requesting the $100. When the postal authorities received the letter addressed to God, USA, they decided to send it to President Bush.
The President was so impressed, touched, and amused that he instructed his secretary to send Billy a $5.00 bill.
President Bush thought this would appear to be a lot of money to a little boy.
Billy was delighted with the $5.00 and sat down to write a thank you note to God, which read:
Dear God,
Thank you very much for sending the money, however, I noticed that for some reason you had to send it through Washington D.C. and, as usual, those crooks deducted $95.00.
Thanks,
Billy
#joke
A guy and his wife are out gol
A guy and his wife are out golfing one day when they come up to the hardest hole on the course - it goes way downhill and you can't quite see where your drive goes. So they tee off and walk down the hill and, lo and behold, this guy's ball is right in front of a big barn.
The couple looks it over, and the wife says, "You know, if we open both barn doors, you will have a clear shot to the green."
The guy agrees, and they open both of the doors. He hits his ball and it makes it through the first set of doors but hits the far wall and comes ricocheting back, hitting his wife in the head and killing her.
A few months pass and he is out golfing again with his buddies. They come up to the same hole and, wouldn't you know it, the guy's ball is right behind the barn again. One of his golf buddies says, "You know, if we open both barn doors you will have a clear shot to the green."
The guy replies, "Nah, last time I tried that I got a 7."
#joke
Duck Dance...
A circus owner walked into a bar to see everyone crowded about a table watching a little show. On the table was an upside-down pot and a duck tap dancing on it. The circus owner was so impressed that he offered to buy the duck from its owner. After some wheeling and dealing they settled for $10,000 for the duck and the pot.
Three days later the circus owner runs back to the bar in anger, "Your duck is a rip-off! I put him on the pot before a whole audience and he didn't dance a single step!"
"So?" asked the ducks former owner, "did you remember to light the candle under the pot?"
#joke
Letters From Charities

I am always getting those return address labels from charities wanting money.
The other day, I got one from an Alzheimer's group. Funny though, they forgot to put my street name on them!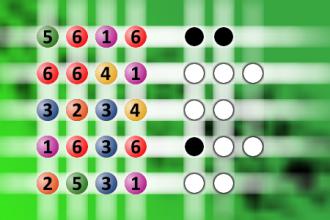 Find the right combination
The computer chose a secret code (sequence of 4 digits from 1 to 6). Your goal is to find that code. Black circles indicate the number of hits on the right spot. White circles indicate the number of hits on the wrong spot.
The Marriage of Miss Bad Breath and Mr. Smelly Feet
A young couple, madly in love, decided to get married. But as the wedding day neared, both grew increasingly nervous over secret problems they had never shared with anyone. Privately, the groom-to-be approached his minister.
"I'm really concerned about this marriage," the young man said.
"Don't you love her?" the pastor asked in surprise.
"Of course," the groom said. "But I have unbelievably smelly feet—and I'm afraid my fiancée won't be able to stand them."
"Oh, is that all?" the pastor replied. "Look, all you need to do is wash your feet twice a day and wear socks all the time."
The groom thought it over and decided it just might work.
Meanwhile, the nervous bride had privately approached the minister's wife. "I'm so worried," she sobbed. "I have really bad breath when I wake up each day!"
"Oh, dear," the pastor's wife replied," everyone has bad breath in the morning. Don't worry about it."
"No, you don't understand," the bride implored. "My morning breath is so awful, my fiancé won't even want to be near me!"
"Well, I have an idea," the pastor's wife said soothingly. "Set your alarm just a few minutes before your husband wakes up. Run to the bathroom, brush your teeth, and gargle with mouthwash before he gets out of bed. The key is not to say anything until you've taken care of your breath."
The bride thought it over and decided it just might work.
In time, a beautiful wedding was held and the bride and groom enjoyed the day without once worrying about their secret problems. For several months they managed to keep their issues to themselves.
They one morning, the husband awoke before dawn to find that one of his socks had come off in the night. Frantic, he searched the bed, afraid of what might happen if he didn't find his sock soon. His bride woke with a start, and, without thinking, blurted out, "What in the world are you doing?"
"Oh, dear!" the young man wailed. "You swallowed my sock!"
From "
The Book of Church Jokes
," published by
Barbour Publishing, Inc.
, Uhrichsville, Ohio. Copyright 2009. Used by permission of Barbour Publishing, Inc.
#joke
Exchanging spoken-word cookboo
Exchanging spoken-word cookbooks is recipe prosody.
A couple of terrorist were mak
A couple of terrorist were making letter bombs. After they had finished, one said: "Do you think I put enough explosive in this envelope? "I don't know," said the other. "Open it and see." "But it will explode." "Don't be stupid! It's not addressed to you!
Finally, a way to know what to
Finally, a way to know what to pitch and what to save!
THE GAG TEST
Anything that makes you gag is spoiled (except for leftovers from what you cooked for yourself last night).
EGGS
When something starts pecking its way out of the shell, the egg is probably past its prime.
DAIRY PRODUCTS
Milk is spoiled when it starts to look like yogurt. Yogurt is spoiled when it starts to look like cottage cheese. Cottage cheese is spoiled when it starts to look like regular cheese. Regular cheese is nothing but spoiled milk anyway and can't get any more spoiled than it is already. Cheddar cheese is spoiled when you think it is blue cheese but you realize you've never purchased that kind.
MAYONNAISE
If it makes you violently ill after you eat it, the mayonnaise is spoiled.
FROZEN FOODS
Frozen foods that have become an integral part of the defrosting problem in your freezer compartment will probably be spoiled - (or wrecked anyway) by the time you pry them out with a kitchen knife.
EXPIRATION DATES
This is NOT a marketing ploy to encourage you to throw away perfectly good food so that you'll spend more on groceries. Perhaps you'd benefit by having a calender in your kitchen.
MEAT
If opening the refrigerator door causes stray animals from a three-block radius to congregate outside your house, the meat is spoiled.
BREAD
Sesame seeds and Poppy seeds are the only officially acceptable "spots" that should be seen on the surface of any loaf of bread. Fuzzy and hairy looking white or green growth areas are a good indication that your bread has turned into a pharmaceutical laboratory experiment.
FLOUR
Flour is spoiled when it wiggles.
SALT
It never spoils.
CEREAL
It is generally a good rule of thumb that cereal should be discarded when it is two years or longer beyond the expiration date.
LETTUCE
Bibb lettuce is spoiled when you can't get it off the bottom of the vegetable crisper without Comet. Romaine lettuce is spoiled when it turns liquid.
CANNED GOODS
Any canned goods that have become the size or shape of a softball should be disposed of. Carefully.
CARROTS
A carrot that you can tie a clove hitch in is not fresh.
RAISINS
Raisins should not be harder than your teeth.
POTATOES
Fresh potatoes do not have roots, branches, or dense, leafy undergrowth.
CHIP DIP
If you can take it out of its container and bounce it on the floor, it has gone bad.
EMPTY CONTAINERS
Putting empty containers back into the refrigerator is an old trick, but it only works if you live with someone or have a maid.
UNMARKED ITEMS
You know it is well beyond prime when you're tempted to discard the Tupperware along with the food. Generally speaking, Tupperware containers should not burp when you open them.
GENERAL RULE OF THUMB
Most food cannot be kept longer than the average life span of a hamster. Keep a hamster in or nearby your refrigerator to gauge this.
#joke
Using nails on a house
These two newfies are building a house. One of them is putting on the siding. He picks up a nail, hammers it in. Picks up another nail, throws it away. Picks up a nail, hammers it in. Picks up another, throws it away. This goes on for a while, and finally his friend comes over and asks him why he is throwing half of the nails away.
He replies, "Those ones were pointed on the wrong end." The buddy gets exasperated and says "You idiot, those nails are for the other side of the house!"
#joke
Alfie was listening to his sis...
Alfie was listening to his sister practice her singing. "Sis," he said, "I wish you'd sing Christmas carols."
"Thats nice of you, Alfie," she replied, "but why?"
Alfie replied, "Because then I'd only have to hear your voice once a year!"
Burglar's secret
A man walks into a police station and asks to speak to the burglar who broke into his house the night before.
"I'm sorry sir, but you'll get your chance in court," says the duty officer.
"No, you don't understand," says the man. "I want to know how he got in the house without waking the wife. I've been trying to do that for years."
#joke
There was once a great actor, ...
There was once a great actor, who had a problem. He could no longer remember his lines. Finally after many years he finds a theatre where they are prepared to give him a chance to shine again. The director says,"This is the most important part, and it has only one line. You must walk onto the stage carrying a rose, you must hold the rose with just one finger and your thumb to your nose, sniff the rose deeply and then say the line... 'Ah, the sweet aroma of my mistress.'" The actor is thrilled.All day long before the play he's practicing his line, over and over again. Finally the time came.
The curtain went up, the actor walked onto the stage, and with great passion, he delivered the line; "Ah, the sweet aroma of my mistress".
The theatre erupted, the audience screamed with laughter... and the director was steaming! "You bloody fool!" he cried, "You have ruined me!"
The actor, quite bewildered, asked, "What happened, did I forget my line?" he asked.
"No!" the director screamed.... "You forgot the bloody rose!"
#joke
Mike Birbiglia: Fear the Most
I was living with a girl for a while. We worried about different things. One day, I was like, What do you fear the most? And she was like, I fear youll meet someone else, and youll leave me, and Ill be all alone. And she was like, What do you fear the most? And I was like, Bears.
Efficiency Expert
An efficiency expert concluded his lecture with a note of caution. "You don't want to try these techniques at home."
"Why not?" asked somebody from the audience.
"I watched my wife's routine at breakfast for years," the expert explained. "She made lots of trips between the refrigerator, stove, table and cabinets, often carrying a single item at a time. One day I told her, 'Hon, why don't you try carrying several things at once?'"
"Did it save time?" the person in the audience asked.
"Actually, yes," replied the expert. "It used to take her 20 minutes to make breakfast. Now I do it in seven."
#joke