If your friend says "Let
If your friend says "Let's have a sausage party", you better prepare for the wurst.
The Surgery
A brain surgeon told a patient "you have a growing mass in your brain, it needs to be tended to immediately or it will kill you"
The patient agreed to surgery the very next day.
Immediately after opening the skull the surgeon took a biopsy of the ugly growing mass and gave it to the surgical nurse with instructions to rush it to the lab and have it analyzed.
After a few minutes the nurse returned with the results and stood silently and grimly in front of the surgeon…. The surgeon finally asked…."WELL IS IT MALIGNANT?"
The nurse replied…" I'm afraid it's worse" …
" WORSE", the surgeon barked, "WHAT CAN BE WORSE THAN MALIGNANT?"

The nurse bowed her head and replied solemnly, "it's Liberal Progressive"…!!!
#joke
Funny video of the day - Best Fails of the Week 3 January 2015
A farmer ordered a high-tech m
A farmer ordered a high-tech milking machine. It happened that the equipment arrived when his wife was away. So he decided to test it on himself first. He inserted his penis into the equipment, turned the switch on, and voila, everything else was automatic! He really had a good time as the equipment provided him with as much pleasure as his wife did.
However, when the fun was over, he found that he could not take the instrument off. He read the manual, but did not find any useful information. He tried every button on the instrument - some made the equipment squeeze, shake, or suck harder or less - but still he had no success getting out of it.
Panicking, he just barely reached the phone and called the supplier's customer service hotline.
The farmer: "Hello, I just bought a milking machine from your company. It worked fantastic. But how can I take it off from the cow's udder?"
Customer Service: "Don't worry. The machine was programmed to release automatically after collecting about 2 gallons of milk."
#joke
It's all in the marketing...
An inter-office softball game was held every year between the marketing and support staff of one company. The support staff whipped the marketing department soundly.
To show just how the marketing department earns their keep, they posted this memo on the bulletin board after the game:
"The Marketing Department is pleased to announce that for the 2000 Softball Season, we came in 2nd place, having lost but one game all year. The Support Department, however, had a rather dismal season, winning only one game."
#joke
Ponderings Collection 41
Have you ever imagined a world with no hypothetical situations?
Have you ever seen a toad on a toadstool?
How can there be self-help "groups"?
How do you get off a non-stop flight?
How do you write zero in Roman numerals?
How many weeks are there in a light year?
If a jogger runs at the speed of sound, can he still hear his Walkman?
If athletes get athlete's foot, do astronauts get mistletoe?
If Barbie's so popular, why do you have to buy all her friends?
If blind people wear dark glasses, why don't deaf people wear earmuffs?
#joke
April Fool's Day - Suggestion
Cover onions in caramel.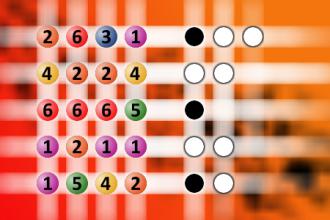 Which is a winning combination of digits?
The computer chose a secret code (sequence of 4 digits from 1 to 6). Your goal is to find that code. Black circles indicate the number of hits on the right spot. White circles indicate the number of hits on the wrong spot.
A woman visited a modern-art g
A woman visited a modern-art gallery. One painting was bright blue with vivid orange swirls and the one hanging next to it was black with lime-green splotches.
The artist stood nearby, so as politely as she could, the woman said to him, "I'm sorry, but I just don't understand you paintings."
"I paint what I feel inside me," the artist replied.
"I see," the woman replied innocently. "Have you tried Alka-Seltzer?"
#joke
A couple in their nineties are
A couple in their nineties are BOTH having problems remembering things. They decide to go to the doctor for a checkup. The doctor tells them that they're physically in good condition for their age, but if they are having trouble remembering they might want to start writing things down to help them.
Later that night while watching TV, the old man gets up from his chair. "Where are you going?" his wife asks.
"To the kitchen" he replies.
"Will you get me a bowl of ice cream?"
"Sure."
"Don't you think you should write it down so you can remember it?" she asks, recalling the doctor's suggestion.
"No, I can remember it."
"Well, I'd like some strawberries on top, too. You'd better write it down because you know you'll forget it."
He says, "I can remember that! You want a bowl of ice cream with strawberries."
"I'd also like whipped cream. I'm certain you'll forget that, so you'd better write it down!" she retorts.
Irritated, he says, "I don't need to write it down. Just don't start with that! Leave me alone!! Ice cream with strawberries and whipped cream. I got it, for goodness sake!" Then he grumbles on into the kitchen.
After about 20 minutes, the old man returns from the kitchen and hands his wife a plate of bacon and eggs.
She stares at the plate for a moment and says, "Where's my toast?"
Divorce
Did you hear that Santa is getting a divorce?
He got caught laying a doll under the tree last year.
Submitted by calamjo
Edited by Tantilazing
Engineers & Light Bulbs
Q: How many engineers does it take to change a light bulb?
A: You need 250 just to lobby for the research grant.
A guy walks into a bathroom, s
A guy walks into a bathroom, sits down, and notices three buttons in front of him marked, WW, WA, and ATR. Curiosity gets the better of him so he decides to press WW. Suddenly, warm water sprays up his rear. "Mmmm," he says to himself. "That was good." So he presses WA and a jet of warm air dries his backside. "Mmmm. Nice!" So finally he can't resist pressing the ATR button. The next thing he knows, he is waking up in a hospital ward just as the nurse is entering the room. "Nurse, Nurse! Where am I? What happened?" The nurse replies, "You must have missed the sign to not press the ATR button." "What does ATR mean exactly?" says the guy. "Automatic Tampon Remover. Your testicles are under your pillow."
#joke
The closet
My friend keeps telling me I'm in the closet . . . I just say it's Narnia business!
Will Ferrell (July 16 1967-)
I was in love with a beautiful blonde once, dear. She drove me to drink. That's the one thing I'm so indebted to her for.
WC Fields (1880-1946)
Picture: Perseus Book Group
"How did Mister Nucle
"How did Mister Nucleus escape from prison? Through the cell wall."
Husband for sale
A store where a woman may go to choose a husband has opened in Auckland.
Among the instructions at the entrance is a description of how the store operates:
"You may visit this store only once! There are six floors, and the value of the products increase as the shopper ascends the flights. The shopper may choose any item from a particular floor or may choose to go up to the next floor, but you cannot go back down except to exit the building."
So a woman goes to the Husband Store to find a husband. On the first floor, the sign on the door reads: Floor 1 -- These Men Have Jobs.
She is intrigued, but continues to the second floor, where the sign reads: Floor 2 --These Men Have Jobs and Love Kids.
"That's nice," she thinks. "But I want more."
So she continues upward. The third floor sign reads: Floor 3 -- These Men Have Jobs, Love Kids and are Extremely Good Looking.
"Wow," she thinks, but feels compelled to keep going.
She goes to the fourth floor and the sign reads: Floor 4 -- These men Have Jobs, Love Kids, Are Drop-Dead Good Looking and Help with Housework.
"Oh, mercy me!" she exclaims. "I can hardly stand it!"
Still, she goes to the fifth floor and the sign reads: Floor 5 -- These men Have Jobs, Love Kids, Are Drop-dead Gorgeous, Help with Housework, and Have a Strong Romantic Streak.
She is so tempted to stay, but she goes to the sixth floor, where the sign reads: Floor 6 -- You are visitor 31,456,012 to this floor.
There are no men on this floor. This floor exists solely as proof that women are impossible to please. Thank you for shopping at the Husband Store.
#joke
Where is God?
A couple had two little boys who were always getting into trouble. Their parents knew that if any mischief occurred in their village, their sons were probably involved.
The boys' mother heard that an elder in town had been successful in disciplining children, so she asked if he would speak with her sons. The elder agreed, but asked to see them separately.
So, the mother sent her youngest son first, in the morning. The elder, a huge man with a booming voice, sat the boy down and asked him sternly, "Where is God?" The boy's mouth dropped open, but he made no response.So the elder repeated the question in an even sterner tone, "Where is God!!?" Again the wide-eyed boy made no attempt to answer.
The elder raised his voice and bellowed, "WHERE IS GOD!?" The boy screamed and bolted from the room, ran directly home and dove into a closet, slamming the door behind him.
When his older brother found him hiding, he asked, "What happened?"
The younger brother, gasping for breath, replied, "We are in BIG trouble this time. God is missing, and they think WE did it!"
#joke
5 Blondes celebrate
Five blondes go into a bar and one of them says to the bartender, "A round of drinks for me and my friends."
They get their drinks and the raise their glasses to a toast of, "To 51 days!" and they drink.
The "head blonde" asks the bartender to set them up again.
Again, the blondes toast "To 51 days!" and they drink. After they order a third round, the bartender says that he has to ask what the toast means.
The head blonde says, "We just finished a jigsaw puzzle. On the box it said, "two to four years" and we finished it in 51 days".
Hymns for All Professions
Dentist's Hymn: Crown Him with Many Crowns
Weatherman's Hymn: There Shall Be Showers of Blessings
Contractor's Hymn: The Church's One Foundation
Tailor's Hymn: Holy, Holy, Holy
Golfer's Hymn: There's a Green Hill Far Away
Politician's Hymn: Standing on the PromisesOptometrist's Hymn: Open My Eyes That I Might See
IRS Agent's Hymn: I Surrender All
Gossip's Hymn: Pass It On
Electrician's Hymn: Send The Light
Shopper's Hymn: Sweet By and By
Realtor's Hymn: I've Got a Mansion, Just Over the Hilltop
Massage Therapist's Hymn: He Touched Me
Doctor's Hymn: The Great Physician

Catsup
A woman was trying hard to get the catsup to come out of the bottle. During her struggle the phone rang so she asked her four-year-old daughter to answer the phone.
"It's the minister, Mommy" the child said to her mother.
Then she added, "Mommy can't come to the phone right now. She's hitting the bottle."
#joke
This guy was on the side of th...
This guy was on the side of the road hitch hiking on a very dark night and in the middle of a storm. The night was roiling and no car went by.
The storm was so strong he could hardly see a few feet ahead of him. Suddenly, he saw a car coming towards him and stop. The guy, without thinking about it, got in the car and closed the door - and only then realized that there's nobody behind the wheel!
The car starts very slowly. The guy looks at the road and sees a curve coming his way. Scared, he starts to pray, begging for his life.
He hasn't come out of shock when, just before the car hits the curve, a hand appears thru the window and moves the wheel.
The guy, paralyzed in terror, watched how the hand appears every time they are approaching a curve.
The guy, gathering strength, gets out of the car and runs all the way to the nearest town. Wet and in shock he goes into a cantina, asks for two shots of tequila, and starts telling everybody about the horrible experience he just went through.
A silence enveloped everybody when they realize the guy was crying and wasn't drunk.
About half an hour later two guys walked in the same cantina and one said to the other, "Look, Pepe, that's the asshole that got in the car while we were pushing it!"
#joke