"When our fraternity
"When our fraternity voted whether or not to permit alcohol, there was not a dry aye in the house."
Funny video of the day - Ultimate Redneck Fails Compilation
Three businessmen were having
Three businessmen were having dinner at a club. When it came time to pay the check, each grabbed for it.
"It's a business expense," said one.
"I'll pay," said the second. "I'm on cost plus."
"Let me have it," argued the third. "I'm filing for bankruptcy next week."
#joke
Florida Minister...
A minister in Florida lamented that it was difficult to get his message across to his local congregation:
"It's so beautiful here in the winter," he said, "that heaven doesn't interest them that much."
"And it's so hot here in the summer that hell doesn't really scare them either."
#joke
Shark!
There is this atheist swimming in the ocean. All of a sudden he sees a shark in the water, so he starts swimming furiously towards his boat.
As he looks back, he sees the shark turn and head towards him. He's scared to death, and as he sees the jaws of the great white beast open, revealing its horrific teeth, the atheist screams, "Oh God! Save me!"
In an instant, time is frozen and a bright light shines down from above. The man is motionless in the water when he hears the voice of God say, "You are an atheist. Why do you call upon me when you do not believe in me?"
Confused, and knowing he can't lie, the man replies, "Well, that's true I don't believe in you, but how about the shark? Can you make the shark believe in you?"
The Lord replies, "As you wish," and the light retracts back into the heavens. The man feels the water move once again.
As the atheist looks back, he can see the jaws of the shark start to close down on him, when all of sudden the shark stops and pulls back.
Shocked, the man watches as the huge beast closes its eyes, bows its head and says, "Thank you Lord for this food which I am about to receive..."
#joke
When it comes to confetti, I <
When it comes to confetti, I rice to the occasion.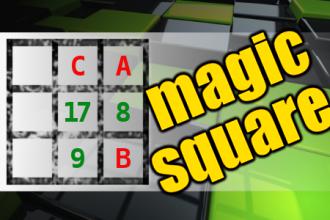 MAGIC SQUARE: Calculate A-B+C
The aim is to place the some numbers from the list (2, 8, 9, 10, 15, 16, 17, 23, 24, 25, 57, 61) into the empty squares and squares marked with A, B an C. Sum of each row and column should be equal. All the numbers of the magic square must be different. Find values for A, B, and C. Solution is A-B+C.
Knock, knock.
Who's th
Knock, knock.
Who's there?
Isabelle
Isabelle who?
Isabelle necessary on a bicycle?

A man walks into a restaurant...
A man walks into a restaurant with a full-grown ostrich behind him.
As he sits, the waitress comes over and asks for their orders.
The man says, "I'll have a hamburger, fries and a coke," and turns to the ostrich, "What's yours?"
"I'll have the same," says the ostrich.
A short time later the waitress returns with the order. "That will be $6.40 please," and the man reaches into his pocket and pulls out the exact change for payment.
The next day, the man and the ostrich come again and the man says, "I'll have a hamburger, fries and a coke," and the ostrich says, "I'll have the same."
Once again the man reaches into his pocket and pays with exact change.
This becomes a routine until late one evening, the two enter again.
"The usual?" asks the waitress. "No, this is Friday night, so I will have a steak, baked potato and salad," says the man, "same for me," says the ostrich.
A short time later the waitress comes with the order and says, "That will be $12.62."Once again the man pulls exact change out of his pocket and places it on the table.
The waitress can't hold back her curiosity any longer.
"Excuse me, sir.How do you manage to always come up with the exact change out of your pocket every time?"
"Well," says the man, "several years ago I was cleaning the attic and I found an old lamp. When I rubbed it a Genie appeared and offered me two wishes. My first wish was that if I ever had to pay for anything, I would just put my hand in my pocket and the right amount of money would always be there."
"That's brilliant!"says the waitress. "Most people would wish for a million dollars or something, but you'll always be as rich as you want for as long as you live!"
"That's right. Whether it's a gallon of milk or a Rolls Royce, the exact money is always there," says the man.
The waitress asks, "One other thing, sir, what's with the ostrich?"
The man sighs, pauses, and answers, "My second wish was for a tall chick with long legs who agrees with everything I say."
Confession
Tommy goes into a confessional box and says, "Bless me father, for I have sinned. I have been with a loose woman."
The priest says, "Is that you Tommy?"
"Yes father, it is I."
"Who was the woman you were with?"
"I cannot tell you... for I do not wish to sully her reputation."
The priest asks, "Was it Brenda O'Malley?"
"No, father."
"Was it Fiona MacDonald?"
"No, father."
"Was it Ann Brown?"
"No, father, I cannot tell you."
The priest says I admire your perseverance but you must atone for your sins. Your penance will be five Our Fathers and four Hail Marys.
Tommy goes back to his pew and his buddy Sean slides over and asks, "What happened?"
Tommy replies, "I got five Our Fathers, four Hail Marys and three good leads."
Submitted by Glaci
Edited by Yisman
#joke
The Six-Ball Rip-Off
Q: What has six balls and rips you off daily?
A: The lottery.
A mother is in the kitchen mak
A mother is in the kitchen making dinner for her family when her daughter walks in."Mother, where do babies come from?"The mother thinks for a few seconds and says, "Well dear, Mommy and Daddy fall in love and get married. One night they go into their bedroom, they kiss and hug, and have sex."The daughter looks puzzled so the mother continues, "That means the daddy puts his penis in the mommy's vagina. That's how you get a baby, honey." The child seems to comprehend."Oh, I see, but the other night when I came into your room you had daddy's penis in your mouth. What do you get when you do that?""Jewelry, my dear. Jewelry."
#joke
Full payment
Two women are walking down the street when a mugger approaches them and demands their money.
They both grudgingly pull out their wallets and begin taking out their cash.
Just then, the woman turns to the other and hands her a bill.
"Here's that $20 I owe you," she says.
New Mexico Crazy Law
State officials ordered 400 words of "sexually explicit material" to be cut from Romeo and Juliet.

Carrizozo
It's forbidden for a female to appear unshaven in public.

Las Cruces
You may not carry a lunchbox down Main Street.



#joke
Plaster of Parish
A crumbling old church building needed remodeling, so, during his sermon, the preacher made an impassioned appeal looking directly at the richest man in town. At the end of the sermon, the rich man stood up and announced, "Pastor, I will contribute $1,000."
Just then, plaster fell from the ceiling and struck the rich man on the shoulder.
He promptly stood back up and shouted, "Pastor, I will increase my donation to $5,000."
Before he could sit back down, plaster fell on him again, and again he virtually screamed, "Pastor, I will double my last pledge."He sat down, and a larger chunk of plaster fell on his head.
He stood up once more and hollered, "Pastor, I will give $20,000!"
This prompted a deacon to shout, "Hit him again, Lord! Hit him again!"
#joke
Paper-Eating Dog
A minister delivered a sermon in 10 minutes one Sunday morning, which was about half the usual length of his sermons. He explained, "I regret to inform you that my dog, who is very fond of eating paper, ate that portion of my sermon which I was unable to deliver this morning."After the service, a visitor from another church shook hands with the preacher and said, "Reverend, if that dog of yours has any pups, I want to give one to my minister."
#joke
Just Fred
A cop stops a Harley for traveling faster than the posted speed limit, so he asks the biker his name.
'Fred,' he replies.
'Fred what?' the officer asks.
'Just Fred,' the man responds.
The officer is in a good mood and thinks he might just give the biker a break and, write him out a warning instead of a ticket. The officer then presses him for the last name.
The man tells him that he used to have a last name but lost it. The officer thinks that he has a nut case on his hands but plays along with it. 'Tell me, Fred, how did you lose your last name?'
The biker replies, 'It's a long story, so stay with me.' I was born Fred Johnson. I studied hard and got good grades.
When I got older, I realized that I wanted to be a doctor. I went through college, medical school, internship, residency, and finally got my degree, so I was Fred Johnson, MD. After a while I got bored being a doctor, so I decided to go back to school.
Dentistry was my dream! Got all the way through School, got my degree, so then I was Fred Johnson, MD, DDS.
Got bored doing dentistry, so I started fooling around with my assistant and she gave me VD, so now I was Fred Johnson, MD, DDS, with VD.
Well, the ADA found out about the VD, so they took away my DDS..
Then I was Fred Johnson, MD, with VD. Then the AMA found out about the ADA taking away my DDS because of the VD, so they took away my MD leaving me as Fred Johnson with VD.
Then the VD took away my Johnson, so now I am Just Fred.'
The officer walked away in tears, laughing.
Join us on WhatsApp