The good news
A man goes into the hospital for some tests. The medical staff knocks him out, and when he comes around there is a doctor peering over him, pulling up his eyelid and wielding the reflex hammer.
The doctor says: "Ah, I'm glad you're awake. I'm afraid I have some good news and some bad news."
The man says: "Don't hold back, Doc, tell me the bad news."
The doctor says "Your condition was worse than we thought and we had to amputate both of your legs."
The man asks: "What is the good news, then?"
The doctor replies: "The man in the next bed wants to buy your slippers."
A man and a woman were asleep
A man and a woman were asleep like two innocent babies.
Suddenly, at 3 o'clock in the morning, a loud noise came from outside.
The woman, bewildered, jumped up from the bed and yelled at the man, "That must be my husband!"
So the man jumped out of the bed, scared and naked, and jumped out the window. He smashed himself on the ground, ran through a thorn bush and to his car as fast as he could go.
A few minutes later he returned and went up to the bedroom and screamed at the woman, "I AM your husband!"
The woman yelled back, "Yeah, then why were you running?"
#joke
True Stupid Stories 01
Really Stupid People
Police in Wichita, Kansas, arrested a 22-year-old man at an airport hotel after he tried to pass two (counterfeit) $16 bills.
A man in Johannesberg, South Africa, shot his 49-year-old friend in the face, seriously wounding him, while the two practiced shooting beer cans off each other's head.
A company trying to continue its five-year perfect safety record showed its workers a film aimed at encouraging the use of safety goggles on the job. According to Industrial Machinery News, the film's depiction of gory industrial accidents was so graphic that twenty-five workers suffered minor injuries in their rush to leave the screening room. Thirteen others fainted, and one man required seven stitches after he cut his head falling off a chair while watching the film.
The Chico, California, City Council enacted a ban on nuclear weapons, setting a $500 fine for anyone detonating one within city limits.
A bus carrying five passengers was hit by a car in St. Louis, but by the time police arrived on the scene, fourteen pedestrians had boarded the bus and had begun to complain of whiplash injuries and back pain.
Swedish business consultant Ulf af Trolle labored 13 years on a book about Swedish economic solutions. He took the 250-page manuscript to be copied, only to have it reduced to 50,000 strips of paper in seconds when a worker confused the copier with the shredder.
A convict broke out of jail in Washington D.C., then a few days later accompanied his girlfriend to her trial for robbery. At lunch, he went out for a sandwich. She needed to see him, and thus had him paged. Police officers recognized his name and arrested him as he returned to the courthouse in a car he had stolen over the lunch hour.
Police in Radnor, Pennsylvania, interrogated a suspect by placing a metal colander on his head and connecting it with wires to a photocopy machine. The message "He's lying" was placed in the copier, and police pressed the copy button each time they thought the suspect wasn't telling the truth. Believing the "lie detector" was working, the suspect confessed.
When two service station attendants in Ionia, Michigan, refused to hand over the cash to an intoxicated robber, the man threatened to call the police. They still refused, so the robber called the police and was arrested.
A Los Angeles man who later said he was "tired of walking," stole a steamroller and led police on a 5 mph chase until an officer stepped aboard and brought the vehicle to a stop.
"Will you love me when I'm
"Will you love me when I'm old and ugly?"
"Darling, of course I do."

After a round of golf, four la
After a round of golf, four ladies sat around the club house, chatting.
Seeing the ladies, the Pro approached them and asked: "How did your game go?
The first lady, a brunette, said she had a good round ... making the comment that she actually had 25 riders.
The Pro was a bit perplexed not knowing what a "Rider" was.
The second was a blonde lady who quickly chimed in and said that she had a very good round as well with 16 riders.
The third lady then said that her round was average and that she only had 10 riders.
The fourth lady admitted that she played the worst round of the day and that she only had 2 riders all day long.
The Pro was completely confused not knowing what the term "rider" meant. But, because he didn't want to look dumb, he made a quick polite remark, wished the ladies well and then left.
He then approached the bartender and asked "Hey, can you tell me what these ladies are talking about when they refer to "Riders"?"
The bartender simply smiled and said..."A 'Rider" is when you hit a shot long enough to ride on the golf cart to your ball.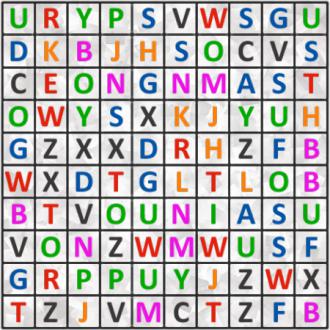 Find a famous person
Find the first and the last name of a famous person. Text may go in all 8 directions. Length of words in solution: 5,4.
Redneck Anthem
You know you're a redneck if you think the last four words of the national anthem are:
"Gentlemen, start your engines!"
Trash talking
Q: What do you call 40 guys watching the Super Bowl?
A: The Chicago Bears
>You know yo're getting old
You know yo're getting old when you stoop to tie your shoelaces and wonder what else you could do while you're down there.
George Burns (1896-1996)
Picture: REX FEATURES
Bob: "Holy crap, I just fell
Bob: "Holy crap, I just fell off a 50 ft ladder."
Jim: "Oh my God, are you okay?"
Bob: "Yeah it's a good thing I fell off the first step."
No-Parking Zone
A minister parked his car in a no-parking zone in a large city because he was short of time and couldn't find a space with a meter. So he put a note under the windshield wiper that read: "I have circled the block 10 times. If I don't park here, I'll miss my appointment. FORGIVE US OUR TRESPASSES."
When he returned, he found a citation from a police officer along with this note: "I've circled this block for 10 years. If I don't give you a ticket, I'll lose my job. LEAD US NOT INTO TEMPTATION."
#joke
"Two loaves of bread
"Two loaves of bread wanted to get married, so they eloafed."
T.J. Miller: Holding a Baby
This woman wouldnt let me hold her baby the other day because she said I was too drunk. First of all, dont bring your baby into the bar. And second of all, if Im drinking malt liquor on a playground, I call that a bar.
One Line Zingers


If Cain and Able were Siamese twins, would they be Cable?


Blessed are those who hunger and thirst, for they are sticking to their diets.


The best vitamin for a Christian is B1.


"I've taken a vow of poverty. To annoy me, send money."


Warning notice at a seminary swimming pool: "First-year students are only allowed to walk on the shallow end."


"If absence makes the heart grow fonder," said a minister, "a lot of folks must love our church."

This joke was reprinted from "Laugh Yourself Healthy" by Charles and Frances Hunter, with permission of Strang Communications. Copyright 2008. All rights reserved.

#joke
Eliot Chang: Politically Correct Friend
He actually said this to me; hes like, Hey man, you got to be careful. Theres a lot of women that have an Asian fetish. Well, what do you mean? Theyll have sex with you just cause youre Asian. Arent you offended? Uh, Ill be offended after my orgasm.
Who Should Make the Coffee?
A man and his wife were having an argument about who should brew the coffee each morning.
The wife said, "You should do it, because you get up first, and then we don't have to wait as long to get our coffee."
The husband said, "You are in charge of the cooking around here so you should do it, because that is your job, and I can just wait for my coffee."Wife replies, "No, you should do it, and besides it says in the Bible that the man should do the coffee."
Husband replies, "I can't believe that! Show me."
So she fetched the Bible, and opened the New Testament and showed him at the top of several pages, that it indeed says, "HEBREWS."
#joke
A Collection Of Insults
You must have gotten up on the wrong side of the cage this morning.
I would ask you how old you are, but I know you can't count that high.
In the next life, you'll blaze a way for us.
You are master in your own house -- the doghouse!
When you die, I'd like to go to your funeral, but I'll probably have to go to work that day. I believe in business before pleasure.
You make me believe in reincarnation. Nobody can be as stupid as you in one lifetime.
Believe me, I don't want to make a monkey out of you. Why should I take all the credit?
I hear you are very kind to animals, so please give that face back to the gorilla.
Keep talking. I always yawn when I'm interested.
Some day you will find yourself -- and wish that you hadn't.
People clap when they see you -- their hands over their eyes or ears.
Whatever is eating you -- must be suffering horribly.
#joke