Have a great time for
Christmas
, check out our latest
Christmas jokes of 2021
on:
Christmas jokes collection
A driver tucked a note under t
A driver tucked a note under the windshield wiper of his automobile saying, "I've circled this block for 20 minutes. I'm late for an appointment, and if I don't park in this no-parking zone I'll lose my job. Forgive us our trespasses."
When he came back, he found a parking ticket and this note: "I've circled this block for 20 years, and if I don't give you a ticket, I'll lose my job. Lead us not into temptation."
#joke
Guess who's the bride
A young Jewish man excitedly tells his mother he's fallen in love and that he is going to get married. He says, "Just for fun, Ma, I'm going to bring over three women and you try and guess which one I'm going to marry."
The mother agrees.
The next day, he brings three beautiful women into the house and sits them down on the couch and they chat for a while. He then says, "OK, Ma, guess which one I'm going to marry."
She immediately replies, "The one on the right."
"That's amazing, Ma. You're right. How did you know?
The Jewish mother replies, "I don't like her."
#joke
Funny video of the day - Dog Gets Caught | Tissue Bandit
"The rose gardener pe
"The rose gardener pedaled feverishly to the market last week to sell his flowers before they became a thorn in his side."
Chapter 11
"The job notice posted at the University placement office advertised for someone to set up a bookkeeping system for a local dinner theater that was filing for bankruptcy.
When an eager first-year accounting student inquired, the interviewer told him that the company needed an advanced student capable of handling Chapter 11 proceedings.
"I'm sure I could do it," the student proclaimed confidently. "My class is already up to chapter fourteen."
#joke
Insurance Company
A
Insurance Company
A Charlotte, North Carolina man, having purchased a case of rare, very expensive cigars, insured them against .... get this .... fire. Within a month, having smoked his entire stockpile of fabulous cigars, and having yet to make a single premium payment on the policy, the man filed a claim against the insurance company. In his claim, the man stated that he had lost the cigars in "a series of small fires." The insurance company refused to pay, citing the obvious reason that the man had consumed the cigars in a normal fashion. The man sued ... and won!! In delivering his ruling, the judge stated that since the man held a policy from the company in which it had warranted that the cigars were insurable, and also guaranteed that it would insure the cigars against fire, without defining what it considered to be "unacceptable fire," it was obligated to compensate the insured for his loss. Rather than endure a lengthy and costly appeal process, the insurance company accepted the judge's ruling and paid the man $15,000 for the rare cigars he lost in "the fires." After the man cashed his check, however, the insurance company had him arrested... on 24 counts of arson! With his own insurance claim and testimony from the previous case being used as evidence against him, the man was convicted of intentionally burning the rare cigars and sentenced to 24 consecutive one year terms.
#joke
In light of the rising frequen...
In light of the rising frequency of human - grizzly bear conflicts, the Alaska Department of Fish and Game is advising hikers, hunters, and fishermen to take extra precautions and keep alert of bears while in the field. They advise that outdoorsmen wear noisy little bells on their clothing so as not to startle bears that aren't expecting them. They also advise outdoorsmen to carry pepper spray with them in case of an encounter with a bear. It is also a good idea to watch out for fresh signs of bear activity. Outdoorsmen should recognize the difference between black bear and grizzly bear dung. Black bear dung is smaller and contains lots of berries and squirrel fur. Grizzly bear dung has little bells in it and smells like pepper.
#joke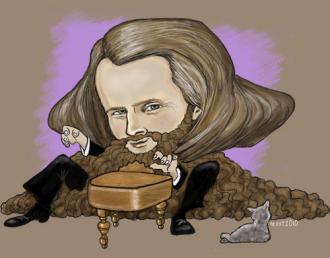 Guess the name of musician
Look carefully caricature and guess the name of musician.
Accidental Meeting
A woman and a man get into a car accident, and it's a bad one.
Both cars are totally demolished, but amazingly neither of them are hurt.
After they crawl out of their cars, the woman says, "So you're a man. That's interesting. I'm a woman... Wow!
Just look at our cars. There's nothing left, but fortunately we are unhurt. This must be a sign from God that we should meet and be friends and live together in peace the rest of our days."
The man replied," I agree with you completely; this must be a sign from God!"
The woman continued, "And look at this - here's another miracle. My car is completely demolished but this bottle of wine didn't break. Surely God wants us to drink this wine and celebrate our good fortune."
Then she hands the bottle to the man. The man shakes his head, opens it and says "You take the first drink", then hands it back to the woman. The woman takes the bottle, immediately chugs half of it, puts the cap back on, and hands it back to the man.
The woman asks, "Aren't you having any?"
The man replies, "No. I think I will just wait for the police..."
#joke
Q: What do you call two Mexica
Q: What do you call two Mexicans playing basketball?
A: Juan on Juan.
The 25 BBS Commandments


Thou shall love thy BBS with all thy heart and all thy bytes.

Thou shalt remember thy name and password.

Thou shalt only call a BBS two times a day.

Honor thy SysOp.

Thou shalt not covet thy neighbor's password, nor his or her real name, computer, software, nor any other thing belonging to him or her.

Thou shalt not post messages that are stupid, worthless, or have no meaning.

Thou shalt use the English language properly.

Thou shalt spell thy words correctly when ever possible.

Thou shalt delete thine olden messages.

Thou shalt help other users.

Thou shalt not post anonymously when offering criticism.

Thou shalt keep thy foul language to thyself.

Woe be unto the user who attempt to crash thy BBS, for he or she shalt be cast out from the sanctuary of thy hobby and must repent by doing 40 days and 40 nights of penance of voice-only communications.

Thou shalt first dial BBS numbers during the day by way of voice line to assure correct numbers.

Thou shalt not post messages while drunk.

Thou shalt confine thy messages to those of friendship, requests for assistance, aid to the needy, advice, and advancement of thy hobby; and thou art obligated to repel any who wouldst transgress upon those commandments.

If thou doth promise to reply to a message and thou doth not, then surely thou shalt spill coffee into thy keyboard and burn out thy central processing chip.

Thou shalt not giveth any false information when applying for membership to a BBS, for verily it is written that whosoever shall do so will surely be found out and thy welcome on all boards will be thus denied forever and ever.

Thou shalt log on properly and in accordance with the SysOp's rules.

Thou shalt observe BBS time limits.

Thou shalt not upload "worm" programs.

Thou shalt not ask stupid questions that are already fully explained in the BBS instructions.

Thou shalt not exchange copy protected software thru the BBS.

Thou shalt not violate applicable state/federal/local laws hand regulations affecting BBS telecommunications, or thy will feel the wrath of thy judicial system.

Thou shalt not hack.

#joke
Deaf Rover
Q: What do you call a dog wearing ear muffs?
A: Anything you want -- he can't hear you.
Rising to the Occasion
A bunch of girls had become upset at an anthropology
professor who had a knack of offending women. They decided
the next time he did something offensive, they would all
stand up and walk out of his class. Sure enough, at the very
next class meeting while discussing a tribe of African
natives. The professor leered and said, "You'll be
interested to know the average tribal warrior there has a
cock twelve inches long."
The girls all rose in a large mass and headed for the door.
The prof sneered and said, "What's your hurry, girls? The
next flight to there isn't until Saturday!"
#joke
The three wise men are out for...
The three wise men are out for a stroll when they come across a stable. The three of them decide to duck inside.
On the way in one of the wise men hits his head on the low entranceway.
"Jesus Christ!" he says.
Joseph says, "Quick, Mary, write that down! It's a hell of a lot better than Clyde!"
#joke
Name the animals...
The first-grade teacher was showing pictures of animals to her students to see how many they could name. She held up a picture of a lamb, and a little girl said, "That's a sheep!"
"That's right!" said the teacher. "How about THIS one?" she said, holding up a picture of the king of beasts.
"That's a lion!" answered a little boy.
"Right!" said the teacher. Then she held up a picture of a deer. No one volunteered an answer. She tried to help. "What does your mother call your father?"
Johnny said, "I know! That's a lazy old goat!"
#joke
Bought A Bad Computer
Top Ten Signs You Bought A Bad Computer


Lower corner of screen has the words "Etch-a-sketch" on it.

It's celebrity spokesman is that "Hey Vern!" guy.

In order to start it you need some jumper cables and a friend's car.

It's slogan is "Pentium: redefining mathematics".

The "quick reference" manual is 120 pages long.

Whenever you turn it on, all the dogs in your neighborhood start howling.
The screen often displays the message, "Ain't it break time yet?"
The manual contains only one sentence: "Good Luck!"
The only chip inside is a Dorito.
You've decided that your computer is an excellent addition to your fabulous paperweight collection.

#joke