Hard Question
Q: What rock group has four men that don't sing?

A: Mount Rushmore
A man was looking for a place
A man was looking for a place to sit in a crowded university library. He asked a girl: "Do you mind if I sit beside you?"
The girl replied, in a loud voice "NO, I DON'T WANT TO SPEND THE NIGHT WITH YOU!"
All the people in the library started staring at the man, who was deeply embarrassed and moved to another table.After a couple of minutes, the girl walked quietly to the man's table and said with a laugh: "I study psychology,and I know what a man is thinking; I bet you felt embarrassed, right?"
The man responded in a loud voice: "$500 FOR ONE NIGHT? ... I`M NOT PAYING YOU THAT MUCH!"
All the people in the library looked at the girl in shock.
The man whispered to her: "I study law, and I know how to screw people".
#joke
Funny video of the day - Couple Fails Compilation
"A ship's captain is
"A ship's captain is a sails manager."
A Georgia Congressman was seat
A Georgia Congressman was seated next to a little girl on the airplane leaving from Atlanta when he turned to her and said, "Let's talk. I've heard that flights go quicker if you strike up a conversation with your fellow passenger."
The little girl, who had just opened her book, closed it slowly and said to the total stranger, "What would you like to talk about?"
"Oh, I don't know," said the southern congressman. "How about global warming or universal health care," and he smiles smugly.
"OK," she said. "Those could be interesting topics. But let me ask you a question first. A horse, a cow, and a deer all eat the same stuff – grass. Yet a deer excretes little pellets, while a cow turns out a flat patty, and a horse produces clumps of dried grass. Why do you suppose that is?"
The southern legislator, visibly surprised by the little girl's intelligence, thinks about it and says, "Hmmm, I have no idea."
To which the little girl replies, "Do you really feel qualified to discuss global warming or universal health care when you don't know crap?"
#joke
Circle of flies....
A farmer got pulled over by a state trooper for speeding, and the trooper started to lecture the farmer about his speed, and in general began to throw his weight around to try to make the farmer uncomfortable. Finally, the trooper got around to writing out the ticket, and as he was doing that he kept swatting at some flies that were buzzing around his head.
The farmer said, 'Having some problems with circle flies there, are ya?' The trooper stopped writing the ticket and said, 'Well yeah, if that's what they are, but I never heard of circle flies.'
So the farmer says, 'Well, circle flies are common on farms. See, they're called circle flies because they're almost always found circling around the back end of a horse.'
The trooper says, 'Oh,' and goes back to writing the ticket. Then after a minute he stops and says, 'Hey...wait a minute, are you trying to call me a horse's ass?'
The farmer says, 'Oh no, officer. I have too much respect for law enforcement and police officers to even think about calling you a horse's ass.'
The trooper says, 'Well, that's a good thing,' and goes back to writing the ticket.
After a long pause, the farmer says, 'Hard to fool them flies though...'
#joke
Simplified Income Taxes

REVENUE CANADA *T1-SIMPLIFIED TAX FORM
New Simplified Tax Form for 2000 Taxes
1. How much money did you make in 2000?
2. Send it to us.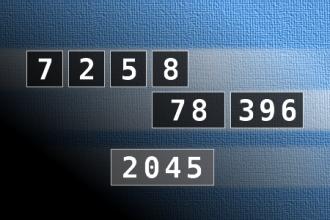 Calculate the number 2045
NUMBERMANIA: Calculate the number 2045 using numbers [7, 2, 5, 8, 78, 396] and basic arithmetic operations (+, -, *, /). Each of the numbers can be used only once.
Fishing on Sunday
A village pastor, known for his weakness for trout, preached against fishing on Sunday.
The next day one of his members presented him with a fine string of fish and said, hesitatingly, "I guess I ought to tell you, parson, that those trout were caught on Sunday." The minister hesitated, gazed appreciatively at the speckled trout, and then said piously as he reached for his gift, "The fish aren't to blame for that."
#joke
An employee comes into her man
An employee comes into her manager's office to take a day off from work. The manager replies, So you want a day off. Let's take a look at what you are asking for. There are 365 days per year available for work. There are 52 weeks per year in which you already have 2 days off per week, leaving 261 days available for work. Since you spend 16 hours each day away from work, you have used up 170 days, leaving only 91 days available. You spend 30 minutes each day on coffee break, which counts for 23 days each year, leaving only 68 days available. With a 1-hour lunch each day, you used up another 46 days, leaving only 22 days available for work. You normally spend 2 days per year on sick leave. This leaves you only 20 days per year available for work. We are off 5 holidays per year, so your available working time is down to 15 days. We generously give 14 days vacation per year which leaves only 1 day available for work and I'll be darned if you are going to take that day off!
#joke
So old
Yo momma so old her birth certificate expired!
Don't Got Milk?
Q: What do you call a cow that won't give milk?
A: A milk dud.
A husband suspected his wife w
A husband suspected his wife was cheating on him. He explained his situation to a pet shop owner who replied, "I have a parrot that will let you know daily what goes on in your house. The bird has no legs, so he holds onto his perch with his penis." Reluctantly, the husband brought the bird home. At the end of the first day, the man asked the bird, "Did anything happen today?" The parrot said, "Yes, the milk man came over." The man asked, "What did he do with my wife?" The bird said, "I don't know; I got hard and fell."
#joke
Missed it
A busload of tourists arrives at Runnymede, just west of central London.
They gather around the guide who says: "This is the spot where the barons forced King John to sign the Magna Carta."
A guy at the front of the crowd asks: "When did that happen?"
"1215," answers the guide.
The man looks at his watch and says: "Damn! Missed it by a half hour."
#joke
Why do the Vikings play in a D...
Why do the Vikings play in a Dome?
Because even God can't stand to watch!
My Evil Brother Was A Saint…
There were two evil brothers. They were rich and used their money to keep their ways from the public eye. They even attended the same church and looked to be perfect Christians.
Then, their pastor retired and a new one was hired. Not only could he see right through the brothers' deception, but he also spoke well and true, and the church started to swell in numbers.
A fundraising campaign was started to build a new assembly.
All of a sudden, one of the brothers died. The remaining brother sought out the new pastor the day before the funeral and handed him a check for the amount needed to finish paying for the new building.
"I have only one condition," he said. "At his funeral, you must say my brother was a saint."
The pastor gave his word and deposited the check.
The next day at the funeral, the pastor did not hold back. "He was an evil man," he said. "He cheated on his wife and abused his family." After going on in this vein for a small time, he concluded with, "But, compared to his brother, he was a saint."
#joke
A Faithful Woman
An elderly Muslim lady was well-known for her faith and for her confidence in talking about it. She would stand in front of her house and say "Allah be praised" to all those who passed by.
Next door to her lived an atheist who would get so angry at her proclamations he would shout, "There ain't no Lord!!"
Hard times came upon the elderly lady, and she prayed for Allah to send her some assistance. She would pray out loud in her night prayer "Oh Allah! I need food!! I am having a hard time, please Lord, PLEASE LORD, SEND ME SOME GROCERIES!!"
One night the atheist happened to hear her as she was praying, and decided to play a prank on her. The next morning the lady went out on her porch and found a large bag of groceries. She raised her hands and shouted, "Allah be praised!."
The neighbor jumped from behind a bush and said, "Aha! I told you there was no Lord. I bought those groceries, God didn't."
The old lady laughed and clapped her hands and said, "ALLAH BE PRAISED. He not only sent me groceries, but he made the devil pay for them!"
#joke #prank
Raffle prizes!
Bubba & Earl were in the local bar enjoying a beer when the decided to get in on the weekly charity raffle. They bought five tickets each at a dollar a pop.
The following week, when the raffle was drawn, each had won a prize. Earl won 1st prize, a year's supply of gourmet spaghetti sauce and extra-long spaghetti. Bubba won 6th prize, a toilet brush.
About a week or so had passed when the men met back in the neighborhood bar for a couple of beers. Bubba asked Earl how he liked his prize, to which Earl replied, "Great, I love spaghetti! How about you, how's that toilet brush?"
"Not so good," replied Bubba, "I reckon I'm gonna go back to paper."