Earning His Stripes
A young reporter went to a retirement home to interview an aged but legendary explorer. The reporter asked the old man to tell him the most frightening experience he had ever had. The old explorer looked into the distance and warmed to his task.
"Once, I was hunting Bengal tigers in the jungles of India," he began: "I was on a narrow path and my faithful native gun bearer was behind me. Suddenly, the largest tiger I've ever seen in my life leaped onto the path in front of us. I turned to get my weapon only to find my gun bearer had fled. The tiger leaped toward me with a mighty ROARRRR! I soiled myself."
"Under those circumstances, sir, I think anyone would have done the same," the reporter said.
The old explorer replied: "No, not then -– just now when I went 'ROARRRR!'"
#joke
"There were charges g
"There were charges given to the person who freed the angry bull."
Funny video of the day - HOW TO PICK UP GIRLS!
Top 10 Signs You Are Too Old to Be Trick or Treating
10. You get winded from knocking on the door.
9. You have to have another kid chew the candy for you.
8. You ask for high fiber candy only.
7. When someone drops a candy bar in your bag, you lose your balance and fall over.
6. People say, 'Great Keith Richards mask!' and you're not wearing a mask.
5. When the door opens you yell, 'Trick or...' and can't remember the rest.
4. By the end of the night, you have a bag full of restraining orders.
3. You have to carefully choose a costume that won't dislodge your hairpiece.
2. You're the only Power Ranger in the neighborhood with a walker.
1. You avoid going to houses where your ex-wives live.
#joke
Business One-liners 44
The ratio of time involved in work to time available for work is usually about 0.6.
The repairman will never have seen a model quite like yours before.
The road to hell is paved with good intentions and littered with sloppy analysis.
The severity of the itch is inversely proportional to the reach.
The simplest subjects are the ones you don't know anything about.
The solution to a problem changes the nature of the problem.
The solving of a problem lies in finding the solvers.
The sooner you fall behind, the more time you will have to catch up!
The squeaky wheel doesn't always get the grease; sometimes it gets replaced.
The stomach expands to accommodate the amount of junk food available.
#joke
A Recently Spotted Bumper Sticker:
"I Believe In Life Before Death."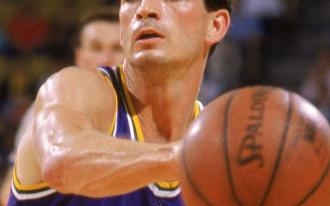 Can you name the athletes by the picture?
Can you name the athletes by the picture?
Back a few years ago, I went o...
Back a few years ago, I went over to my neighbors house.(She was a blonde), and for some reason she was mad at the world. She had locked herself in the bathroom and was threatening suicide.I said, "Come on, you know you don't want to do this!"
She said, "I damn well do wanna do this, nobody wants me alive anyways."
For some reason I actually believed her and pushed through the door, and saw she had a rope tied to around her ankles.I asked "Are you really trying to hang yourself?"
"Yeah, so what?"
"Well, usually when people hang themselves they tie the rope around their necks"
"Yeah, well, I tried that, but then I couldn't breathe."
bad advice
Walking past the Royal Courts of Justice one day, a man spotted a friend of his sitting on the steps outside, sobbing loudly with his head buried in his hands.
"What's the matter?"
he asked of his friend, "did your lawyer give you bad advice ..?"
"No - it's worse than that," replied the friend between sobs, " he sold it to me..."
Clean Joke, Dirty Joke
You wanna hear a dirty joke?
A boy fell in a mud puddle.
You wanna hear a clean joke?
He took a bath.
Yo mama is so fat when she too
Yo mama is so fat when she took her dress to the dry cleaners they said, "Sorry, we don't do curtains."
Our generation never got a bre...
Our generation never got a break. When we were young they taught us to respect our elders. Now that we are older, they tell us to listen to the youth of the country.
The old hotdog trick
We've all seen him, the party drunk/asshole. He has too much to drink, makes an ass out of himself, barfs all over the rug, then passes out on your bed.
We had a guy on the boat (I'm in the USN sub force) who would get so drunk when we pulled into a liberty port the asshole had to be carried back and dumped in his rack. We didn't want the MP's to snag him because that makes the boat look bad and our dickhead CO might have secured everyone's liberty.
To take care of this once and for all, we brought him back one night, out cold of course, and placed him in his rack on his side with his ass pointing to us. One person pulled down is pants and underwear while another person ran to the freezer and Doc's office. The second person came back with a frozen hotdog and a condom.
Here is how you do this little stunt:
1. Unwrap the condom and place it over the frozen hotdog. A lubricated one works best.
2. Shove the device up the guys ass and leave it there for a second or two. The condensation from the hotdog will allow it to be removed from the condom while leaving the rubber in the asshole.
3. Pull the victims pants up and leave them unbuttoned and unbuckled.
(OPTIONAL)
The less people involved the better. When our victim woke up and went to the head we all had to leave to keep from cracking up. When he was done with his shit, shower, and shave, he came to the mess decks for chow. He sat next to a friend of mine who was involved with the shen and asked, "Hey man, what happened last night?"
"I was going to ask you the same thing. You started drinking with some dork from a skimmer and the next thing we knew you guys were off to the bars out in town. Why?"
He had a mortified look on his face.
"Uhh, just wondering."
He never got trashed again while on that deployment.
#joke
Why does the bride always wear...
Why does the bride always wear white? Because it's good for the dishwasher to match the cooker and the fridge.
Can you spell that?
Summer vacation was over and the teacher asked Little Johnny about his family trip. "We visited my grandmother in Minneapolis, Minnesota."
The teacher asked, "Good, can you tell the class how you spell that?"
Little Johnny thought for a few seconds and said, "Actually, we went to Ohio."
#joke
My mind is gone...
"Oh God," sighed the wife one morning, "I'm convinced my mind is almost completely gone!"
Her husband looked up from the newspaper and commented, "I'm not surprised: You've been giving me a piece of it every day for twenty years!"
Sheep and Kangaroo
Q: What do you get when you cross a sheep and a kangaroo?
A: A sweater with big pockets.