Half sisters
One Sunday morning Joe burst into the living room and said: "Dad, Mom, I have some great news for you! I am getting married to the most beautiful girl in town. She lives a block away and her name is Susan."
After dinner, Joe's dad took him aside and said: "Son, I have to talk with you. Your mother and I have been married 30 years. She's a wonderful wife but she has never offered much excitement in the bedroom, so I used to fool around with women a lot. Susan is actually your half-sister, and I'm afraid you can't marry her."
Joe was heartbroken. After eight months he eventually started dating girls again. A year later he came home and very proudly announced: "Dianne said yes! We are getting married in June."
Again his father insisted on another private conversation and broke the sad news: "Diane is your half-sister too, Joe, I am very sorry about this."
Joe was furious. He finally decided to go to his mother with the news.
"Dad has done so much harm. I guess I am never going to get married," he complained. "Every time I fall in love, Dad tells me the girl is my half-sister."
His mother just shook her head and said: "Don't pay any attention to what he says, dear. He's not really your father."
#joke
"When the train condu
"When the train conductor got unfairly railroaded by his boss, his life immediately began going down the wrong track."
Funny video of the day - Best Fails of the Week 2 February 2015
The Collins family owned a sma
The Collins family owned a small farm in Canada, just yards away from the North Dakota border. For generations, their land had been the subject of a minor dispute between Canada and the United States. Mrs. Collins, who had just celebrated her ninetieth birthday, lived on the farm with her son and two grandchildren.
One day, her son rushed into her room with a letter in his hand. "Mom, I have some news," he said. "The government has come to an agreement with the people in Washington. They've decided that our land is really part of the United States. We have the right to approve or disapprove of the agreement. What do you think?"
"What do I think?" his mother replied. "Jump at it! Call them immediately and tell them we accept. I don't think I could stand another one of those Canadian winters!"
#joke
Wrong number...
A woman meant to call a record store but dialed the wrong number and got a private home instead.
"Do you have 'Eyes of Blue' and 'A Love Supreme'?" she asked.
"Well, no," answered the puzzled homeowner. But I HAVE got a wife and eleven children."
"Is that a record?" she inquired.
"I don't think so," replied the man, "but it's as close as I want to get to setting one."
#joke
 A Collection Of Insults
A brief synopsis...
When you're at a loss for words but want to tell someone that he or she is stupid, remember some these quips from our collection here at Aha! Jokes.
---
She wears a pony tail to cover up the valve stem.
She worries about the calories licking stamps and envelopes.
She's a screensaver: Looks good, but useless.
Short a few cards.
Short-circuited between the earphones.
Should be the poster child for family planning.
Should have kept his helmet on while riding / playing.
Single-sided, low density.
Sitting in the right pew, but the wrong church.
Skating on the wrong side of the ice.
Skylight leaks a little.
Slept too close to his radium-dial watch.
Slinky's kinked.
Sloppy as a soup sandwich.
Slow as molasses in January.
#joke
A Jewish Confession
An 80 year-old man went into the confessional and told the priest the following:
"Father, I am an 80 year-old man, I'm married, I have 4 children and 11 grandchildren. Last night I strayed and had an affair with two 18 year-old girls. We partied and made love all night long."
The priest said, "My son, when was the last time you were at confession?"
The old man said, "I've never been to confession. I'm Jewish."
The priest said, "Then why are you here telling me this?"
The old man said, "Father, I'm telling everyone!"
#joke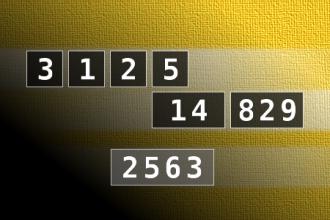 Calculate the number 2563
NUMBERMANIA: Calculate the number 2563 using numbers [3, 1, 2, 5, 14, 829] and basic arithmetic operations (+, -, *, /). Each of the numbers can be used only once.
Which teeth can cut both ways?
Which teeth can cut both ways? Bi cuspids.
Once there was a millionaire w...
Once there was a millionaire who had a collection of live alligators. He kept them in a pool at the back of his mansion.
The millionaire also had a beautiful daughter who was single. One day, he decides to throw a huge party.
During the party he announces, "My dear guests, I have a proposition to every man here. I will give one million dollars or my daughter to the man who can swim across this pool full of alligators and emerge unharmed!"
As soon as he finishes his last word, there is the sound of a large splash.
The guests all turn to see a man in the pool swimming as fast as he can. They cheer him on as he keeps stroking.
Finally, the swimming man makes it to the other side unharmed. The millionaire is so impressed, he says, "My boy, that was incredible! Fantastic! I didn't think it could be done! Well, I must keep my end of the bargain. Which do you want, my daughter or the one million dollars?"
The man says, "Listen, I don't want your money. I don't want your daughter, either. I want the person who pushed me in that water!"
#joke
Full set
What do you get when you have 32 Arkansasians in the same room?
A full set of teeth.
Amish Life
Q: What do you call an Amish guy with his hand up a horse's ass?
A: A mechanic!
A sailor drops anchor in a por
A sailor drops anchor in a port and heads into the nearest pub. Everyone in the pub is whispering and pointing at him because of his odd shaped body; he has a very muscular body, but a very tiny head on his shoulders. As he orders his drink, he tells the bartender, "I'll explain. I get this in every port and town I visit. I caught a mermaid and she granted me three wishes if I would release her back into the sea. So I told her I wanted a yacht and, sure enough, she came through for me. Next, I asked for a million bucks and now I am set for life. Last of all, I asked her if I could have sex with her and her response was, 'I don't know how you can make love to me with your type of body.' So I asked her, 'How about a little head?'"
#joke
There once was a dog named Tax...
There once was a dog named Tax. I opened the door and income Tax.
Chuck Norris can win tic-tac-t...
Chuck Norris can win tic-tac-toe in one move.
The Wailing Wall
A journalist assigned to the Jerusalem bureau takes an
apartment overlooking the Wailing Wall. Every day when she
looks out, she sees an old Jewish man praying vigorously. So,
the journalist goes down and introduces herself to the old
man.
She asks, "You come every day to the wall. How long have you
done that and what are you praying for?" The old man
replies, "I have come here to pray every day for 25 years. In
the morning I pray for world peace and then for the
brotherhood of man. I go home have a cup of tea and I come
back and pray for the eradication of illness and disease from
the earth."
The journalist is amazed. "How does it make you feel to come
here every day for 25 years and pray for these things?" she
asks.
The old man looks at her sadly. "Like I'm talking to a
wall."
#joke
Census...
Census Taker: 'How many children do you have?'
Woman: 'Four.'
Census Taker: 'May I have their names, please?'
Woman: 'Eenie, Meenie, Minie and George.'
Census Taker: 'Okay, that's fine. But may I ask why you named your fourth child George?'
Woman: 'Because we didn't want any Moe.'
#joke
Chuck Norris doesn't brush his...
Chuck Norris doesn't brush his teeth, he scares the plaque off each morning by snarling in the mirror.
Compassion With an Umbrella
A Western Buddhist woman was in India, studying with her teacher. She was riding with another woman friend in a rickshaw-like carriage, when they were attacked by a man on the street. In the end, the attacker only succeeded in frightening the women, but the Buddhist woman was quite upset by the event and told her teacher so. She asked him what she should have done - what would have been the appropriate, Buddhist response.
The teacher said very simply, "You should have very mindfully and with great compassion whacked the attacker over the head with your umbrella."
#joke