If you're afraid of homosexuals
They say that if you're afraid of homosexuals, it means that deep down inside you're actually a homosexual yourself.
That worries me because I'm afraid of dogs.
@normmacdonald http://on.cc.com/1E9Jouc
"The next iPhone will
"The next iPhone will be a huge 6s!"
Funny video of the day - Top 5 Oscar Losers
Last Payment Story
Today my baby girl's 18th birthday. I be so glad that this be my last child support payment! Month after month, year after year, all those payments!
So I call my baby girl, LaKeesha, to come to my house, and when she get there, I say, "Baby girl, I want you to take this check over to yo momma house and tell her this be the last check she ever be gettin' from me, and I want you to come back and tell me the 'spression on yo mama's face."
So, my baby girl take the check over to her momma. I be anxious to hear what she say, and bout the 'spression on her face.
Baby girl walk through the door, I say, "Now what yo momma say 'bout that?"
She say to tell you that "you ain't my daddy" ...and watch the 'spression on yo face.
#joke #yomama
"How long have you been drivin
"How long have you been driving without a tail light?" asked the policeman after pulling over a motorist.
The driver jumped out, ran to the rear of his car, and gave a long, painful groan. He seemed so upset that the cop was moved to ease up on him a bit.
"Come on, now," he said, "you don't have to take it so hard. It isn't that serious."
"It isn't?" cried the motorist. "Then you know what happened to my boat and trailer?"
Taxes
A Dutchman was explaining the red, white and blue Netherlands flag to an American.
"Our flag is symbolic of our taxes. We get red when we talk about them, white when we get our tax bills, and blue after we pay them."
The American nodded. "It's the same in the USA only we see stars too!"
#joke
You Might Be A Redneck If 46
You might be a redneck if...
Your insurance man is a redneck too if he pays you for it.
You have spent more on your pickup truck than on your education.
You've ever hit a deer with your car...deliberately.
You can tell your age by the number of rings in the bathtub.
Your momma gives you tips on how to sneak booze into sporting events.
Exxon and Conoco have offered you royalties for your hair.
Your dad is also your favorite uncle.
Your classes at school were cancelled because the path to the restroom was flooded.
During your senior year you and your mother had homeroom together.
You're a lite beer drinker, because you start drinking when it gets light.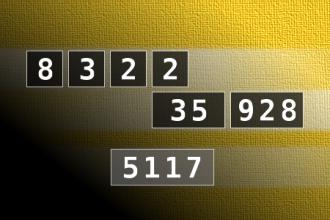 Calculate the number 5117
NUMBERMANIA: Calculate the number 5117 using numbers [8, 3, 2, 2, 35, 928] and basic arithmetic operations (+, -, *, /). Each of the numbers can be used only once.
Ready… Aim...
A bishop, a priest, and a deacon, were about to be executed for preaching the Gospel in a foreign land.
They bring out the bishop first and the guard shots, "Ready… aim…" and suddenly the bishop yells, "EARTHQUAKE!" When everyone looks around, the bishop runs off.
Next they bring out the priest. They guard shouts, "Ready… aim…" and suddenly the priest yells, "TORNADO!" When everyone ducks, the priest runs off.
This joke was reprinted from "
The Book of Catholic Jokes
" by Deacon Tom Sheridan, with permission of
ACTA Publications
. Copyright 2008. All rights reserved.
By then, of course, the deacon had it figured out. They bring him out and when the guard shouts, "Ready… aim…," suddenly the deacon yells, "FIRE!"
#joke
A failing bordello is a ron
A failing bordello is a whore no plenty.
A photographer for a national
A photographer for a national magazine was assigned to take pictures of a great forest fire. He was advised that a small plane would be waiting to fly him over the fire.
The photographer arrived at the airstrip just an hour before sundown. Sure enough, a small Cessna airplane was waiting. He jumped in with his equipment and shouted, "Let's go!" The tense man sitting in the pilot's seat swung the plane into the wind and soon they were in the air, though flying erratically.
"Fly over the north side of the fire," said the photographer, "And make several low-level passes."
"Why?" asked the nervous pilot.
"Because I'm going to take pictures!" yelled the photographer. "I'm a photographer, and photographers take pictures!"
The pilot replied, "You mean you're not the flight instructor?"
#joke
Blonde and computers
Yesterday I came back to my office from Court. There was a new secretary (a very attractive blonde, of course?) in the office down the hall from me. She flagged me down and asked for help. "My floppy drive won't work, can you help me ?" she asked.
I told her I'd take a look and proceeded over to her machine, where I found shredded up clear plastic Baggie-like stuff hanging out of her 3.5" floppy drive. While I spent the next 20 minutes getting out her disk and digging out the plastic, I noticed two guys, John and Dave, in the hall trying awfully hard to keep straight faces. Suspecting some mischief, I asked her how the plastic got into the drive.
"Oh, you mean the condom!", she said.
"Condom???", I asked.
"Yes, John & Dave over there told me to always put a condom on my disk before inserting it, to prevent catching viruses."
By this point, John & Dave were roaring, and it was all I could do to keep from joining them. The "condom" turned out to be a standard 3.5" plastic sleeve. I delicately explained to her that a practical joke had been played, and she shouldn't do that anymore, when she asked (as serious as one could be):
"Does that mean I don't have to stroke it ten times or blow on it either???"
A man walks out on his front p
A man walks out on his front porch one day and sees a gorilla in the tree on his front lawn. He calls animal control and about an hour later a man shows up with a ladder, a pit bull, and a shotgun. The animal control employee tells the man, "I'm here to get the gorilla out of your tree. I'm going to use this ladder to climb up the tree and shake the branch the gorilla is on to knock him to the ground. The pit bull is trained to go after anything that falls from the tree and bites their balls which calms the animal down so I can put him in the truck." The man says "Okay, I see what the ladder and the pit bull are for but what is the shotgun for?" The animal control employee says, "Oh, that's for you. In case I fall out of the tree instead of the gorilla, shoot the dog."
#joke
A New Set of Golf Clubs
Bob: "I just got a new set of golf clubs for my wife."
Jim: "Great trade!"
Slept with
An old couple were talking. The wife asked her husband, "How many women have you slept with?"
"Only you, Darling," the man replied proudly. "With all the others I was awake."
After a hard day of drilling, ...
After a hard day of drilling, the drill sergeant let the troops go. "All right, you idiots, report to the mess hall." Everybody walked away, sweating and their heads down, thankful for the end of the hard day. Only one private remained. He looked at the officer and sincerely said, "Boy, there sure were a lot of them, huh, serge."
#joke
Knock, Knock at the Convent
Did you hear the one about the man who opened a dry cleaning business next door to the convent?
He knocked on the door and asked the Mother Superior if she had any dirty habits.
This joke was reprinted from "The Book of Catholic Jokes" by Deacon Tom Sheridan, with permission of ACTA Publications. Copyright 2008. All rights reserved.
#joke
A Greek and Italian were sitti...
A Greek and Italian were sitting in a Starbuck's one day discussing who had the superior culture.
Over triple lattes the Greek guy says, "Well we have the Parthenon."
Arching his eyebrows, the Italian replies, "We have the Coliseum."
The Greek retorts, "We Greeks gave birth to advanced mathematics."
The Italian, nodding agreement, says, "But we built the Roman Empire".
...and so on and on until the Greek comes up with what he thinks will end the discussion.
With a flourish of finality he says, "We invented sex!"
The Italian thinks for a couple of seconds and replies quietly,
"That is true, but it was the Italians who introduced it to women!"
#joke
The Hole
The construction foreman ordered one of his men to dig a hole 8 feet deep. But after the job was done, the boss returned and explained an error had been made and the hole wouldn't be needed. "Fill 'er up," he ordered the worker.
The worker did as he'd been told. But he ran into a problem. He couldn't get all the dirt packed back into the hole without leaving a mound on top. He went to the office and explained his problem.
"Honestly!" the foreman snorted. "The kind of help I get these days! There's obviously only one thing to do. You'll have to dig that hole deeper!"
#joke
Dog Track
A woman came up behind her husband while he was enjoying his morning coffee and slapped him on the back of the head.
"I found a piece of paper in your pants pocket with the name 'Marylou' written on it," she said, furious. "You had better have an explanation."
"Calm down, honey," the man replied. "Remember last week when I was at the dog track? That was the name of the dog I bet on."'
The next morning, his wife snuck up on him and smacked him again.
"What was that for?" he complained.

"Your dog called last night."
#joke
Jim Gaffigan: Gym Teacher Aspirations
You think when gym teachers are younger, theyre thinking, You know I want to teach, but I dont want to read?