Have a great time for
Christmas
, check out our latest
Christmas jokes of 2022
on:
Christmas jokes collection
Six months to live
"Mr. Clark, I'm afraid I have bad news," the doctor told his anxious patient. "You only have six months to live."
The man sat in stunned silence for several minutes. Regaining his composure, he apologetically announced that he had no medical insurance. "I can't possibly pay you in that time," he said.
"OK," the doctor said. "let's make it nine months."
"Money laundering is
"Money laundering is a dirty trade for a clean profit!"
Funny video of the day - Darwin Awards Fails Compilation
One Sunday a pastor told the c...
One Sunday a pastor told the congregation that the church needed some extra money and asked the people to prayerfully consider giving a little extra in the offering plate. He said that whoever gave the most would be able to pick out three hymns.
After the offering plates were passed, the pastor glanced down and noticed that someone had placed a $1,000 bill in offering. He was so excited that he immediately shared his joy with his congregation and said he'd like to personally thank the person who placed the money in the plate.
A very quiet, elderly and saintly lady all the way in the back shyly raised her hand. The pastor asked her to come to the front. Slowly she made her way to the pastor. He told her how wonderful it was that she gave so much and in thanksgiving asked her to pick out three hymns.
Her eyes brightened as she looked over the congregation, pointed to the three handsomest men in the building and said, "I'll take him and him and him."
Two men were fishing...
Two men were fishing. They found a bottle floating on the water, retrieved it, rubbed it, and a genie popped out.
"I'll grant each of you one wish," said the genie.
The first man wished for a new fishing boat, all decked out, complete with outboard, the whole nine yards. Poof! New boat!
The second man wished for the lake to be turned into beer. Poof! The lake is now made of beer.
"You dummy!" exclaimed the first man. "Now we'll have to pee in the boat!"
Grandma Changed
In the dim and distant past
When life's tempo wasn't so fast,
Grandma used to rock and knit,
Crochet, tat and baby sit.
When the kids were in a jam,
They could always call on Gram.
But today she's in the gym
Exercising to keep slim.
She's checking the web or surfing the net,
Sending some e-mail or placing a bet.
Nothing seems to stop or block her,
Now that Grandma's off her rocker.
#joke
One Line Zingers


If Cain and Able were Siamese twins, would they be Cable?


Blessed are those who hunger and thirst, for they are sticking to their diets.


The best vitamin for a Christian is B1.


"I've taken a vow of poverty. To annoy me, send money."


Warning notice at a seminary swimming pool: "First-year students are only allowed to walk on the shallow end."


"If absence makes the heart grow fonder," said a minister, "a lot of folks must love our church."

This joke was reprinted from "Laugh Yourself Healthy" by Charles and Frances Hunter, with permission of Strang Communications. Copyright 2008. All rights reserved.

#joke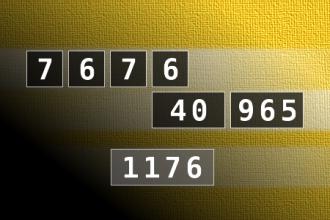 Calculate the number 1176
NUMBERMANIA: Calculate the number 1176 using numbers [7, 6, 7, 6, 40, 965] and basic arithmetic operations (+, -, *, /). Each of the numbers can be used only once.
The atheist turkey didn'
The atheist turkey didn't believe in gobble.
Teacher: What's the outside
Teacher: What's the outside layer
of a tree called, Tommy?
Tommy: Don't Know.
Teacher: Bark, Tommy.
Tommy: Woof, Woof.


I am very detail-oreinted.
I am very detail-oreinted.
My intensity and focus are at inordinately high levels, and my ability to complete projects on time is unspeakable.
Thank you for your consideration. Hope to hear from you shorty!
Enclosed is a ruff draft of my resume.
I am sicking and entry-level position.
It's best for employers that I not work with people.
Here are my qualifications for you to overlook.
I am a quick leaner, dependable, and motivated.
If this resume doesn't blow your hat off, then please return it in the enclosed envelope.
My fortune cookie said, "Your next interview will result in a job." And I like your company in particular.
You hold in your hands the resume of a truly outstanding candidate!
I saw your ad on the information highway, and I came to a screeching halt.
Insufficient writing skills, thought processes have slowed down some. If I am not one of the best, I will look for another opportunity.
Please disregard the attached resume—it is terribly out of date.
Seek challenges that test my mind and body, since the two are usually inseparable.
Reason for leaving last job: The owner gave new meaning to the word paranoia. I prefer to elaborate privately.
Previous experience: Self-employed--a fiasco.
Exposure to German for two years, but many words are inappropriate for business.
My experience in horticulture is well-rooted.
Experience: Watered, groomed, and fed the family dog for years.
I am a rabid typist.
Education: College, August 1880 - May 1984.
I have a bachelorette degree in computers.
Excellent memory; strong math aptitude; excellent memory; effective management skills; and very good at math.
Graduated in the top 66% of my class.
Accomplishments: Completed 11 years of high school.
Strengths: Ability to meet deadlines while maintaining composer.
Special skills: Experienced with numerous office machines and can make great lattes.
I worked as a Corporate Lesion.
Special Skills: Speak English.
Served as assistant sore manager.
Reason for leaving last job: Pushed aside so the vice president's girlfriend could steal my job.
Married, eight children. Prefer frequent travel.
Education: B.A. in Loberal Arts.
Objective: To have my skills and ethics challenged on a daily basis
#joke
You might be a redneck if 68
You might be a reneck if...
You can chew your own toenails.
You've ever used an inner-tube patch on your jeans.
You want the opening day of deer hunting season to be declared a national holiday.
Someone knocks on your front door and your back door rattles.
You let goldenrod grow in your yard because it looks so pretty.
You've ever absent-mindedly nibbled on your live bait . . . and didn't spit it out.
Your best Sunday clothes include your John Deere baseball cap.
You go to a wedding or any formal party and ask someone to pull your finger.
Your friend tells you he went online last night, and you think he took a drunk driving test.
Your mama has more tattoos than you do.
#joke
Yo mama's so fat when I pictu
Yo mama's so fat when I pictured her in my head she broke my neck.
A man walks into a chemist's ...
A man walks into a chemist's and says, "Can I have a bar of soap, please?" The chemist says, "Do you want it scented?" And the man says, "No, I'll take it with me now".
Ronnie Barker (1929-2005)
Picture: Getty
Animal Lives
Q: What has more lives than a cat?
A: A frog -- it croaks every night.
Old flame...
A couple was dining out when the wife noticed a familiar face at the bar. She recognized him as an old flame.
"Honey," she said to her husband, as she pointed out the man, "that guy at the bar has been drinking like that since I left him seven years ago."
Her husband said, "That's silly, no one celebrates that much!"
#joke
Try to settle the dispute
There was once a Scotsman and an Englishman who lived next door to each other. The Scotsman owned a hen and each morning would look in his garden and pick up one of his hen's eggs for breakfast.
One day he looked outside and saw that the hen had laid an egg in the Englishman's garden. He was about to go next door when he saw the Englishman pick up the egg. The Scotsman ran up to the Englishman and told him that the egg belonged to him because he owned the hen. The Englishman disagreed because the egg was laid on his property.
They argued for a while until finally the Scotsman said, "In my family we normally solve disputes by the following actions: I punch you in the nose and note how long it takes you to recover, then you punch me in the nose and note how long it takes for me to recover, whomever recovers quicker wins the egg."
The Englishman agreed to this and so the Scotsman held the heaviest object he could find, took a few steps back, then ran toward the Englishman and punched him as hard as he could in the nose. The Englishman fell to the ground and was howling in agony and holding his nose for thirty minutes.
Eventually the Englishman stood up and said, "Now it's my turn to punch you."
The Scotsman said, "Keep the lousy egg."
#joke