Approval of the Family
When my wife and I decided to get married we'd been going out for a few years. We really loved each other and we wanted everything to be perfect... and pretty much everything was, except that one thing had been bothering me. Her sister was a babe and many times I visited, she would flirt with me, bending over in front of me, things I didn't want to acknowledge.
Well a couple of nights before the wedding, she called me over to help her with some boxes. She was moving out of her apartment. When I arrived, I found her alone on the couch wearing decidedly little. I was shocked and she explained to me that she'd always wanted me and that it was her final opportunity, as these were my last few days as a bachelor. Well, I didn't know what to do. She told me she would go upstairs and wait and if I wanted to, I could follow her, but if I didn't, I could just leave.
I waited for a moment and then went outside only to find her dad almost in tears with joy saying he knew now that I was really the right man and that I had his blessing to marry his daughter. This was a test to see just how loyal I was!
Moral of the story: always leave your condoms in the car.
#joke
I Want This Done Right
A man with a piece of paper in his hand comes into an office where another man is sitting next to a shredding machine.
"Do you know how to operate this thing?" he asks. "I have an important paper here and I want to make sure this is done right."
"Sure," the other man answers. "Just put the paper in here and press this button."
The first man does so, saying, "Great. And where do the copies come out?"
#joke
Funny video of the day - The Amazing Domino Etch A Sketch
Ray had just reached his 175th
Ray had just reached his 175th birthday last week. Surrounded by reporters, he was asked, "Excuse me, sir, but how did you come to live to be 175?"
Ray answered, "It was easy. I just never argue with anyone."
The reporter shot back, "That's crazy. It had to be something else -- diet, meditation, or something. Just not arguing won't keep you alive for 175 years!"
The old fella stared hard at the reporter for several seconds.
Then he shrugged, "Hmmm... Maybe you're right."
#joke
"The Rodent Club fini
"The Rodent Club finished drafting their constitution, but it has yet to be ratified."
New technology trend: supercom
New technology trend: supercomputers that analyze the metrics behind swine behaviour, aka Pig Data.
Two rather old retired racehor
Two rather old retired racehorses are in a bar getting totally drunk. After about two hours the first racehorse says "You know.... when I was a young racehorse...from one hundred starts, I won (hic) 90 races, got 5 seconds and 5 thirds.... I am without doubt the greatest racehorse that ever lived....blah blah blah..."
In response to this and approximately a half an hour later the second racehorse responded, "Oh yeah...when I was a young racehorse...from one hundred starts, I won (hic) 95 races, got 2 seconds and 3 thirds.... I am the greatest racehorse that ever lived.... blah blah blah..."
Now it was about this time that the bartender (a greyhound) decided that they were drunk enough so he said, "I am sick of you two telling one another how great you are, you are both drunk and I am throwing you out of the bar, but before I do I want to let you know that when I was a young greyhound, from one hundred starts, I won 100 races, no seconds and no thirds."
The two racehorses were shocked and for 5 minutes sat with their mouths open until the fist racehorse finally said, "Isn't that amazing (hic)...a talking greyhound!"
#joke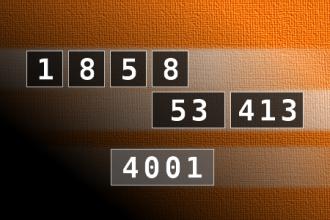 Calculate the number 4001
NUMBERMANIA: Calculate the number 4001 using numbers [1, 8, 5, 8, 53, 413] and basic arithmetic operations (+, -, *, /). Each of the numbers can be used only once.
The elderly priest, speaking t...
The elderly priest, speaking to the younger priest, said, "It was a good idea to replace the first four pews with plush bucket theater seats. It worked like a charm. The front of the church always fills first now."
The young priest nodded, and the old priest continued, "And you told me adding a little more beat to the music would bring young people back to church, so I supported you when you brought in that rock'n'roll gospel choir. Now our services are consistently packed to thebalcony."
"Thank you, Father," answered the young priest. "I am pleased that you are open to the new ideas of youth."
"All of these ideas have been well and good," said the elderly priest, "but I'm afraid you've gone too far with the drive-thru confessional."
"But, Father," protested the young priest, "my confessions and the donations have nearly doubled since I began that!"
"Yes," replied the elderly priest, "and I appreciate that.
But the flashing neon sign, 'Toot 'n Tell or Go to Hell' cannot stay on the church roof.
#joke
Let's get technical...
In 2031, President Clinton finishes his time on earth and approaches the Pearly Gates of Heaven...
"And who might you be?" inquires St. Peter. "It's me, Bill Clinton, formerly the President of the United States and Leader of the Free World."
"Oh...Mr....... President! What may I do for you?" asks St. Peter. "I'd like to come in," replies Clinton.
"Sure," says the Saint. "But first, you have to confess your sins. What bad things have you done in your life?"
Clinton bites his lip and answers, "Well, I tried marijuana, but you can't call it 'dope-smoking' because I didn't inhale. There were inappropriate extramarital relationships, but you can't call it 'adultery' because I didn't have full 'sexual relations.' And I made some statements that were misleading, but legally accurate, but you can't call it 'bearing false witness' because, as far as I know, it didn't meet the legal standard of perjury."
With that, St. Peter consults the Book of Life briefly, and declares, "OK, here's the deal. We'll send you somewhere hot, but we won't call it 'Hell.' You'll be there indefinitely, but we won't call it 'eternity.' And when you enter, you don't have to abandon all hope, just hold your breath waiting for it to freeze over."
#joke
Yo Mama Is So Short
Yo mama so short she poses for trophies!
Yo mama so short you can see her feet on her drivers lisence!
Yo mama so short she has to use a ladder to pick up a dime.
Yo mama so short she can play handball on the curb.
Yo mama so short she does backflips under the bed.
Yo mama so short she models for trophys.
#joke #yomama
Virgin Death
In a tiny village lived an old maid. In spite of her old
age, she was still a virgin. She was very proud of it. She
knew her last days were getting closer, so she told the
local undertaker that she wanted the following inscription on
her tombstone:
"Born as a virgin, lived as a virgin, died as a virgin."
Not long after, the old maid died peacefully, and the
undertaker told his men what the lady had said. The men went
to carve it in, but being the lazy no- goods they were, they
thought the inscription to be unnecessarily long.
They simply wrote: "Returned unopened."
#joke
Bald Fleas
Q; What do you call two fleas on top of a bald head?
A: Homeless.
A big girl came up to me
A big girl came up to me after a show and said, "I think you're fatist." I said, "No, no. I think you're fattest."
Jimmy Carr (September 15 1972-)
Picture: Andrew Crowley
So, a thought crossed your min
So, a thought crossed your mind? Must have been a long and lonely journey.
Why God Never Received Tenure at Any University
1. He only had one major publication.
2. It was in Hebrew.
3. It had no references.
4. It wasn't published in a referred journal.
5. Some even doubt He wrote it Himself.
6. It may be true that He created the world, but what has He done since then?
7. His cooperative efforts have been quite limited.
8. The scientific community has had a hard time replicating His results.9. He never applied to the Ethics Board for permission to use human subjects.
10. When one experiment went awry, He tried to cover it up by drowning the subjects.
11. When subjects didn't behave as predicted, He deleted them from the sample.
12. He rarely came to class, just told students to read the book.
13. Some say He had His son teach the class.
14. He expelled His first two students for learning.
15. Although there were only ten requirements, most students failed His tests.
16. His office hours were infrequent and usually held on a mountaintop.
#joke
If God Had Voice Mail
Thank you for calling heaven.
I am sorry, all of our angels and saints are busy helping other sinners right now. However, your prayer is important to us and we will answer it in the order it was received. Please stay on the line.
If you would like to speak to:
God, press 1.
Jesus, press 2.
The Holy Spirit, press 3.
If you would like to hear King David sing a Psalm while you are holding, press 4.
To find a loved one who has been assigned to Heaven, press 5, then enter his or her social security number followed by the pound sign. (If you get a negative response, please hang up and try area code 666.)For reservations in heaven, please enter J-O-H-N 3:16
For answers to nagging questions about dinosaurs, the age of the earth, life on other planets, and where Noah's Ark is, please wait until you arrive.
If you are calling after hours and need emergency assistance, please contact your local pastor.
#joke
Elisha and Two She-Bears
A minister was talking to a children's Sunday school class about the Old Testament story of the children who mocked Elisha on his journey to Bethel. For once, he had everyone's attention, as he described how the youngsters taunted the poor old prophet and how they were punished: Two she-bears came out of the wild and ate 42 of them."And now, children," said the pastor, wondering whether he had gotten his point across, "what does this story show us?"
A little girl in the front raised her hand and said, "It shows how many children two she-bears can hold."

#joke
Behind the wheel...
A highway patrolman pulled alongside a speeding car on the freeway. Glancing at the driver, he was astounded to see that the woman behind the wheel was knitting!
Realizing that she was oblivious to his flashing lights and siren, the trooper cranked down his window, turned on his bullhorn, and yelled, PULLOVER!"
"NO," the woman yelled back, "IT'S A SCARF!"
#joke
I'm really attracted to ...
I'm really attracted to Helen Keller. I have a thing for dumb blinds.
Join us on WhatsApp