Infrequently
An elderly couple who are both widowed have been courting for a long time.
They decide it's finally time to get married. Before the wedding, they go out to dinner and talk about how their marriage might work.
They discuss finances, living arrangements and so on.
Finally, the man broaches the subject of their physical relationship.
"How do you feel about sex?" he asks, rather tentatively.
"I would like it infrequently," replies the old lady.
The old gentleman sits quietly for a moment, adjusts his glasses, leans over towards her and whispers: "Is that one word or two?"
#joke
The Burglar
A man goes to the police station wanting to speak to the burglar who broke into his house the night before.
"You'll get your chance in court" says the desk sergeant.
"No, no, no!" Says the man. "I want to know how he got into the house without waking my wife. I've been trying to do that for years!"
#joke
Funny video of the day - My Parents Ride the Minecraft Rollercoaster | Oculus Rift Funny Reactions
Once upon a time, a man happen
Once upon a time, a man happened upon a magical lamp. He rubbed it and a genie came out.
"Are you going to give me three wishes?" the man asked.
"No," said the genie. "I am a rare and mystical question genie. I am way more honorable than a simple wish genie! You may ask me three questions."
The man thought for a while about what he wanted to ask. This was a once in a lifetime opportunity to unlock the secrets of the world.
Finally, he said, "Okay, here's what I want to know: What is the cure for the common cold? How can perpetual motion be created? And where can a fuel source, that is clean and reusable and will replace all the others, be found?"
The genie nodded and walked off. Puzzled, the man came after him.
"Hey," he said somewhat angrily, "Aren't you going to answer my questions?"
The genie stopped and looked at him with an incredulous expression; "Who the heck do you think I am? A question AND answer genie?"
#joke
"I think my toothbrus
"I think my toothbrush has been stolen by a demon. Hells teeth!"
Future Minister
After church on Sunday morning, a young boy suddenly announced to his mother, "Mom, I've decided I'm going to be a minister when I grow up."
"That's okay with us," the mother said, "But what made you decide to be a minister?"
"Well," the boy replied, "I'll have to go to church on Sunday anyway, and I figure it will be more fun to stand up and yell than to sit still and listen."
#joke
There was a man sitting at a b
There was a man sitting at a bar, and he looks over at the gentleman sitting next to him and says, "Hey, you look familiar.
Are you from around here?" The man answers, "Yeah, I live down the street."
"No kidding?" says the first man, "Well, so do I. And hey, you look about my age. Where did you go to high school?"
"Oh I went to Francis Lewis over on Utopia. Graduated in '66.
How 'bout you?"
"Get out. I went to Francis Lewis. And I graduated in '66, too." "Where'd you go to college?"
"Beloit, in Wisconsin."
"No way! I went to Beloit too. What dorm?"
"Kevin Sullivan dorm."
"Sullivan? You're not going to believe this . . ."
Joe the bartender walks over, and the first guy says, "Joe, you won't believe it in a million years. This guy went to the same
high school as me, graduated the same year I did, and went to the same college. We were even in the same dorm. Isn't that amazing?"
Joe looks at them both and says, "Yeah, that's just plain amazing."
A third man comes in and says, "Hey Joe. What's new?" Joe says, "Not much. The Johnson twins are drunk again."
#joke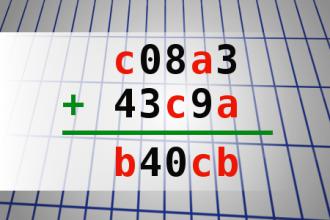 Find number abc
If c08a3 + 43c9a = b40cb find number abc. Multiple solutions may exist.
Man goes to see the Rabbi. "Ra
Man goes to see the Rabbi. "Rabbi, something terrible is happening and I have to talk to you about it."
The Rabbi asked, "What's wrong?"
The man replied, "My wife is poisoning me."
The Rabbi, very surprised by this, asks, "How can that be?"
The man then pleads, "I'm telling you, I'm certain she's poisoning me, what should I do?"
The Rabbi then offers, "Tell you what. Let me talk to her, I'll see what I can find out and I'll let you know."
A week later the Rabbi calls the man and says, "Well, I spoke to your wife. I spoke to her on the phone for three hours. You want my advice?"
The man anxiously says, "Yes."
"Take the poison," says the Rabbi.
#joke
Oh, yeah?
Thanksgiving Day was approaching, and a family had received a Thanksgiving card with a painting of a pilgrim family on its way to church. Grandma showed the card to her small grandchildren, observing, "The pilgrim children liked to go to church with their mothers and fathers."
"Oh, yeah?" her grandson replied, "so why is their dad carrying that rifle?"
Business One-liners 64
If builders built buildings the way programmers wrote programs, then the first woodpecker that came along would destroy civilization.
If enough data is collected, anything can be proven by statistical methods.
If everything is coming your way, you are probably in the wrong lane.
If everything seems to be going well, you obviously do not know what the hell is going on.
If everything seems to go right, check your zipper.
If facts do not conform to the theory, they must be disposed of.
If flattery gets you nowhere, try bribery.
If guns are outlawed, how will we shoot the liberals?
If I your opinion, I'll ask you to fill out the necessary form.
If ignorance is bliss, why aren't there more happy people?
#joke
Password selection rules
CORPORATE DIRECTIVE NUMBER 88-570471
In order to increase the security of all company computing facilities, and to avoid the possibility of unauthorized use of these facilities, new rules are being put into effect concerning the selection of passwords. All users of computing facilities are instructed to change their passwords to conform to these rules immediately.
RULES FOR THE SELECTION OF PASSWORDS:
1. A password must be at least six characters long, and must not contain two occurrences of a character in a row, or a sequence of two or more characters from the alphabet in forward or reverse order. Example: HGQQXP is an invalid password. GFEDCB is an invalid password.
2. A password may not contain two or more letters in the same position as any previous password. Example: If a previous password was GKPWTZ, then NRPWHS would be invalid because PW occurs in the same position in both passwords.
3. A password may not contain the name of a month or an abbreviation for a month. Example: MARCHBC is an invalid password. VWMARBC is an invalid password.
4. A password may not contain the numeric representation of a month. Therefore, a password containing any number except zero is invalid. Example: WKBH3LG is invalid because it contains the numeric representation for the month of March.
5. A password may not contain any words from any language. Thus, a password may not contain the letters A, or I, or sequences such as AT, ME, or TO because these are all words.
6. A password may not contain sequences of two or more characters which are adjacent to each other on a keyboard in a horizontal, vertical, or diagonal direction. Example: QWERTY is an invalid password. GHNLWT is an invalid password because G and H are horizontally adjacent to each other. HUKWVM is an invalid password because H and U are diagonally adjacent to each other.
7. A password may not contain the name of a person, place, or thing. Example: JOHNBOY is an invalid password.
Because of the complexity of the password selection rules, there is actually only one password which passes all the tests. To make the selection of this password simpler for the user, it will be distributed to all supervisors. All users are instructed to obtain this password from his or her supervisor and begin using it immediately.
#joke
Bad Boomerang
Q: What do you call a boomerang that doesn't come back?
A: A stick.
Did you hear about the two bal
Did you hear about the two bald guys who put their heads together? They made an ass out of themselves!
I just need to make it
I just need to make it to 34 and I've beaten Jesus at living.
Sarah Millican (May 29 1975-)
Picture: BBC
Paul Varghese: Knock Knock Joke
My friends a Jehovahs Witness. He got all pissed at me because he tried to tell me a knock knock joke and I ignored him.
Match Made in Heaven
A young couple were driving down the road one day, happily, deliriously in love and due to be married the next day. Suddenly, a large truck swerved from the oncoming lanes into their car! BOOM! And they both died.
At the Pearly Gates, the young couple confronted St. Peter. "Sir, you have to help us! We were to be married tomorrow. Is there any way we can be married in Heaven?"
"Hmmm," replied St. Peter, "I don't recall there ever being a marriage in Heaven. Well, let's take it up with God and see what he says."
So they approached God with their plea. God sat for a moment, pondering the request. Then he looked down and said, "Come back in five years and ask me again."
Five years later, the couple approached God again, even more in love than ever and pleading that he allow their marriage. God paused for quite a while, musing over their request. Then he spoke, "Come back in five years and ask me again."
And once again, five years later, the couple was again in the presence of God, more in love than ever and begging God's permission for the third time to marry. This time God smiled broadly and thundered, "Yes my children, you may marry!"
Well, the wedding went off beautifully, the reception was huge, everyone thought the bride was simply breathtaking and the groom was soooo handsome, and everyone was happy! Until...
Two years later, the couple was back before God, and things were not looking so good. The couple had come to the realization almost immediately that although marriages were made in heaven, they didn't last very long there! And, in spite of their struggles to come to terms with the situation, they had decided there simply was no alternative but to get a divorce.
Black clouds fractured by lightening rolled across the sky, and the ground shook with explosive thunder. God glared down at the tiny couple before him, his face becoming dark and angry, and he roared, "Divorce?! Impossible!!! It took us TEN years just to find a priest in Heaven! Do you have any idea how long it will take to find a LAWYER?!!"
Where are we?
Two tourists were driving through Louisiana. As they were approaching Natchitoches, they started arguing about the pronunciation of the town. They argued back and forth until they stopped for lunch. As they stood at the counter, one tourist asked the employee,
"Before we order, could you please settle an argument for us? Would you please pronounce where we are...very slowly?"
The employee leaned over the counter and said, "Burrrrrrrr, gerrrrrrr, Kiiiiing."
#joke
School Collection 08
A math joke
If there are ten cats in a boat and one jumps out, how many are left?
None, they were all copycats!
A history joke
What does the 1286BC incribed on the mummy's tomb indicate?
The registration of the car that ran him over!
Father: How do you like going to school?
Son: The going bit is fine, as is the coming home bit too, but I'm not too keen on the time in-between!
A history joke
Who succeeded the first President of the USA?
The second one!
A math joke
Teacher: Now class, whatever I ask, I want you to all answer at once. How much is six plus 4?
Class: At once!
#joke
Natural talents
I have never made a fool of my mother-in-law,
I just leave her to display her natural talents herself.