Smart Cops Call Sergeant
Two policemen call the station on the radio.
"Hello, is that you, Sarge?"
"Yes?"
"We have a case here. A woman has shot her husband for stepping on the floor she'd just mopped clean."
"Have you arrested the woman?"
"No sir . . . the floor's still wet."
#joke
At a fine-dining restaurant, t
At a fine-dining restaurant, the waiter approached a man who was carefully studying the menu. "May I take your order, sir?" he asked.
"Well, I was wondering how you prepare your chicken," The man replied.
"Oh, it's nothing too special, sir," the waiter confided, "We just tell them straight out they're going to die."
#joke
Funny video of the day - Longboarding Wipeout | Failing With Friends
"When I was young, I
"When I was young, I wanted to study archaeology, but my dad thought it was nothing more than a lot of skullduggery ..."
Muldoon Mourns his Mutt
Muldoon lived alone in the Irish countryside with only a pet dog for company. One day, the dog died, and Muldoon went to the parish priest and said, "Father, my dog is dead. Could ya' be sayin' a mass for the poor creature?"
Father Patrick replied, "I'm afraid not. We cannot have services for an animal in the church. But there is a new denomination down the lane, and there's no tellin' what they believe. Maybe they'll do something for the creature."Muldoon said, "I'll go right away Father. Do ya' think $5,000 is enough to donate for the service?"
Father Patrick exclaimed, "Sweet Mary, Mother of Jesus! Why didn't ya' tell me the dog was Catholic?"
#joke
An Antartian boy and his fathe
An Antartian boy and his father were visiting a mall. They were amazed by almost everything they saw, but especially by two shiny, silver walls that could move apart and back together again.
The boy asked his father, "What is this, Father?" The father [never having seen an elevator] responded "Son, I have never seen anything like this in my life, I don't know what it is."
While the boy and his father were watching wide-eyed, an old lady in a wheel chair rolled up to the moving walls and pressed a button. The walls opened and the lady rolled between them into a small room.
The walls closed and the boy and his father watched small circles of lights with numbers above the walls light up. They continued to watch the circles light up in the reverse direction.
The walls opened up again and a beautiful 24-year-old woman stepped out. The father said to his son, "Go get your mother."
#joke
Everyone was seated around the
Everyone was seated around the table as the food was being served. When little Logan received his plate, he started eating right away.
"Logan, wait until we say our prayer," his mother reminded him.
"I don't have to," the little boy replied.
"Of course you do," his mother insisted, "we say a prayer before eating at our house."
"That's at our house," Logan explained, "but this is Grandma's house and she knows how to cook."
#joke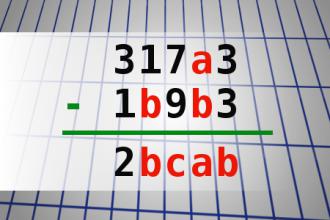 Find number abc
If 317a3 - 1b9b3 = 2bcab find number abc. Multiple solutions may exist.
Thanksgiving Weather Forecast
In the pre-Thanksgiving rush, we have received an early weather report from our in-house weather reporters. This is one you should be sure to email to your Mom. Turkeys will thaw in the morning, then warm in the oven to an afternoon high near 190F. The kitchen will turn hot and humid, and if you bother the cook, be ready for a severe squall or cold shoulder.
During the late afternoon and evening, the cold front of a knife will slice through the turkey, causing an accumulation of one to two inches on plates. Mashed potatoes will drift across one side, while cranberry sauce creates slippery spots on the other. Please pass the gravy.
A weight watch and indigestion warning have been issued for the entire area, with increased stuffiness around the beltway. During the evening, the turkey will diminish and taper off to leftovers, dropping to a low of 34F in the refrigerator.
Looking ahead to Friday and Saturday, high pressure to eat sandwiches will be established. Flurries of leftovers can be expected both days with a 50 percent chance of scattered soup late in the day. We expect a warming trend where soup develops. By early next week, eating pressure will be low as the only wish left will be the bone.
Japanese Management Lecture
Four corporate presidents, one English, one French, one Japanese and one American, were on their way to an international business conference when they were kidnapped by terrorists and taken to a secret hideout.
"You, your companies, and you countries are enemies of the Revolution," screamed the terrorist leader, "and you're going to be executed! Do you have any last requests?"
The Englishman spoke first.
"Before I die, I want to honor my country and protest this barbaric act by singing "God Save The Queen" to all you men."
"That can be arranged," said the terrorist.
The Frenchman said, "And I want to honor my country before I die by singing "The Marseilles" to your men."
The Japanese said, "Before I die, I wish to honor my country by giving the lecture I was going to present on the Mapanese style of industrial management."
The terrorist turned finally to the American.
"What is your last request?"
The American replied, "I want you to kill me right now so I don't have to listen to another lecture on the Japanese style of industrial management!"
#joke
The New Flight Atten
A pilot got on the loudspeaker shortly after takeoff and said to the passengers, "Folks, welcome aboard flight seven eighty-nine to Cleveland. We'll be flying at thirty-five-thousand feet, and expect to land in an hour and a half. Just sit back, relax, and enjoy the flight."
Forgetting to turn off the microphone, he turned to his co-pilot, yawned, and said, "Why don't you take over for a while? I'm going to take me a big healthy shit, and then I'm gonna shag the brains outta that new blonde flight attendant."
His announcement went over the whole plane. The pretty blonde flight attendant heard this and exclaimed, "Oh my God!" and started running towards the cockpit.
An old lady sitting in an aisle seat stopped her and said, "Relax honey, he's gotta take a shit first."
Broken Cage
Q: What did the bird say after his cage fell apart?
A: "Cheap, cheap!"
A man comes home, finds his wi
A man comes home, finds his wife in bed with another man, and asks, "What is this?!?" The wife turns to her lover and says, "See, I told you he was stupid!"
Infrequently
An elderly couple who are both widowed have been courting for a long time.
They decide it's finally time to get married. Before the wedding, they go out to dinner and talk about how their marriage might work.
They discuss finances, living arrangements and so on.
Finally, the man broaches the subject of their physical relationship.
"How do you feel about sex?" he asks, rather tentatively.
"I would like it infrequently," replies the old lady.
The old gentleman sits quietly for a moment, adjusts his glasses, leans over towards her and whispers: "Is that one word or two?"
#joke
Letter to Company
After trying a new shampoo for the first time, a guy fired off an enthusiastic letter of approval to the manufacturer.
Several weeks later he came home from work to a large carton in the middle of the floor. Inside were free samples of the many products the company produced: soaps, detergents, tooth paste, and paper items.
"Well, what do you think?" his wife asked smiling.
"Next time," he replied. "I'm writing to General Motors!"
#joke
Childless Smokey the Bear
Q: Why did Smokey the Bear never have children?
A: Every time his wife got hot, he stamped her out.
Joe had asked Bob to help him ...
Joe had asked Bob to help him out with the deck after work, so Bob just went straight over to Joe's place. When they got to the door, Joe went straight to his wife, gave her a hug and told her how beautiful she was and how much he had missed her at work. When it was time for supper, he complimented his wife on her cooking, kissed her and told her how much he loved her.
Once they were working on the deck, Bob told Joe that he was surprised that he fussed so much over his wife. Joe said that he'd started this about six months ago, it had revived their marriage, and things couldn't be better. Bob thought he'd give it a go. When he got home, he gave his wife a massive hug, kissed her and told her that he loved her. His wife burst into tears.
Bob was confused and asked why she was crying. She said, "This is the worst day of my life. First, little Billy fell off his bike and twisted his ankle. Then, the washing machine broke and flooded the basement. And now, you come home drunk!"
#joke
Dogs in Heaven
Dear God,
When I get to heaven, can I sit on your couch? Or is it the same old story?
Also, are there mailmen in Heaven? If there are, will I have to apologize?
Thank You God,
The Dog
- Joke shared by Beliefnet member Jalus
#joke
What happend here???
A guy comes home in the middle of the day, finds his wife standing in the middle of their deluxe apartment wearing a red G-string, high heels, and the whole apartment is flooded.
"What happened here?" he asks.
"I think the waterbed busted," says the trembling wife.
Just then a guy floats by.
"Who's that?" demands the husband.
"I dunno. Must be a lifeguard."
#joke