An Irishman finds a lamp. He r
An Irishman finds a lamp. He rubs it and a Genie emerges.
The Genie tells him he will be granted three wishes. The Irishman thinks for a moment and says, "First, give me a bottomless mug of ale."
A mug of ale appears in his hand. He sips it once, then again and the mug is magically refilled. The Irishman is thrilled and continues to drink. The mug never empties.
Then the Genie says, "And what about your other two wishes?"
The Irishman thinks for a moment and says, "Give me two more just like this one!"
#joke
Al Sharpton In Church
March 17, 2015
It's All In The Translation
Contributed by Heather Bailey
When NASA was preparing for the Apollo Project, it took the astronauts to a Navajo reservation in Arizona for training. One day, a Navajo elder and his son came across the space crew, who were walking among the rocks.

The elder, who spoke only Navajo, asked a question. His son translated for the NASA people:

"What are these guys in the big suits doing?"

One of the astronauts said they were practicing for a trip to the moon. When his son relayed this comment, the Navajo elder got all excited and asked if it would be possible to give the astronauts a message to deliver to the moon.

Recognizing a promotional opportunity when he saw one, a NASA official accompanying the astronauts said, "Why certainly!" and told an underling to get a tape recorder. The Navajo elder's comments into the microphone were brief. The NASA official asked the son if he would translate what his father had said. The son listened to the recording and laughed uproariously. But he refused to translate.

So the NASA people took the tape to a nearby Navajo village and played it for other members of the tribe. They too laughed long and loudly but also refused to translate the elder's message to the moon.

Finally, an official government translator was summoned. After he finally stopped laughing, the translator relayed the message:

"Watch out for these guys! They've come to steal your land."
#joke
Funny video of the day - Drunk Fails and Unlucky People Compilation
I'd tell you a chem...
"I'd tell you a chemistry joke but I know I wouldn't get a reaction."
Build Me a Bridge
A man walking along a California beach was deep in prayer. Suddenly the sky clouded above his head and, in a booming voice, the Lord said, "Because you have TRIED to be faithful to me in all ways, I will grant you one wish."
The man said, "Build a bridge to Hawaii so I can drive over anytime I want."The Lord said, "Your request is very materialistic. Think of the enormous challenges for that kind of undertaking. The supports required to reach the bottom of the Pacific! The concrete and steel it would take! It will nearly exhaust several natural resources. I can do it, but it is hard for me to justify your desire for worldly things. Take a little more time and think of something that would honor and glorify me."
The man thought about it for a long time. Finally he said, "Lord, I wish that I could understand my wife. I want to know how she feels inside, what she's thinking when she gives me the silent treatment, why she cries, what she means when she says 'nothing's wrong,' and how I can make a woman truly happy."
The Lord replied, "You want two lanes or four on that bridge?"
#joke
Joe, a college student, was ta
Joe, a college student, was taking a course in ornithology, the study of birds. The night before the biggest test of the semester, Joe spent all night studying. He had the textbook nearly memorized. He knew his class notes backward and forward. Joe was ready.
The morning of the test, Joe entered the auditorium and took a seat in the front row. On the table in the front was a row of ten stuffed birds. Each bird had a sack covering its body, and only the legs were showing. When class started, the professor announced that the students were to identify each bird by looking at its legs and give its common name, species, habitat, mating habits, etc.
Joe looked at each of the birds' legs. They all looked the same to him. He started to get angry. He had stayed up all night studying for this test and now he had to identify birds by their LEGS? The more he thought about the situation, the angrier he got.
Finally he reached his boiling point. He stood up, marched up to the professor's desk, crumpled up his exam paper and threw it on the desk. "What a ridiculous test!" he told the prof. "How could anyone tell the difference between these birds by looking at their legs? This exam is the biggest rip-off I've ever seen!"
With that, Joe turned and stormed toward the exit. The professor was a bit shocked, and it took him a moment to regain his composure. Then, just as Joe was about to walk out the door, the prof shouted out, "Wait a minute, young man, what's your name?"
Joe turned around, pulled up his pant legs and hollered, "You tell me, prof! You tell me!"
#joke
1. If you are choking on an ic
1. If you are choking on an ice cube, don't panic. Simply pour a cup of boiling water down your throat and presto! The blockage will be almost instantly removed.
2. Clumsy? Avoid cutting yourself while slicing vegetables by getting someone else to hold them while you chop away.
3. Avoid arguments with the Mrs. about lifting the toilet seat by simply using the sink.
4. High blood pressure sufferers: simply cut yourself and bleed for a while, thus reducing the pressure in your veins.
5. A mouse trap, placed on top of your alarm clock, will prevent you from rolling over and going back to sleep when you hit the snooze button.
6. If you have a bad cough, take a large dose of laxatives, then you will be afraid to cough.
7. Have a bad toothache? Hit your thumb with a hammer, then you will forget about the toothache.
8. Everyone seems normal until you get to know them.
9. AND..... Sometimes we just need to remember what The Rules of Life really are: You need only two tools: WD-40 and duct tape. If it doesn't move and it should, use WD-40. If it moves and shouldn't, use the duct tape.
10. If you woke up breathing, congratulations! You have another chance!
11. And finally... Be really good to your family and friends. You never know when you are going to need them to empty your bedpan.
#joke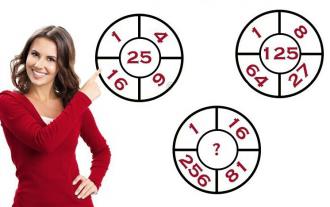 Find the missing number
Look at the numbers given in the picture and find the missing number.
A trip to the dentist...
A woman phoned her dentist when she received a huge bill.
"I'm shocked!" she complained.
"This is three times what you normally charge."
"Yes, I know," said the dentist. "But you screamed so loudly, you scared away two other patients."
The Results Of Statistics
1. Ten percent of all car thieves are left-handed
2. All polar bears are left-handed
3. If your car is stolen, there's a 10 percent chance it was taken by a Polar bear
1. 39 percent of unemployed men wear spectacles
2. 80 percent of employed men wear spectacles
3. Work stuffs up your eyesight
1. All dogs are animals
2. All cats are animals
3. Therefore, all dogs are cats
1. A total of 4000 cans are opened around the world every second
2. Ten babies are conceived around the world every second
3. Each time you open a can, you stand a 1 in 400 chance of becoming pregnant
#joke
Smart Blonde
A girl came skipping home FROM school one day. "Mommy, Mommy," she yelled, "we were counting today, and all the other kids could only count to four, but I counted to 10. See? 1, 2, 3, 4, 5, 6,7, 8, 9, 10!"
"Very good," said her mother.
"Is it because I'm blonde, Mommy?"
"Yes, Honey, it's because you're blonde."
The next day the girl came skipping home FROM school. "Mommy, Mommy," She yelled, "we were saying the alphabet today, and all the other kids could only say it to D, but I said it to G. See? A,b, c, d, e, f, g!"
"Very good," said her mother.
"Is it because I'm blonde, Mommy?"
"Yes, Honey, it's because you're blonde."
The next day the girl came skipping home FROM school. "Mommy, Mommy," she yelled, "we were in gym class today, and when we showered, all the other girls had flat chests, but I have these!" And she lifted her tank top to reveal a pair of 36Cs.
"Very good," said her embarrassed mother.
"Is it because I'm blonde, mommy?"
"No, Honey, it's because you're 25."
A man asks his wife...
A man asks his wife, "What would you do if I won the lottery?" His wife says, "Take half and leave your ass!" The man replies, "Great! I won 12 bucks, here is six, now get out!"
Final Exam
A college teacher reminds her class of tomorrow's final exam. 'Now class, I won't tolerate any excuses for you not being here tomorrow. I might consider a nuclear attack or a serious personal injury, illness, or a death in your immediate family, but that's it, no other excuses whatsoever!' 
A smart-ass student in the back of the room raised his hand and asked, 'What would you say if tomorrow I said I was suffering from complete and utter sexual exhaustion?'
The entire class is reduced to laughter and snickering. When silence was restored, the teacher smiled knowingly at the student, shook her head and sweetly said, 'Well, I guess you'd have to write the exam with your other hand.'
#joke
Singles
"I met my wife at a singles' bar."
"Really?"
"I thought she was home with the kids."
Instructions amiss
A man was having marital problems. So he went
to his shrink. The shrink says, "When you get
home, throw down your briefcase, run to her,
embrace her, take off her clothes, and yours,
and make mad passionate love to her."
In two weeks he was back in the shrink's office.
The shrink asked "How did it go?"
He said, "She didn't have anything to say,
but her bridge club got a kick out of it."
#joke
Confused
What do you call a nun with a sex change?
Tran-sister.
Submitted by Glaci
Edited by Curtis
The Biology Song 02
To the tune of "Send in the Clowns"
So this is it,
A few bases to go,
I've tried and I've tried but the techniques's so slow.
I've poured my gels,
I've run quite a few.
Full of bubbles, they leaked and why I never knew.
But where are the clones?
I've got to have clones,
The end is so near.
Is my broth rich?
Does it look clear?
Contamination is something I always fear.
Are my plaques blue?
They shouldnt be,
No DNA left I'm down on my knees,
So give me some clones?
I've got to have clones,
The end is so near.
I've had bad preps,
There've been quite a few,
Ive tried all brands of PEG, fresh buffers, but nothing would do.
And though they say,
Solutions will keep,
In my hands they last no more than a week.
So send me some clones?
I've got to have clones,
The end is so near.
I've read my gels,
My eyes are quite sore,
There's still sequence missing, of this I am sure.
But there it is!!
Finally done.
I've conquered this fragment and now I have won.
Whats's this I hear?
A voice from the door.
My supervisor wants 10kb more!
So give me some clones,
I've got to have clones,
Or I'll be here all year!
Bill Kalionis
#joke
The Peeing Accident
A man on a construction site 30 floors up had to go to the bathroom. He approached his foreman and told him that he was going down to use the facilities. The foreman told him he was crazy. By the time he got down and back he'd lose a half hour of time.
The foreman pushed a plank out over the edge of the building. He stood on one end and told the guy to go out on the other end and pee off. He told the man that they were 30 floors up and that his piss would turn into vapor before it reached the bottom. So the guy decided to take his advice.
Suddenly the foreman's cell phone rang and he jumped off the board to get it, allowing the peeing man to fall to his death!
At the inquest an electrician who was working on the 27th floor was asked if he knew what happened. "Not really, but I think it had something to do with sex."
The coroner said, "Sex, why do you think it had something to do with sex?"
The electrician replied, "I saw the man falling with his cock in his hand screaming, 'Where did that cocksucker go!' "
#joke