Two Elderly Gentlemen
Two elderly gentlemen, who had been without sex for several years, decided they needed to visit a cat-house for some tail..... When they arrived, the madam took one look at them and decided she wasn't going to waste any of her girls on these two old men.
So she used "blow-up" dolls instead. She put the dolls in each man's room and left them to their business. After the two men were finished, they started walking home and began to talking. The first man said, "I think the girl I had was dead. She never moved, talked or even groaned... how was it for you?"
The second man replied, "I think mine was a witch. When I nibbled on her breast..... she farted and flew out the window!"    
#joke
The proud father brought home
The proud father brought home a backyard swing set for his children and
immediately started to assemble it with all the neighborhood children
anxiously waiting to play on it. After several hours of reading the
directions, attempting to fit bolt A into slot B, etc., he finally gave
up and called upon an old handyman working in a neighboring yard.
The old-timer came over, threw the directions away and in a short while
had the set completely assembled.
"It's beyond me," said the father, "how you got it together without even
reading instructions."
"To tell the truth," replied the old-timer, "I can't read and when you
can't read, you've got to think."
#joke
Funny video of the day - Mc Backflip fail
"I tried to finish th
"I tried to finish the leftovers, but ... foiled again."
A Prayer for Dinner Parties
A woman invited some people to dinner. At the table, she turned to her six-year-old daughter and said, "Would you like to say the blessing?"
"I wouldn't know what to say," she replied.
"Just say what you hear Mommy say," the mother said.
The child bowed her head and said, "Dear Lord, why on earth did I invite all these people to dinner?"
#joke
My spit is so spicy. I call it
My spit is so spicy. I call it phlegm brulée.
A woman was waiting in the che
A woman was waiting in the checkout line at a shopping center. Her arms were laden with a mop and broom and other cleaning supplies. By her hard glances and deep sighs, it was obvious she was in hurry and not a happy camper about the slowness of the line.
When the cashier called for a price check on a box of soap, the woman remarked indignantly, "Well, I'll be lucky to get out of here and home before Christmas!"
"Don't worry, ma'am," replied the clerk. "With a good tail wind and that brand new broom you have there, you'll be home in no time."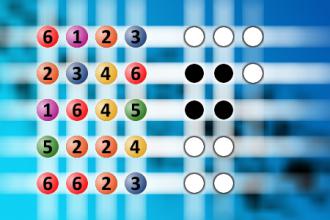 Which is a winning combination of digits?
The computer chose a secret code (sequence of 4 digits from 1 to 6). Your goal is to find that code. Black circles indicate the number of hits on the right spot. White circles indicate the number of hits on the wrong spot.
The only cow in a small Kentuc
The only cow in a small Kentucky town stopped giving milk. The people didsome research and found that they could buy a cow just across the stateline in Illinois for $200.
They brought the cow from Illinois and the cow was wonderful. It producedlots of milk all of the time, and the people were very happy.
They decided to acquire a bull to mate with the cow to produce more cowslike it. They would never have to worry about their milk supply again.
They bought the bull and put it in the pasture with their beloved cow.However, whenever the bull tried to mount the cow, the cow would moveaway. No matter what approach the bull tried, the cow would move away fromthe bull and he could not succeed in his quest. The people were very upsetand decided to ask the Vet, who was very wise, what to do.
They told the Vet what was happening. "Whenever the bull tries to mountour cow, she moves away. If he approaches from the back, she movesforward. When he approaches her from the front, she backs off. An attemptfrom the side, she walks away to the other side."
The Vet thought about this for a minute and asked, "Did you by chance, buythis cow in Illinois?"
The people were dumbfounded, since no one had ever mentioned where theybought the cow. "You are truly a wise Vet," they said. "How did you knowwe got the cow in Illinois?"
The Vet replied with a distant look in his eye, "My wife is fromIllinois."
#joke
Mid Semester Final Exam
One night Jack Evans, along with his 3 university friends went out drinkinig till late night, as many college students are prone to do, and didn't study for their test, which, of course, was scheduled for the next day.
In the morning they thought of a plan. They made themselves look as dirty and weird as they could with grease and dirt.
They went up to the dean and explained that they had gone out to a wedding last night and on their return the tire of their car burst. They continued to explain how they had to push the car all the way back and that they were in no condition to appear for the test.
The dean, being a compassionate human being said that they could take the test after 3 days. The students graciously replied that they'd be ready by that time.
On the third day, they appeared before the dean. The dean explained that since this was a special test all four were required to sit in separate classrooms for the duration of the exam.
They all agreed as they had prepared well in the last three days. The test consisted of 5 questions with total of 100 points:
MID SEMESTER COURSEWORK EXAMINATION
INSTRUCTIONS : All questions are required. Any inconsistencies on any of the questions among the four students will result in all the candidates getting a zero mark.
Q.1. Write down your name. ----- (2 POINTS) Q.2. Write the name of the bride and groom at the wedding you attended. ----- (30 POINTS) Q.3. What type of a car were you driving? ------(20 POINTS) Q.4. Which tire burst? ------- (28 POINTS) Q.5. Who was driving? ------ (20 POINTS)
#joke
Answering Machine Message 54

Imitating Mr. Rogers: Hello. I'm in the Neighborhood of Make Believe right now, so I can't come to the phone. Can you leave your name and number when you hear the sound of the tone? Sure... I knew you could.


Business one-liners 02
A committee is a group that keeps minutes and loses hours. - Milton Berle
A committee is twelve men doing the work of one.
A conclusion is the place where you got tired of thinking.
A consensus means that everyone agrees to say collectively what no one believes individually. - Abba Eban
A conservative is a man who believes that nothing should be done for the first time.
A conservative is a man with two perfectly good legs who has never learned to walk. - Franklin D. Roosevelt
A consultant is an ordinary person a long way from home.
A coup that is known in advance is a coup that does not take place.
A couple of months in the lab can often save a couple of hours in the library.
A crisis is when you cannot say "let's just forget the whole thing."
#joke
Poker animals
Q: What animal should you never play cards with?
A: A cheetah!
Why can't Polish farmers rai
Why can't Polish farmers raise chickens? They plant the eggs too deep.
Brian Posehn: Quitting Meat
Quitting pot? It was actually easier for me to become a vegetarian -- you know, quitting meat -- because your friends never show up at your house with a sack of meat.
Mommy Mommy 03
Mommy, Mommy! Why do I have to hop everywhere?
Shut up or I'll chop off the other leg!
---
Mommy, Mommy! Grandma's got a bruise.
Shut up and eat around it!
---
Mommy, Mommy! What happened to all your scabs?
Shut up and eat your cornflakes!
---
Mommy, Mommy! What's in those CARE packages they send to Africa?
Shut up and get back in the box!
---
Mommy, Mommy! The teacher says I look like a monkey!
Shut up and comb your face!
#joke
Miracle whip
Q: What do you call a ninety year old man who can still masturbate?
A: Miracle Whip.
Submitted by Curtis
Edited by Glaci
Subway Party
Two small-town merchants were visiting New York City for the first time to attend a conference.
There was a large party thrown, with lots of food and drink. At the end of the party, they both staggered outside.
One guy crossed the street, while the other stumbled into a subway entrance.
When the 1st guy reached the other side of the street, he noticed the other emerging from the subway stairs.
"Where ya been?"
he slurred.
"I don't know," gushed the other guy, "but you should see the train set that guy has in his basement!"
#joke