A young woman is widowed after
A young woman is widowed after only a few years of marriage, and it is not long before her friends begin to ask her if she is thinking of marrying again.
"Right now, no," the young woman answers. "I've hardly begun to enjoy using the remote control."

"I went out with a co
"I went out with a coal miner's daughter. I guess you could say I was carbon dated."
Funny video of the day - FailArmy's Top Fails Breakdown || God Loves Your Fails
When Jesus Was Born
Saints Dominic, Francis of Assisi, and Ignatius of Loyola are transported back in time and place to the birth of Our Lord.
St. Dominic, seeing the Incarnation of the Word, is sent into ecstasy.
St. Francis, seeing God become a helpless child, is overcome with humility.
St. Ignatius of Loyola takes Mary and Joseph aside and asks, "Have you given any thought to his education?"
This joke was reprinted from "
The Book of Catholic Jokes
" by Deacon Tom Sheridan, with permission of
ACTA Publications
. Copyright 2008. All rights reserved.
#joke
When my wife caught me ballroo
When my wife caught me ballroom dancing with a lamb, I knew I was in sheep dip.
Baba sent his brother a birthd
Baba sent his brother a birthday cake, air mail. He wanted him to get it while the candles were still burning.
Three women: one engaged, one
Three women: one engaged, one married and one a mistress, are chatting about their relationships and decided they needed to spice up their love lives. All three agreed to wear black leather bras, stiletto heels and a mask over their eyes that evening with their respective lovers.After a few days they meet up for lunch and compared notes.
The engaged woman: "The other night when my boyfriend came over he found me with a black leather bodice, tall stilettos and a mask. He saw me and said, 'You are the woman of my life. I love you.' Then we made love all night long."
The mistress: "Me too! The other night I met my lover at his office and I was wearing the leather bodice, heels, mask over my eyes and a raincoat. When I opened the raincoat he didn't say a word, but we had wild sex all night."
The married woman: "I sent the kids to stay at my mother's house for the night when my husband came home I was wearing the leather bodice, black stockings, stilettos and a mask over my eyes. As soon as he came in the door and saw me he said, 'What's for dinner, Batman?'"
#joke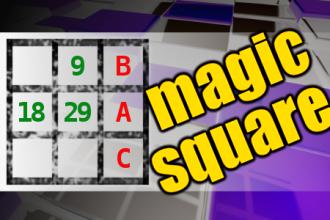 MAGIC SQUARE: Calculate A-B*C
The aim is to place the some numbers from the list (9, 11, 18, 27, 29, 36, 70, 72, 79) into the empty squares and squares marked with A, B an C. Sum of each row and column should be equal. All the numbers of the magic square must be different. Find values for A, B, and C. Solution is A-B*C.
Things to ponder...
If a man is standing in the middle of the forest speaking and there is no woman around to hear him - Is he still wrong?
If someone with multiple personalities threatens to kill himself, is it considered a hostage situation?
Is there another word for synonym?
Isn't it a bit unnerving that doctors call what they do 'practice?'
When you open a bag of cotton balls, is the top one meant to be removed?
Where do forest rangers go to 'get away from it all?'
What do you do when you see an endangered animal eating an endangered plant?
If a parsley farmer is sued, can they garnish his wages?
Would a fly without wings be called a walk?
Why do they lock gas station bathrooms? Are they afraid someone will clean them?
If a turtle doesn't have a shell, is he homeless or naked?
Can vegetarians eat animal crackers?
If the police arrest a mime, do they tell him he has the right to remain silent?
Why do they put Braille on the drive-through bank machines?
How do they get the deer to cross at that yellow road sign?
Why did kamikaze pilots wear helmets?
Is it true that cannibals don't eat clowns because they taste funny?
What was the best thing before sliced bread?
expecting a baby
After marrying a young filly, a ninety-year-old geezer told his doctor that
they
were expecting a baby.
"Let me tell you a story," said the Doctor. "An absent-minded fellow went
hunting, but instead of a gun, he picked up an umbrella. Suddenly a bear
charged him. Pointing his umbrella at the bear, he shot and killed it on
the
spot."
"Impossible!," the geezer exclaimed. "Somebody else must have shot that
bear."
"Exactly," replied the doctor.
Non-Profit Atheism
Q: Why is atheism a non-profit religion?
A: They have no prophets.
What is so great about being a
What is so great about being a test tube baby? You get a womb with a view.
Dog in Heat
A little girl asked her Mom, "Mom, may I take the dog for a walk around the block?
Mom replies, "No, because she is in heat."
"What's that mean?" asked the child.
"Go ask your father. I think he's in the garage."
The little girl goes to the garage and says, "Dad, may I take Belle for a walk around the block? I asked Mom, but she said the dog was in heat, and to come to you."
Dad said, "Bring Belle over here."
He took a rag, soaked it with gasoline, and scrubbed the dog's backside with it and said, "Okay, you can go now, but keep Belle on the leash and only go one time around the block." The little girl left, and returned a few minutes later with no dog on the leash.
Surprised, Dad asked, "Where's Belle?"
The little girl said, "She ran out of gas about halfway down the block, so another dog is pushing her home."  
#joke
Signs And Notices 12
These are supposedly actual signs that have appeared at various locations.
Sign on a Norfolk farm: "Trespassers beware! I shoot every tenth trespasser. The ninth one just left."
Sign seen in London department store: "Bargain Basement Upstairs"
Sign seen in the vicinity of Victoria Station: "Closed for official opening."
Sign in a Paris hotel elevator: "Please leave your values at the front desk."
Sign in a hotel in Athens: "Visitors are expected to complain at the office between the hours of 9 and 11 A.M. daily."
Sign in a Yugoslavian hotel: "The flattening of underwear with pleasure is the job of the chambermaid."
Sign in a Japanese hotel: "You are invited to take advantage of the chambermaid."
Sign in a Moscow hotel across from a Russian Orthodox monastery: "You are welcome to visit the cemetery where famous Russian composers, artists, and writers are buried daily except Thursday.
#joke
A man walks into a bar and he'...
A man walks into a bar and he's really pissed. The bartender gives him a drink
and asks what the problem is. All he says is, "all lawyers are a*******."
A man sitting in the corner shouts, "I take offense to that!"
The pissed-off guy asks him, "why? Are you a lawyer?"
He replies, "no, Iam
St. George and the Dragon
A tramp knocked on the door of the inn known as St. George and the Dragon. The landlady answered the door.
The tramp said, "Could you give a poor man something to eat?"
"No," said the woman, slamming the door in his face.
He knocked again and said, "Could I have a few words with George?"
#joke
Chelsea Handler: Not Excited About Alcoholism
Theres a good chance I may be an alcoholic. You think guys would be a little more excited about that. All they do is bitch and moan. You drink too much. You sleep too much. Its like, if you were drunk all the time, youd be tired, too.
A champion jockey is about to ...
A champion jockey is about to enter an important race on a new horse. The horse's trainer meets him before the race and says, "All you have to remember with this horse is that every time you approach a jump, you have to shout, 'ALLLLEEE OOOP!' really loudly in the horse's ear. Providing you do that, you'll be fine."
The jockey thinks the trainer is mad but promises to shout the command. The race begins and they approach the first hurdle. The jockey ignores the trainer's ridiculous advice and the horse crashes straight through the center of the jump.
They carry on and approach the second hurdle. The jockey, somewhat embarrassed, whispers 'Aleeee ooop' in the horse's ear. The same thing happens--the horse crashes straight through the center of the jump.
At the third hurdle, the jockey thinks, "It's no good, I'll have to do it," and yells, "ALLLEEE OOOP!" really loudly. Sure enough, the horse sails over the jump with no problems. This continues for the rest of the race, but due to the earlier problems the horse only finishes third.
The trainer is fuming and asks the jockey what went wrong. The jockey replies, "Nothing is wrong with me--it's this bloody horse. What is he--deaf or something?"
The trainer replies, "Deaf?? DEAF?? He's not deaf--he's BLIND!"
#joke