After I gave my childhood torm
After I gave my childhood tormentor a wedgie I was accused of acting unfashion a bully.
Due to inherit a fortune when
Due to inherit a fortune when his sickly, widower father died, Charles decided he needed a woman to enjoy it with. Going to a singles' bar, he spotted a woman whose beauty took his breath away.
"I'm just an ordinary man," he said, walking up to her, "but in just a week or two, my father will die and I'll inherit 20 million dollars."
The woman went home with Charles, and the next day she became his stepmother.
#joke
Funny video of the day - Baking Soda Bomb FAIL
This morning, my IT...
This morning, my IT guy checked on an install and I raised my empty coffee cup and said, 'Java Installed.'
Moving Testimony
Three buddies die in a car crash, and they go to heaven.
There, they are all asked, "When you are in your casket and friends and family are mourning, what would you like to hear them say about you?" The first guy says, "I would like to hear them say that I was a great doctor of my time, and a great family man."
The second guy says, "I would like to hear that I was a wonderful husband and school teacher who made a huge difference in our children of tomorrow."
The last guy replies, "I would like to hear them say, 'Look! He's moving!'"
A guy walking down a street on...
A guy walking down a street one afternoon passes an old man sitting on the side of the road with a large sack.
The younger guy says to the old man, "Watcha got in the sack?"
The old man responds, "I got some monkeys in that there sack."
The younger man asks, "If I guess how many monkeys you got in the sack, can I keep one?"
The old man replies, "Son, if you guess how many monkeys I got in this sack, I'll give you both of 'em!"
#joke
Paintings apreciate in value
An artist asked the gallery owner if there had been any interest in her paintings that were on display.
"Well, I have good news and bad news," the owner responded. "The good news is that a gentleman noticed your work and wondered if it would appreciate in value after your death. I told him it would and he bought all 10 of your paintings."
"That's wonderful," the artist exclaimed. "What's the bad news?"
"The gentleman was your doctor."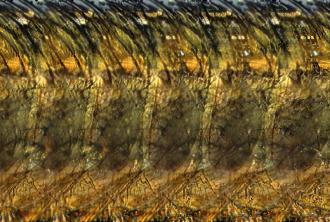 What is hidden in 3D image?
Stereogram - 3D Image
First time in the big city...
Two small-town merchants were visiting New York City for the first time to attend a conference. There was a large party thrown, with lots of food and drink. At the end of the party, they both staggered outside. One guy crossed the street, while the other stumbled into a subway entrance. When the first guy reached the other side of the street, he noticed the other emerging from the subway stairs.
"Where ya been?" he slurred.
"I don't know," gushed the other guy, "but you should see the train set that guy has in his basement!"
#joke
Cards Not In Hallmark
Cards You Will Never See In Hallmark


"Congratulations on your wedding day! Too bad no one likes your wife."

"How could two people as beautiful you have such an ugly baby?"

"I've always wanted to have someone to hold, someone to love. After having met you, I've changed my mind."

"I must admit, you brought Religion in my life. I never believed in Hell til I met you."

"Looking back over the years that we've been together, I can't help but wonder: What was I thinking?"

"As the days go by, I think of how lucky I am that you're not here to ruin it for me."

"If I get only one thing for Christmas, I hope it's your sister."

"As you grow older, Mom, I think of all the gifts you've given me. Like the need for therapy..."

"Thanks for being a part of my life!!!I never knew what evil was before this!"

"Congratulations on your promotion. Before you go, would like to take this knife out of my back. You'll probably need it again."

"Someday I hope to get married, but not to you."

"Sorry things didn't work out, but I can't handle guys with boobs that are bigger than mine."

"Happy Birthday! You look great for your age...Almost Lifelike!

"When we were together, you always said you'd die for me. Now that we've broke up, I think it's time you kept your promise."

"I knew the day would come when you would leave me for my best friend. So here's his leash, water bowl and chew toys."

"We have been friends for a very long time, what say we call it quits."

"I'm so miserable without you, it's almost like you're here."

"Congratulations on your new bundle of joy. Did you ever find out who the father was?"

"You are such a good friend that if we were on a sinking ship and there was only one life jacket.... I'd miss you heaps and think of you often."

"Your friends and I wanted to do something special for your birthday ---so we're having you put to sleep."

"Happy Birthday, Uncle Dad!!" (available only in Arkansas)

Iraqui Cruise
An Iraqui was walking on the beach when he was approached by a man. "Say Buddy," said the man, "How"d you like to take a cruise for $100?"
"Sure!" exclaimed the Iraqui. When he gave the man his money, the guy pulled out a black jack and hit him over the head. He pulled him down to the shore, put him in an inner tube and then shoved him off.
The next day, another Iraqui was walking on the beach, and was approached by the same man, in the same manner. Sure enough, when the second Albanian gave him his money, out came the black jack, and the second Albanian was on his way out to sea.
Several days had passed, and the two Iraquis eventually ran into one another. "Hey Buddy," the second asked the first, "do they serve drinks on this cruise?"
"They probably won't." said the first, "They didn't last year."
#joke
Government vs Mafia
Q: What's the difference between the government and the Mafia?
A: One of them is organized.
On the night of their honeymoo
On the night of their honeymoon, a newlywed couple has an unfortunate accident, resulting in the amputation of the groom's left foot. Unable to control her grief, the bride calls her mother from the hospital. "Mother," she sobs, "my husband has only one foot." The mother, trying to console her daughter, says, "That's alright dear, your father has only six inches."
#joke
Being Alone
A man moved to a mountain top to get rid of the hustle and be alone.
One day he heard a knock at the door and no one was there but then he looked down and there sat a snail and it said it is quite cold out here can I come in? the man shouted NO why dont you all understand I want to be alone! and he kicked the snail down the mountain.
One year later there was a knock at the door and no one was there and then he looked down and there again sat a snail and it said,
What did you do that for?
#joke
Dentist
A guy and a girl meet at a bar. They get along so well that they decide to go to the girl's place.
A few drinks later, the guy takes off his shirt and then washes his hands.
He then takes of his trousers and washes his hands again.
The girl has been watching him and says, "You must be a dentist."
The guy, surprised, says "Yes! How did you figure that out?"
"Easy," she replied, "you keep washing your hands."
One thing led to another and they make love.
After they have done, the girl says, "You must be a good dentist."
The guy, now with a boosted ego says, "Sure, I'm a good dentist, How did you figure that out?"
"Didn't feel a thing!"
#joke
Some people get lucky and kill...
Some people get lucky and kill two birds with one stone. Chuck Norris once killed four birds with half a stone. What's that? You say there's no such thing as half a stone? The four dead birds didn't think so either.
An Unusual Vet
There was once an aspiring veterinarian who put himself
through veterinary school working nights as a taxidermist.
Upon graduation, he decided he could combine his two
vocations to better serve the needs of his patients and their
owners, while doubling his practice and, therefore, his
income.
He opened his own offices with a shingle on the door saying,
"Dr. Jones, Veterinary Medicine and Taxidermy -- Either way,
you get your dog back!"
#joke
Chuck Norris can speak braille...
Chuck Norris can speak braille.
Business One-liners 113
Goebel's Second Law Of Useless Difficulty: The fastest way to get something done is to determine that it isn't worth doing.
Goebel's Law Of Computer Support: Troubleshooting a computer over the telephone is like having sex through a hole in a board fence. It can be done, but it is neither easy nor pleasant.
Goebel's Law Of Software Compatibility: A statement of absolute functional equivalence made in bold print followed by several pages of qualifications in fine.
Goebel's Theorem Of Software Schedules: Always multiply a software schedule by pi. This is because you think you're going in a straight line but always end up going full circle.
Goebel's Law Of Product Introductions: A future product release date does not say when a product will be introduced. All it says it that you don't have a chance of seeing it before that time.
Goebel's Observation On Utopia: If everyone believed in Peace, they would immediately begin fighting over the best way to achieve it.
Goebel's Law Of Intellectual Obscurity: What fun is it to be an expert if you make yourself easy to understand?
#joke