Coffee?
Coffee? Oh, you mean my survival juice?
A woman getting married for th
A woman getting married for the fourth time visited a tailor to get a wedding dress made. When the tailor inquired about the color, the bride-to-be said "White".
The tailor was a bit surprised by this, and said, "Excuse me, I don't mean to pry, but since white is the color traditionally worn by a virgin on her wedding night, I can't help wondering if you might still be a virgin? How could that be?"
The woman replied, "I'm sorry to say, but that's the way it is. You see, my first husband was a psychologist. He just wanted to talk about it. My second husband was a gynecologist. He just wanted to look. My third husband was a stamp collector. Oh, I miss him..."
#joke
Funny video of the day - Best Fails of the Week 3 May 2015
My Super Ex-Wife
My ex-wife and I could not reconcile our marriage because of religious differences.
She thought she was God.
I disagreed.
A punch to the side of the hea
A punch to the side of the head, aka a knuckle ear missile.
Mad men are given a test to ch...
Mad men are given a test to check their mental state. The instructor draws a door on the wall and orders them to go out.
They start rushing to the door but one remains sitting. The instructor goes to him and asks; "why didn't you join the others?" He replies, "let them fight they forgot I have the keys"
#joke
70-year-old George went for hi
70-year-old George went for his annual physical. All of his tests came back with normal results.
Dr. Smith said, "George, everything looks great physically. How are you doing mentally and emotionally? Are you at peace with yourself, and do you have a good relationship with your God?"
George replied, "God and me are very close. He knows I have poor eyesight, so he's fixed it so that when I get up in the middle of the night to go to the bathroom (poof!) the light goes on when I pee, and then (poof!) the light goes off when I'm done."
"Wow," commented Dr. Smith, "that's incredible!"
A little later in the day Dr. Smith called George's wife. "Thelma," he said, "George is just fine. Physically he's great, but I had to call because I'm in awe of his relationship with God. Is it true that he gets up during the night and (poof!) the light goes on in the bathroom, and then (poof!) the light goes off?"
Thelma exclaimed, "That old fool! He's peeing in the refrigerator again!"
#joke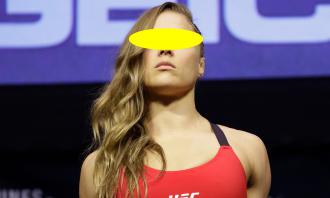 Can you name the athletes by the picture?
Can you name the athletes by the picture?
Interview....
Martin was being interviewed for a new job. The person conducting the interview wanted to find out something about his personality, so he asked, "If you could have a conversation with someone, living or dead, who would it be?"
Without hestitation, Martin responded, "The living one, of course!"
#joke
Alphabet Letters
How many letters are there in the alphabet?
Noel, noel, noel, noel ... the angels did say...
E.T. went home.
Get rid of X. There's too many unknowns in the world already!
(Only one vowel left, or is that "Anly ana vawal laft" This may be stretching it a bit, but not unless you consider, as our good friends in Canada say: Good day, A!
And we all know that M&Ms melt in your mouth, so it's safe to count them out.
And of course, Y not.
We might as well put off using U until later in the year: See U in September
TWA just took off!!
#joke
I didn't like my beard at fir
I didn't like my beard at first. Then it grew on me.
"He was worried he wo
"He was worried he would get a parking ticket. It was a case of mind over meter."
Arctic Hooker
Q: What is a hooker in Alaska called?
A: A frostitute.
Light and hard
Q: What's the difference between light and hard?
A: You can sleep with a light on.
Chuck Norris, who had grown ti...
Chuck Norris, who had grown tired of easy victories in fights, once fought himself to the death and won.
Patton Oswalt: Romantic Comedies
Every romantic comedy should just be called, Trying to F**k.
Anger versus Exasperation
A young girl who was writing a paper for school came to her father and asked, "Dad, what is the difference between anger and exasperation?"
The father replied, "It is mostly a matter of degree. Let me show you what I mean."
With that the father went to the telephone and dialed a number at random. To the man who answered the phone, he said, "Hello, is Melvin there?"
The man answered, "There is no one living here named Melvin. Why don't you learn to look up numbers before you dial".
"See," said the father to his daughter. "That man was not a bit happy with our call. He was probably very busy with something and we annoyed him. Now watch…."
The father dialed the number again. "Hello, is Melvin there?" asked the father.
"Now look here!" came the heated reply. "You just called this number and I told you that there is no Melvin here! You've got lot of guts calling again!" The receiver slammed down hard.
The father turned to his daughter and said, "You see, that was anger. Now I'll show you what exasperation means."
He dialed the same number, and when a violent voice roared, "Hello!"
The father calmly said, "Hello, this is Melvin. Have there been any calls for me?"
#joke
A man got really drunk one nig...
A man got really drunk one night in his local pub. The barman refused to serve him any more alcohol and told him he should be heading home. The man thought this was a good idea so he stood up to leave but fell over straight away. He tried to stand up again but only fell over again. He thought if only he could get outside and get some fresh air he'd be grand. So he crawled outside then tried to stand up and fell over again. In the end after falling over lots more he decided to crawl home. When he got back to his house he pulled himself up using the door handle but as soon as he let go he fell over again. He had to crawl up the stairs and managed to fall over onto the bed and fell asleep. When he finally woke up the next morning his wife asked him what he was doing at the pub last night. He denied it but she said, "I know you were there..." he maintained his innocence until "...the barman rang to say you forgot your wheelchair again...."
#joke
Hiring An Accountant
Kowalski, fresh out of accounting school, went to a interview for a good paying job. The company boss asked various questions about him and his education, but then asked him, "What is three times seven?"
"Twenty-two," Kowalski replied.
After he left, he double-checked it on his calculator (he knew he should have taken it to the interview!) and realized he wouldn't get the job.
About two weeks later, he got a letter that said he was hired for the job! He was not one to look a gift horse in the mouth, but was still very curious.
The next day, Kowalski went in and asked why he got the job, even though he got such a simple question wrong. The boss shrugged and said, "Well, you were the closest."
#joke
Join us on WhatsApp