Hair Color
An old man was sitting on a bench in the mall when a young man with spiked hair came over and sat down beside him. The boy's hair was yellow, green, orange, and purple. He had black makeup around his eyes. The old man just stared at him.
Finally the boy said, "what's the matter, old man, haven't you ever done anything wild in your life?"
The old man thought for a while and answered, "well yes actually, I have, I once got drunk and had sex with a parrot. I was just wondering if you were my son."  
#joke
A 55-year-old man who was born
A 55-year-old man who was born on May 5, has been married 5 years, has 5 children, makes $55,555.55 a year, and whose lucky number is 5, receives a phone call from a friend.
The friend informs the man that a horse named Lucky 5 will be running in the fifth race at the local track that evening.
Excitedly, the man withdraws $5,555.00 cash from his bank account, goes to the races and bets on Lucky 5 to win.
Sure enough, the horse comes in fifth.
#joke
Funny video of the day - Five Ways to Win an Egg Drop Contest
"Body language is sel
"Body language is self explanatory!"
A Letter Addressed to God
A letter written in a childish scrawl came to the post office addressed to "God". A postal employee, not knowing exactly what to do with the letter, opened it and read: "Dear God, my name is Jimmy. I am 6 years old. My father is dead and my Mom is having a hard time raising me and my sister. Would you please send us $500?" The postal employee was touched. He showed the letter to his fellow workers and all decided to kick in a few dollars each and send it to the family. They were able to raise $300.A couple of weeks later the same post office received a second letter addressed to God. The boy thanked God for the recent infusion of cash, but ended with this request: "Next time would you send the money directly to us? If you send it through the post office they deduct $200."
#joke
A man looking for love sent hi
A man looking for love sent his picture to the Lonely Hearts Club.
The reply came back, "We are not that lonely."
The almonds
A priest decides one day to visit one of his elderly parishoners, Mrs. Smith. He rings the door bell and Mrs. Smith appears. "Good day, Mrs. Smith. I just thought I would drop by and see how you are doing."
"Oh just fine Father, come on in, and we'll have some tea."
While sitting a the coffee table, the priest notices a bowl of almonds on the table. "Mind if I have one?" the priest says.
"Not at all, have as many as you like."
After a few hours, the priest looks at his watch and alarmed at how long he has been visting, says to Mrs. Smith, "Oh my goodness, look at the time. I must be going. Oh, but dear me, I have eaten all your alomonds. I'll have to replace them the next time I visit."
Mrs. Smith replied, "Oh don't bother Father. Ever since I lost all my teeth, it's all I can do just to lick the chocolate off them."
#joke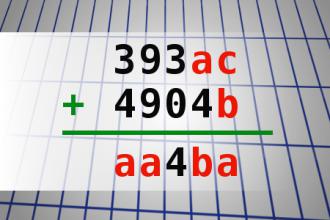 Find number abc
If 393ac + 4904b = aa4ba find number abc. Multiple solutions may exist.
Women And Golf
2 women were playing golf. On the third hole there was a 4 men in front of them but about 175 yards down the fairway.
The first woman said i'll tee off he is far enough away. She hit the drive of her life, like a shot straight down the faraway. She screamed fore at the top of her lungs and as the men turned one was hit solidly. He was rolling on the ground in pain with his hands between his legs.
She ran to him, apologizing and saying "let me help I am a physical therapist." He protested but she got him to put his hands at his side. She unzipped his pants and began massaging him.
"How does that feel?" she asked. He said, "Great, but my thumb still hurts like hell."
#joke
A young woman was taking golf
A young woman was taking golf lessons and had just started playing her first round of golf when she suffered a bee sting. Her pain was so intense that she decided to return to the clubhouse for medical assistance.The golf pro saw her heading back and said, "You are back early, what's wrong?" "I was stung by a bee!" she said. "Where?" he asked. "Between the first and second hole." she replied. He nodded and said, "Your stance is far too wide."
#joke
Few people understand what it means to really be there for somebody
Few people understand what it means to really be there for somebody. And that's the toughest part about being on a journey, you realize the main ones that said they will ride with you, are the first ones to fall off. People make promises when the sun is shining and make excuses when the storm comes. That's why I am always thankful for the rain. It washes away the unnecessary. The reality is, you could be amazing, genuine and sincere but still be overlooked. Having a good thing is so hard because meeting a strong person is so rare. So I've learned to understand when people run from me, I realize my kind of love ain't for everybody.
#joke
Finally, a way to know what to
Finally, a way to know what to pitch and what to save!
THE GAG TEST
Anything that makes you gag is spoiled (except for leftovers from what you cooked for yourself last night).
EGGS
When something starts pecking its way out of the shell, the egg is probably past its prime.
DAIRY PRODUCTS
Milk is spoiled when it starts to look like yogurt. Yogurt is spoiled when it starts to look like cottage cheese. Cottage cheese is spoiled when it starts to look like regular cheese. Regular cheese is nothing but spoiled milk anyway and can't get any more spoiled than it is already. Cheddar cheese is spoiled when you think it is blue cheese but you realize you've never purchased that kind.
MAYONNAISE
If it makes you violently ill after you eat it, the mayonnaise is spoiled.
FROZEN FOODS
Frozen foods that have become an integral part of the defrosting problem in your freezer compartment will probably be spoiled - (or wrecked anyway) by the time you pry them out with a kitchen knife.
EXPIRATION DATES
This is NOT a marketing ploy to encourage you to throw away perfectly good food so that you'll spend more on groceries. Perhaps you'd benefit by having a calender in your kitchen.
MEAT
If opening the refrigerator door causes stray animals from a three-block radius to congregate outside your house, the meat is spoiled.
BREAD
Sesame seeds and Poppy seeds are the only officially acceptable "spots" that should be seen on the surface of any loaf of bread. Fuzzy and hairy looking white or green growth areas are a good indication that your bread has turned into a pharmaceutical laboratory experiment.
FLOUR
Flour is spoiled when it wiggles.
SALT
It never spoils.
CEREAL
It is generally a good rule of thumb that cereal should be discarded when it is two years or longer beyond the expiration date.
LETTUCE
Bibb lettuce is spoiled when you can't get it off the bottom of the vegetable crisper without Comet. Romaine lettuce is spoiled when it turns liquid.
CANNED GOODS
Any canned goods that have become the size or shape of a softball should be disposed of. Carefully.
CARROTS
A carrot that you can tie a clove hitch in is not fresh.
RAISINS
Raisins should not be harder than your teeth.
POTATOES
Fresh potatoes do not have roots, branches, or dense, leafy undergrowth.
CHIP DIP
If you can take it out of its container and bounce it on the floor, it has gone bad.
EMPTY CONTAINERS
Putting empty containers back into the refrigerator is an old trick, but it only works if you live with someone or have a maid.
UNMARKED ITEMS
You know it is well beyond prime when you're tempted to discard the Tupperware along with the food. Generally speaking, Tupperware containers should not burp when you open them.
GENERAL RULE OF THUMB
Most food cannot be kept longer than the average life span of a hamster. Keep a hamster in or nearby your refrigerator to gauge this.
#joke
When ghosts go camping, they s...
When ghosts go camping, they sit around the fire and tell Chuck Norris stories.
Behind every successful man, t...
Behind every successful man, there is a woman. Behind every dead man, there is Chuck Norris.
Can I take his place?
An attorney telephoned the governor just after midnight, insisting that he talk to him regarding a matter of utmost urgency.
An aide eventually agreed to wake up the governor.
"So, what is it?" grumbled the governor.
"Judge Garber has just died" said the attorney, "and I want to take his place."
The governor replied: "Well, it's OK with me if it's OK with the undertaker."
#joke
Really funny jokes- Classified classics
A compilation of hilarious classified classics!!!
** A superb and economical restaurant. Fine food, expertly served by waitresses in appetizing forms.
** No matter what your topcoat is made of, this miracle spray will make it really repellent.
** Sale! Sale! An antique desk suitable for lady with thick legs and large drawers.
** We don't tear your clothing with machinery. We do it carefully by hand.
** Great chance to have your ears pierced and get an extra pair to take home, too.
** Toaster: A gift that every member of the family appreciates. Automatically burns toast.
** Dinner Special - Turkey $2.75; Chicken or Beef $2.50; Children $2.00.
** Have several very old dresses from grandmother in beautiful condition.
#joke
Will Of Americans
Tired of his low approval ratings, President Clinton called up the head of the CIA and said, "I want your very best agent over here first thing in the morning."
Moments later, a call went out to the Middle East, and the most gifted American agent was headed back to Washington.
The next morning, the agent was escorted into the Oval Office. The President said, "I hear you're the best in the business. I can't trust what my staff tells me.
So I want you to visit every state in the union, every major city. I want you to stay out on the road until you have an idea of what the vast majority of Americans would like to see happen in the Oval Office. Understand?"
The CIA agent responded affirmatively. He left the White House and wasn't heard from for nearly four months. Finally, he showed up early on a Saturday morning, and the President saw him immediately.
The President said, "Did you find out what an overwhelming majority of Americans want done here in this office?"
"Yes, sir."
"Well, then, express the will of the people," Clinton ordered.
So the agent stood up, pulled out a gun, and shot him.
#joke