Money
Money only impresses lazy girls. When a woman works hard, a man with money is just a bonus, not a ladder to upgrade.
Despite sometimes broken Engli
Despite sometimes broken English, many immigrants live a half fluent lifestyle.
Funny video of the day - Top Fails Breakdown || Fire Safety
One spelling mistake can destr...
One spelling mistake can destroy your life!
A husband wrote a message to his wife on his official trip and forgot to add 'e' at the end of a word...
"I am having such a wonderful time! Wish you were her..!"
"The people who knew
"The people who knew John Venn liked him, hated him, or a little bit of both."
A Good Day for Ice Fishing
After church, little Johnny and his brother go ice fishing. Little Johnny starts drilling on the ice when a voice from above says, "Young man, there's no fish down there."
Little Johnny asks his brother, "Who is that?"
His brother replies, "I don't know."
So little Johnny starts to drill again and the voice says again, "For the second time, there's no fish down there."
Little Johnny asks his brother, "Could that be God?"
His brother replies again, "I don't know."
Little Johnny starts drilling again and the voice says once more, "Young man, for the last time, I'm telling you there's no fish down there."
Johnny looks up and asks, "Is that you, God?"
The voice says, "No, I'm the manager and the rink's closed."
#joke

Twelve places you won\
Twelve places you won't find a Facebook logo on the window:
1) The city morgue
2) A gynecologist
3) A proctologist
4) A urologist
5) A tow truck company
6) The coliseum in 50 A.D.
7) A self esteem weekly group meeting.
8) A collection agency
9) A marriage counselor
10) A funeral home
11) Alcoholics Anonymous
12) The IRS
#joke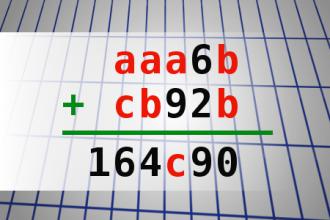 Find number abc
If aaa6b + cb92b = 164c90 find number abc. Multiple solutions may exist.
After Quasimodo's death, the
After Quasimodo's death, the bishop of the Cathedral of Notre Dame sent word through the streets of Paris that a new bell ringer was needed.The bishop decided that he would conduct the interviews personally and went up into the belfry to begin the screening process. After observing several applicants demonstrate their skill, he had decided to call it a day.Just then, an armless man approached him and announced that he was there to apply for the bell ringer's job.
The bishop was incredulous. "You have no arms!"
"No matter," said the man. "Observe!" And he began striking the bells with his face, producing a beautiful melody on the carillon.
The bishop listened in astonishment; convinced he had finally found a replacement for Quasimodo. But suddenly, rushing forward to strike a bell, the armless man tripped and plunged headlong out of the belfry window to his death in the street below.The stunned bishop rushed to his side. When he reached the street, a crowd had gathered around the fallen figure, drawn by the beautiful music they had heard only moments before.As they silently parted to let the bishop through, one of them asked, "Bishop, who was this man?"
"I don't know his name," the bishop sadly replied,
"BUT HIS FACE RINGS A BELL"....
#joke
Absolutely nothin'
Mr. Rabbit was walking down the road when he spotted a crow at the tip top of a very tall tree. He shouted, "Good Morning, Mr. Crow." Mr. Crow shouted back down, "Good Morning Mr. Rabbit."
Mr. Rabbit shouted up, "Whatcha doin' today?" and the answer shouted back down was, "Absolutely nothin' Mr. Rabbit - Absolutely nothin' and loving it."
Well, that sounded pretty good to Mr. Rabbit, so he shouted back up, "Do you think I could do that too?" Mr. Crow shouted back down, "I don't see why not!" So, Mr. Rabbit lay down on the side of the road and began Doing Absolutely Nothing.
In 30 minutes a fox came along and ate him.
The moral of the story is: You can get away with Doing Absolutely Nothing, but only if you are really high up.
#joke
 A Collection Of Insults
A brief synopsis... When you're at a loss for words but want to tell someone that he or she is stupid, remember some these quips from our collection here at Aha! Jokes.
---
Calls people to ask them their phone number.
Can be outwitted by a jar of Marshmallow Fluff.
Can discern facts and form predictions with the acumen of an economist.
Can easily be confused with facts.
Can only remember her old passwords.
Can only shoot pool with a left-handed cue stick.
Can't distinguish jacking off and stropping a razor.
Can't find log base two of 65536 without a calculator.
Can't program his way out of a for-loop.
Car's only got three wheels, and one's going flat.
Carrier wave unmodulated.
Carries a tire gauge in her purse.
Cart can't hold all the groceries.
Cauliflower for brains.
Changes hands and picks up a stroke.
#joke
Creative Surgery
While doing a vasectomy, the doctor slipped and cut off one
of the man's
testicles. To avoid a huge malpractice suit, he decided to
replace the
it with an onion.
Several weeks later, the patient returned for a checkup.
"How's your sex life?" the doctor asked.
"Pretty good, but I've had some strange side effects."
"Like what?" the doctor asked anxiously.
"Well, every time I piss my eyes water. When my wife gives
me a blow
job she gets heartburn. And every time I pass a hotdog
stand, I get a hard-on."
Octopus & Cow
Q: What do you get when you cross an octopus with a cow?
A: An animal that can milk itself.
A woman gets on a bus with her
A woman gets on a bus with her baby. The bus driver says, "That's the ugliest baby that I've ever seen. Ugh!" The woman goes to the rear of the bus and sits down, fuming. She says to a man next to her, "The driver just insulted me!" The man says, "You go right up there and tell him off – go ahead, I'll hold your monkey for you."
#joke
That Darn Cat
A man who absolutely hated his wife's cat decided to get rid of him one day by driving him 20 blocks from his home and leaving him at the park.
As he was nearing home, the cat was walking up the driveway.
The next day, he decided to drive the cat 40 blocks away and try the same thing.
As we was driving back into his driveway, there was the cat! He kept taking the cat farther and farther away, but the darn cat would always beat him home.
At last, he decided to drive a few miles away, turn right, then left, past the bridge, then right again and another right and so on until he reached what he thought was a safe distance from his home and he left the cat there.
Hours later, the man calls home to his wife: "Jen, is the cat there?"
"Yes," the wife answers. "Why do you ask?"
Frustrated, the man answers: "Put that damn cat on the phone. I'm lost and I need directions!"      
#joke
Life is like a box of chocolat...
Life is like a box of chocolates. You never know when Chuck Norris is going to kill you.
A woman meets a gorgeous man i...
A woman meets a gorgeous man in a bar. They talk, they connect, they end up leaving together.
They get back to his place, and as he shows her around his apartment, she notices that his bedroom is completely packed with sweet cuddly teddy bears.
Hundreds of cute small bears on a shelf all the way along the floor, cuddly medium-sized ones on a shelf a little higher, and huge, enormous bears on the top shelf along the wall. The woman is kind of surprised that this guy would have a collection of teddy bears, especially one that's so extensive, but she decides not to mention this to him, and is quite impressed by his sensitive side.
She turns to him... they kiss... and then they rip each other's clothes off and make hot steamy love. After an intense night of passion with this sensitive guy, they are lying there together in the afterglow, the woman rolls over and asks, smiling, 'Well, how was it?'
The man says, 'You can have any prize from the bottom shelf.'
#joke
Demetri Martin: Employee of the Month
I think Employee of the Month is a good example of when a person can be a winner and a loser at the same time.
Stephen Rannazzisi: Slow Pitch Softball
I joined a softball team, which I thought was a great idea... but the guys on my team are crazy. These guys show up to games -- slow pitch softball games -- with cleats, stirrups, the Barry Bonds arm guards on, the black crap under their eyes. Im like, Fellas, the ball is this big. If you cant see it, you probably shouldnt have driven to the game today.
#joke