Q: How can daughter in law sav
Q: How can daughter in law save her mother-in-law from choking?

A: She will pull out her foot from her mother-in-law's mouth.

Two boy scouts went on a natur
Two boy scouts went on a nature hike in the hills picking hickory nuts.
Along the way, they filled their small pails and then started to fill their pockets and shirts.
When they could hold no more nuts, they started down the country road until they came across a cemetery. The boys decided that would be a good place to stop and rest and divide out the nuts.
The two boys sat in the shade of a large oak tree and unloaded their pockets and buckets by dumping all of the nuts in a large pile.
In the process, two of them rolled away and rested near the road. The boys then proceeded to divide out the nuts. "One for you. One for me. One for you. One for me."
As they were doing this, another boy was passing by and happened to hear them. He looked into the cemetery, but could not see the boys, because they were obscured by the tree. He hesitated a moment and then ran back to town.
"Father! Father!" he yelled as he entered his house. "The cemetery. Come quick!"
"What's the matter?" his father asked.
"No time to explain," the boy frantically panted. "Follow me!"
The boy and his father ran up the country road and stopped when they reached the cemetery. They stopped at the side of the road and all fell silent for a few moments. Then the father asked his son what was wrong.
"Do you hear that?" he whispered. Both people listened intently and heard the Scouts. "One for me. One for you. One for me. One for you..."
The boy then blurted out, "The devil and the Lord are dividing the souls!"
The father was skeptical but silent -- until a few moments later as the Scouts completed dividing out the nuts and one Scout said to the other, "Now, as soon as we get those two nuts down by the road, we'll have them all."
#joke
Funny video of the day - Ping Pong
Bubba and Junior were standing...
Bubba and Junior were standing at the base of a flagpole, looking up.
A woman walked by and asked what they were doing. "We're supposed to find the height of the flagpole," said Bubba, "but we don't have a ladder."
The woman took a wrench from her purse, loosened a few bolts, and laid the pole down. Then she took a tape measure from her pocket, took a measurement, announced, "Eighteen feet, six inches," and walked away.
Junior shook his head and laughed. "Ain't that just like a dumb blonde! We ask for the height, and she gives us the length!"
A few years in the desert...
A judge was punishing three men because they had committed a crime. Their sentence was a few years in the desert. He said that they could each take one thing with them.
The first guy decides to take an umbrella, so that he can have shade whenever he wants.
The second guy decides to take a water bottle so that he won't get thirsty.
Finally, the third guy decides to take a car door.
The judge asked, "Why in the world would you want to take a car door?" The man replies, "Just in case it gets hot, I can roll down the window."
#joke
Maryland Crazy Law
Thistles may not grow in one's yard.

Baltimore
No person who is a "tramp" or "vagrant" shall loiter in any park at any time. They define tramp as a person who roves for begging purposes and a vagrant as an idle person who is able-bodied living without labor. It's a $50 fine. I guess the tramp would have to beg for the money to pay the fine. -Park Rule 6

It's illegal to take a lion to the movies.

It's illegal to throw bales of hay from a second-story window within the city limits.

It is a violation of city code to sell chicks or ducklings to a minor within 1 week of the Easter holiday.

It is a park rule violation to be in a public park with a sleeveless shirt. $10 fine. This would include joggers that go shirtless. (1898)

Baltimore City
You may not curse inside the city limits.

Though you may spit on a city roadway, spitting on city sidewalks is prohibited.

Columbia
Though clotheslines are banned, clothes may be draped over a fence.

You can not have a antenna exposed outside of your house yet you can have a 25' satellite dish.

Ocean City
Eating while swimming in the ocean is prohibited.

A law from the early 1900's prohibits men from going topless on the Boardwalk. (Repealed)



#joke
Home yet?
A middle aged woman sought help from her doctor.
"All my husband does is complain that I never want to have sex with him," she said. "And he's right too. I have no desire at all."
The doctor gave her a prescription and told her to return for a visit in two weeks. After the two weeks were up, she bounced smiling into his office.
"Those pills were great Doc, I'm doin' it twice a night now."
"That's wonderful," said the doctor, "What does your husband say now?"
"How should I know?" she replied. "I ain't been home yet."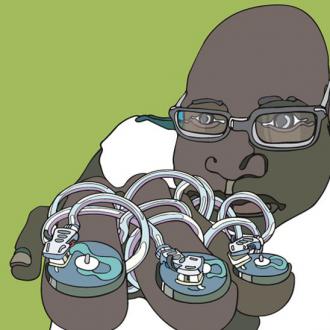 Guess the name of musician
Look carefully caricature and guess the name of musician.
A tough looking group of hairy...
A tough looking group of hairy bikers are riding when they see a girl about to jump off a bridge, so they stop. The leader, a big burly man, gets off his bike and says, "What are you doing?" "I'm going to commit suicide," she says. While he doesn't want to appear insensitive, he also doesn't want to miss an opportunity, so he asks, "Well, before you jump, why don't you give me a kiss?" She does, and it is a long, deep, lingering kiss. After she's finished, the tough, hairy biker says, "Wow! That was the best kiss I've ever had! That's a real talent you're wasting. You could be famous. Why are you committing suicide?" "My parents don't like me dressing up like a girl…"
#joke
"You know the problem
"You know the problem with grapes these days. People just aren't raisin them right."
Play a Game
One day little Johnny went to school. His teacher said they were going to play a game. She would place an object behind her and describe it.
The first person to get it got a piece of candy. First she said, "The object is red and grows on trees."
A kid raised his hand and said "an apple" the teacher said correct.
Then she said, "The object is flat and comes in different colors" a different kid raises his hand and said it is a notebook!
The teacher said correct.
Then Johnny said, "ooh! ooh! Can I try?"
The teacher said yes.
He stood up and put his hand in his pocket. He said "The object is round, hard, and has a head on it."
The teacher said "JOHNNY! GO TO THE OFFICE!!"
Johnny said, "No it's a quarter!"  
#joke
The End Is Near!
A local priest and a pastor were fishing on the side of the road. They thoughtfully made a sign saying, "The End is Near! Turn yourself around now before it's too late!" and showed it to each passing car. One driver who drove by didn't appreciate the sign and shouted at them, "Leave us alone, you religious nuts!"
All of a sudden they heard a big splash, looked at each other, and the priest said to the pastor, "You think maybe we should have just said 'Bridge Out' instead?"
#joke
One-Legged People
Q: Where do one-legged people eat?
A: IHOP.
dumb blondes
10 blondes and 1 brunette were mountain climbing one day. so they were climbing and they got into trouble at a spot one of them had to give up there life so they could continue on so the brunette said i'll do it so you girls can go on so she jumped to the jagged rocks below (ouch) the dumb blondes felt sorry for the brunette so they jumped of to
THE END
Dan Cummins: Greeting Card Writer
I dont just write jokes. You know what Im best at? Greeting cards. Im a really good greeting card writer. And Im going to prove it with a little sample of my work Im going to share for you: As each day passes, you grow older, weaker. Ive been working out. Revenge is near. Happy Fathers Day
Zach Galifianakis: Waking Up With an Erection
Guys, have you ever woken up with an erection, and then you realize youre just in a massage chair in a Brookstone?
News headlines 04
Man Minus Ear Waives Hearing
New Vaccine May Contain Rabies
Deaf College Opens Doors to Hearing
Arson Suspect is Held in Massachusetts Fire
Enfields Couple Slain; Police Suspect Homicide
Air Head Fired
Red Tape Holds Up New Bridge
Bank Drive-in Window Blocked by Board
Deer Kill 17,000
Old School Pillars are Replaced by Alumni
War Dims Hope for Peace
#joke
The Preacher and the Frog Princess
An old country preacher was fishing one afternoon when he noticed a frog sitting next to him. The frog said, "Mister, I've had a spell cast on me. If you'll kiss me, I'll turn into a beautiful princess and I'll make you happy for the rest of your life."
The old preacher smiled, picked up the frog, and put it in his pocket. After a while, he looked into his pocket to see how the frog was doing.
The frog said again, "Mister, I've had a spell cast on me. If you'll kiss me, I'll turn into a beautiful princess and I'll make you happy for the rest of your life."
The preacher just smiled and kept on fishing. When he checked on the frog again, it said, "What's wrong with you, fella? I said I've been bewitched. Just kiss me and I'll turn back into a beautiful princess and make you the happiest man on earth for the rest of your life!"
The old preacher just smiled and said, "Frog, I'm sorry to tell you this…but at my age, I'd rather have a talking frog than a beautiful princess!"
From "The Book of Church Jokes," published by Barbour Publishing, Inc., Uhrichsville, Ohio. Copyright 2009. Used by permission of Barbour Publishing, Inc.
#joke