Explosion
A terrifying explosion occurs in a gunpowder factory, and once all the mess has been cleared up, and inquiry begins.
One of the few survivors is pulled up to make a statement. "Okay Simpson," says the investigator, "you were near the scene, what happened?"
"Well, it's like this. Old Charley Higgins was in the mixing room, and I saw him take a cigarette out of his pocket and light up."
"He was smoking in the mixing room?" the investigator said in stunned horror, "How long had he been with the company?"
"About 20 years, sir"
"20 years in the company, then he goes and strikes a match in the mixing room, I'd have thought it would have been the last thing he'd have done."
"It was, sir."        
#joke
The Best Zen Teacher
Who is the best Zen teacher?
M.T. Ness
A Yankee lawyer went duck hunt...
A Yankee lawyer went duck hunting in eastern North Carolina. He shot and dropped a bird, but it fell into a farmer's field on the other side of a fence. As the lawyer climbed over the fence, an elderly gentleman asked him what he was doing. The lawyer responded, "I shot a duck and it fell in this field, I'm going into retrieve it." 
The old farmer replied. "This is my property, and you are not coming over here." 
The indignant lawyer said, "I am one of the best trial attorneys in the U.S. and, if you don't let me get that duck, I'll sue you and take everything! 
The old farmer smiled and said, "Apparently, you don't know how we do things here in North Carolina. We settle small disagreements like this with the NC Three-Kick Rule." 
The lawyer asked, "What is the NC three-Kick Rule?" 
The Farmer replied. "Well, first I kick you three times and then you kick me three times, and so on, back and forth, until someone gives up." 
The Yankee attorney quickly thought about the proposed contest and decided that he could easily take the old southerner. He agreed to abide by the local custom. 
The old farmer slowly climbed down from the tractor and walked up to the city feller. His first kick planted the toe of his heavy work boot into the Yankee lawyer's groin and dropped him to his knees. His second kick nearly wiped the man's nose off his face. The barrister was flat on his belly when the farmer's third kick to a kidney nearly caused him to give up. 
The Yankee lawyer summoned every bit of his will and managed to get to his feet and said, "Okay, you old redneck southerner, now it's my turn." 
The old North Carolina farmer smiled and said, "Now, I give up. You can have the duck."
Miss Bea, the church organist,
Miss Bea, the church organist, was in her eighties and had never been married. She was much admired for her sweetness and kindness to all. The pastor came to call on her one afternoon early in the spring,and she welcomed him into her Victorian parlor. She invited him to have a seat while she prepared a little tea.
As he sat facing her old pump organ, the young minister noticed a cut glass bowl sitting on top of it, filledwith water. In the water floated, of all things, a condom.
Imagine his shock and surprise. Imagine his curiosity! Surely Miss Bea had flipped or something...!
When she returned with tea and cookies, they began to chat. The pastor tried to stifle his curiosity about the bowl of water and its strange floater, but soon it got the better of him, and he could resist no longer.
"Miss Bea," he said, "I wonder if you would tell me about this?" (pointing to the bowl).
"Oh, yes," she replied, "isn't it wonderful? I was walking downtown last fall and I found this little package on the ground. The directions said to put it on the organ, keep it wet, and it would prevent disease. And you know... I haven't had a cold all winter."
#joke
Definitions....
ADULT: A person who has stopped growing at both ends and is now growing in the middle.
BEAUTY PARLOR: A place where women curl up and dye.
CANNIBAL: Someone who is fed up with people.
CHICKENS: The only creatures you eat before they are born and after they are dead.
COMMITTEE: A body that keeps minutes and wastes hours.
DUST: Mud with the juice squeezed out.
EGOTIST: Someone who is usually me-deep in conversation.
GOSSIP: A person who will never tell a lie if the truth will do more damage.
HANDKERCHIEF: Cold Storage.
INFLATION: Cutting money in half without damaging the paper.
MOSQUITO: An insect that makes you like flies better.
RAISIN: Grape with a sunburn.
SECRET: Something you tell to one person at a time.
TOOTHACHE: The pain that drives you to extraction.
TOMORROW: One of the greatest labor saving devices of today.
YAWN: An honest opinion openly expressed.
WRINKLES: Something other people have. You have character lines.
#joke
Fish Jokes 02
Where do shellfish go to borrow money?
To the prawn broker!
What do you call a big fish who makes you an offer you can't refuse?
The Codfather!
What happened to the shark who swallowed a bunch of keys?
He got lockjaw!
Where do fish wash?
In a river basin!
What fish only swims at night?
A starfish!
How do fish go into business?
The start on a small scale!
Which fish go to heaven when they die?
Angelfish!
What is the best way to communicate with a fish?
Drop it a line!
Where do you weigh whales?
At a whale weigh station!
What kind of horse can swim underwater without coming up for air?
A seahorse!
#joke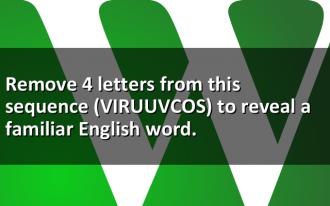 Remove 4 letters from this seq...
Remove 4 letters from this sequence (VIRUUVCOS) to reveal a familiar English word.
Good watermelon
At a gynecologists' convention Dr. Goldfinger began to read his paper on "The Variation of the Clitoris".
"One of the most unusual cases I ever came across," he told his audience, "was a clitoris that had a close resemblance to a watermelon."
Dr. Goldfinger was interrupted by another doctor, who said that he might have been examining an enlarged organ but to compare it to a watermelon would indeed be frivolous.
Goldfinger stared him down and replied: "I wasn't refering to size but to taste."
Submitted by Curtis
Edited by Glaci
A lawyer is standing in a long...
A lawyer is standing in a long line at the box office. Suddenly, he feels a pair of hands kneading his shoulders, back, and neck. The lawyer turns around. "What the hell do you think you're doing?" "I'm a chiropractor, and I'm just keeping in practice while I'm waiting in line." "Well, I'm a lawyer, but you don't see me screwing the guy in front of me, do you?"
"These reversing came
"These reversing cameras are great. Since I got one I haven't looked back."
Arctic Hooker
Q: What is a hooker in Alaska called?
A: A frostitute.
Kyle Kinane: Always a Miracle
Im in my 30s; everybodys having kids or miracles. Oh, its a miracle. Its always a miracle. Im like, You had sex, right? Yeah? Then no, thats exactly whats supposed to happen from that. I spend all my time preventing miracles; that is whats happening. I call it a miracle when the girl doesnt get pregnant. Thats when I start getting spiritual.
#joke
John Oliver: Taxation Without Representation
Frankly, I could not f**king believe I was not allowed to vote. Three and a half years Ive lived here! I work hard -- relatively speaking for someone who does this for a living. I pay my taxes. I try to fit in. Ive learnt your rudimentary language. I dont know what more you could reasonably expect me to do. And thats when it hit me. I know why Im so angry. I know what this is -- taxation without representation. Now I get it. Now I see why you got so pissy about it all those years ago. It is annoying. You were right. It is annoying and consider that as close to an apology as you are ever going to get.
#joke
No Wool Downstairs
A husky foreigner, looking for sex, accepted a prostitute's terms.
When she undressed, he noticed that she had no pubic hair.
The man shouted, "What, no wool? In my country all women have wool down there."
The prostitute snapped back, "What do you want to do, knit or have sex?"
#joke
Howard is 95 and lives in a se...
Howard is 95 and lives in a senior citizen home. Every night after dinner, Howard goes to a secluded garden behind the center to sit and ponder his accomplishments and long life.
One evening, Annabel, age 87, wanders into the garden. They begin to chat, and before they know it, several hours have passed. After a short lull in their conversation, Howard turns to Annabel and asks, "Do you know what I miss most of all?
She asks, "What?"
"SEX!!!"
Annabel exclaims, "Why you old fart, you couldn't get it up if I held a gun to your head!"
"I know," Howard says, "but it would be nice if a woman just held it for a while."
"Well, I can oblige", says Annabel, who gently unzips his trousers, removes his manhood and proceeds to hold it.
Afterward, they agree to meet secretly each night in the garden where they would sit and talk and Annabel would hold Howard's manhood. Then,
one night, Howard didn't show up at their usual meeting place.
Alarmed, Annabel decided to find Howard and make sure that he was O.K. She walked around the senior citizen home where she found him sitting by the pool with another female resident-who was holding Howard's manhood!
Furious, Annabel yelled, "You two-timing creep! What does she have that I don't have?!"
Howard smiled happily and replied, "Parkinson's."
#joke
For beer drinkers
"Sometimes when I reflect back on all the beer I drink I feel ashamed. Then I look into the glass and think about the workers in the brewery and all of their hopes and dreams. If I didn't drink this beer, they might be out of work and their dreams would be shattered. Then I say to myself, "It is better that I drink this beer and let their dreams come true than be selfish and worry about my liver." ~ Jack Handy
~~~~~~~~~~~~~
"I feel sorry for people who don't drink. When they wake up in the morning, that's as good as they're going to feel all day. " ~ Frank Sinatra
~~~~~~~~~~~~~
"When I read about the evils of drinking, I gave up reading." ~ Henny Youngman
~~~~~~~~~~~~~
"24 hours in a day, 24 beers in a case. Coincidence? I think not." ~ Stephen Wright
~~~~~~~~~~~~~
"When we drink, we get drunk. When we get drunk, we fall asleep. When we fall asleep, we commit no sin. When we commit no sin, we go to heaven. Sooooo, let's all get drunk and go to heaven!" ~ Brian O'Rourke
~~~~~~~~~~~~~
"Beer is proof that God loves us and wants us to be happy." ~ Benjamin Franklin
~~~~~~~~~~~~~
"Without question, the greatest invention in the history of mankind is beer. Oh, I grant you that the wheel was also a fine invention, but the wheel does not go nearly as well with pizza." ~ Dave Barry
~~~~~~~~~~~~~
BEER: HELPING UGLY PEOPLE HAVE SEX SINCE 3000 B.C.!!! ~ "Unknown"
~~~~~~~~~~~~~
Remember "I" before "E", except in Budweiser.
Submitted by Curtis
Edited by calamjo, yisman and Tantilazing