Catsup
Little Johnny's mother was trying hard to get the catsup to come out of the bottle. During her struggle the phone rang so she asked four-year old Johnny to answer the phone.
Little Johnny ran out into the living room and answered the phone. "Mommy, It's the minister," he said to his mother.
From the kitchen Johnny's mom said, "Tell him I'll call him back."
Little Johnny spoke into the phone saying, "Mommy can't come to the phone to talk to you right now. She's hitting the bottle."      
#joke
A mother is in the kitchen mak
A mother is in the kitchen making dinner for her family when her daughter walks in.
"Mother, where do babies come from?"
The mother thinks for a few seconds and says, "Well dear, Mommy and Daddy fall in love and get married. One night they go into their bedroom, they kiss and hug, and have sex."
The daughter looks puzzled so the mother continues, "That means the daddy puts his penis in the mommy's vagina. That's how you get a baby, honey."
The child seems to comprehend. "Oh, I see, but the other night when I came into your room you had daddy's penis in your mouth. What do you get when you do that?"
"Jewelry, my dear. Jewelry."
#joke
Funny video of the day - Strong Laughter of a Child
There is a book called Disorde
There is a book called Disorder in the Court. These are things people actually said in court, word for word, taken down and now published by court reporters - who had the torment of staying calm while these exchanges were actually taking place.
Some of these are excellent ...
Q: What is your date of birth?
A: July fifteenth.
Q: What year?
A: Every year.
Q: What gear were you in at the moment of the accident?
A: Gucci sweatshirt and Reeboks.
Q: So the date of conception (of the baby) was August 8th?
A: Yes.
Q: And what were you doing at that time?
Q: She had three children, right?
A: Yes.
Q: How many were boys?
A: None.
Q: Were there any girls?
Q: How was your first marriage terminated?
A: By death.
Q: By whose death was it terminated?
Q: Can you describe the individual?
A: He was about medium height and had a beard.
Q: Was this a male, or a female?
Q: Doctor, how many autopsies have you performed on dead people?
A: All my autopsies are performed on dead people.
Q: All your responses must be oral, OK? What school did you go to?
A: Oral.
Q: Do you recall the time that you examined the body?
A: The autopsy started around 8:30 p.m.
Q: And Mr. Dennington was dead at the time?
A: No, he was sitting on the table wondering why I was doing an autopsy on him.
Q: What was the first thing your husband said to you when he woke up that morning?
A: He said, "Where am I, Cathy?"
Q: And why did that upset you?
A: My name is Susan.
Q: Doctor, before you performed the autopsy, did you check for a pulse?
A: No.
Q: Did you check for blood pressure?
A: No.
Q: Did you check for breathing?
A: No.
Q: So, then it is possible that the patient was alive when you began the autopsy?
A: No.
Q: How can you be so sure, Doctor?
A: Because his brain was sitting on my desk in a jar.
Q: But could the patient have still been alive, nevertheless?
A: Yes, it is possible that he could have been alive and practicing law somewhere
Everybody I know who has a dog
Everybody I know who has a dog usually calls him "Rover" or "Spot". I call mine Sex. Now, Sex has been very embarrassing to me.
When I went to the City Hall to renew the dog's license, I told the clerk that I would like a license for Sex.
He said, "I would like to have one too!"
Then I said, "But she is a dog!"
He said he didn't care what she looked like.
I said, "You don't understand. ... I have had Sex since I was nine years old."
He replied, "You must have been quite a strong boy."
When I decided to get married, I told the minister that I would like to have Sex at the wedding.
He told me to wait until after the wedding was over.
I said, "But Sex has played a big part in my life and my whole world revolves around Sex."
He said he didn't want to hear about my personal life and would not marry us in his church.
I told him everyone would enjoy having Sex at the wedding.
The next day we were married at the Justice of the Peace. My family was barred from the church from then on.
When my wife and I went on our honeymoon, I took the dog with me.
When we checked into the motel, I told the clerk that I wanted a room for me and my wife and a special room for Sex.
He said that every room in the motel is a place for sex.
I said, "You don't understand. ... Sex keeps me awake at night."
The clerk said, "Me too!"
One day I entered Sex in a contest. But before the competition began, the dog ran away.
Another contestant asked me why I was just looking around.
I told him that I was going to have Sex in the contest.
He said that I should have sold my own tickets.
"You don't understand," I said, "I hoped to have Sex on TV."
He called me a show off.
When my wife and I separated, we went to court to fight for custody of the dog.
I said, "Your Honor, I had Sex before I was married but Sex left me after I was married."
The Judge said, "Same here!"
Last night Sex ran off again. I spent hours looking all over for her. A cop came over and asked me what I was doing in the alley at 4 o'clock in the morning.
I said, "I'm looking for Sex." -- My case comes up next Thursday.
Well now I've been thrown in jail, been divorced and had more damn troubles with that dog than I ever foresaw.
Why just the other day when I went for my first session with the psychiatrist, she asked me, "What seems to be the trouble?"
I replied, "Sex has been my best friend all my life but now it has left me forever. I can't live any longer being so lonely."
And the doctor said, "Look mister, you should understand that sex isn't a man's best friend so go get yourself a dog."
Help wanted...
A local business was looking for office help, so they put a sign in their window saying "HELP WANTED. Must be able to type, must be good with a computer and must be bilingual. We are an Equal Opportunity Employer."
A short time afterward, a dog trotted up to the window, saw the sign and went inside. He looked at the receptionist and wagged his tail, then walked over to the sign, looked at it and whined.
Getting the idea, the receptionist got the office manager. The office manager looked at the dog and was surprised, to say the least. However, the dog looked determined, so he led him into the office. Inside, the dog jumped up on the chair and stared at the manager. The manager said, "I can't hire you. The sign says you have to be able to type."
The dog jumped down, went to the typewriter and proceeded to type out a perfect letter. He took out the page and trotted over to the manager and gave it to him, then jumped back on the chair. The manager was stunned, but he told the dog, "The sign also says you have to be good with a computer."
The dog jumped down again and went to the computer. The dog proceeded to demonstrate his expertise with various programs, producing a sample spreadsheet and database and presenting them to the manager. By this time the manager was totally dumbfounded. He looked at the dog and said, "I realize that you are a very intelligent dog and have some interesting abilities, however I still can't give you the job."
The dog jumped down and went to a copy of the sign and put his paw on the part about being an Equal Opportunity Employer. The manager said, "Yes, but the sign *also* says that you have to be bilingual." The dog looked him straight in the eye and said, "Meow."
#joke
Stupid People Stories
IDIOTS & RETAIL
I was signing the receipt for my credit card purchase when the clerk noticed that I had never signed my name on the back of the credit card. She informed me that she could not complete the transaction unless the card was signed. When I asked why, she explained that it was necessary to compare the signature on the credit card with the signature I just signed on the receipt. So I signed the credit card in front of her. She carefully compared that signature to the one I signed on the receipt. As luck would have it, they matched.
IDIOTS & GEOGRAPHY
After interviewing a particularly short-spoken job candidate, I described the person to my boss as rather monosyllabic. My boss said, "Really? Where is Monosyllabia?". Thinking that he was just kidding, I played along and said that it was just south of Elbonia. He replied, "Oh, you mean over by Croatia?"
ADVICE FOR IDIOTS
An actual tip from page 16 of the Hewlett Packard Environmental, Health & Safety Handbook for Employees: "Blink your eyelids periodically to lubricate your eyes."
IDIOTS IN THE NEIGHBORHOOD
I live in a semi-rural area. We recently had a new neighbor call the local township administrative office to request the removal of the Deer Crossing sign on our road. The reason: Many deer were being hit by cars and he no longer wanted them to cross there.
IDIOTS & COMPUTERS
My neighbor works in the operations department in the central office of a large bank. Employees in the field call him when they have problems with their computers. One night he got a call from a woman in one of the branch banks who had this question: "I've got smoke coming from the back of my terminal. Do you guys have a fire downtown?"
IDIOTS ARE EASY TO PLEASE
I was sitting in my science class, when the teacher commented that the next day would be the shortest day of the year. My lab partner became visibly excited, cheering and clapping. I explained to her that the amount of daylight changes, not the actual amount of time. Needless to say, she was very disappointed.
IDIOTS IN FOOD SERVICE
My daughter went to a local Taco Bell and ordered a taco. She asked the individual behind the counter for "minimal lettuce." He said he was sorry, but they only had iceberg.
AN IDIOT'S IDIOT
Police in Radnor, Pennsylvania, interrogated a suspect by placing a metal colander on his head and connecting it with wires to a photocopy machine. The message "He's lying" was placed in the copier, and police pressed the copy button each time they thought the suspect wasn't telling the truth. Believing the "lie detector" was working, the suspect confessed.
#joke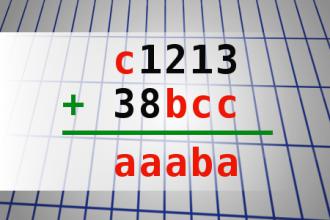 Find number abc
If c1213 + 38bcc = aaaba find number abc. Multiple solutions may exist.
Give Bubba a Chance
It was graduation night at Cox High School and they were about halfway through the ceremony when the principal said, "Ladies and Gentlemen, we have a problem, Bubba is a few credits short and won't be able to graduate tonight."
Well now, Bubba was the starting right guard for Cox's football team, and when the student body heard that he wasn't going to graduate, they all jumped up and started to chant, "Give Bubba another chance, give Bubba another chance!"
Pat Dye and the principal had a quick conference and afterward, the principal announced that they have decided to give Bubba another chance. Bubba is told that he will be given a "One Question" math test and if he passes, he can graduate.
The question is, "What is 2 plus 3?" Bubba thinks for about 20 minutes and finally says, "I have it! The answer is 5!"
There is complete silence in the auditorium for a couple of seconds and then the entire Cox High School football team jumps up and begins to chant, "Give Bubba one more chance. Give Bubba one more Chance!"
#joke
Ralph is driving home one even
Ralph is driving home one evening, when he suddenly realizes that it's his daughter's birthday and he hasn't bought her a present. He drives to the mall, runs to the toy store, and says to the shop assistant, "How much is that Barbie in the window?" In a condescending manner, she says, "Which Barbie?" She continues, "We have Barbie Goes to the Gym for $19.95, Barbie Goes to the Ball for $19.95, Barbie Goes Shopping for $19.95, Barbie Goes to the Beach for $19.95, Barbie Goes Nightclubbing for $19.95, and Divorced Barbie for $265.00." Ralph asks, "Why is the Divorced Barbie $265.00 when all the others are only $19.95?" "That's obvious," the saleslady says. "Divorced Barbie comes with Ken's house, Ken's car, Ken's boat, Ken's furniture..."
#joke
No one else sees life through your eyes
Don't let anyone invalidate or minimize how you feel. If you feel something, you feel it and it's real to you. Nothing anyone says has the power to invalidate that, ever. No one else lives in your body. No one else sees life through your eyes. No one else has lived through your experiences. And so, no one else has the right to dictate or judge how you feel. Your feelings are important and you deserve to be heard. They are inherently valid and they matter. Don't let anyone make you believe otherwise.
#joke
"The first time I use
"The first time I used an elevator it was really uplifting, then it let me down."
Men 'n' Lightbulbs
How many men does it take to screw in a lightbulb?
One, men will screw anything.
A Recently Spotted Bumper Sticker:
"Even Darwin believes (now)."
Arj Barker: 4th of July
I read this on the Internet -- did you know that 4th of July is more popular in this country than in any other country in the whole world?
Jesus Is Watching You!
There was a burglar who broke into a home and started to gather the items he wanted to take. All of a sudden he heard, "Jesus is watching you!" He didn't see anything in the dark house, so he went on with what he was doing.
He heard, "Jesus is watching you!" again and then he really wondered who wassaying that. He turned on the flashlight, scanned the room, and finally saw a parrot.
"Did you say that?" asked the burgler.
"Yes," replied the parrot.
"By the way, what's your name?" the burgler inquired."Moses," answered the parrot.
"That's a strange name for a parrot. Who named you that?"
"The same people who named their rotweiller Jesus!"
#joke
Someone Really Stinks
A young couple were on their honeymoon. The husband was sitting in the bathroom on the edge of the bathtub saying to himself, "Now how can I tell my wife that I've got really smelly feet and that my socks absolutely stink? I've managed to keep it from her while we were dating, but she's bound to find out sooner or later that my feet stink. Now how do I tell her?"
Meanwhile, the wife was sitting in the bed saying to herself, "Now how do I tell my husband that I've got really bad breath? I've been very lucky to keep it from him while we were courting, but as soon as he's lived with me for a week, he's bound to find out. Now how do I tell him gently?"
The husband finally plucks up enough courage to tell his wife and so he walks into the bedroom. He walks over to the bed, climbs over to his wife, puts his arm around her neck, moves his face very close to hers and says, "Darling, I've a confession to make."
And she says, "So have I, love."
To which he replies, "Don't tell me, you've eaten my socks."
#joke
Tall grass
How does a Scotsman find a sheep in tall grass?
Very satisfying.
Submitted by Curtis
Edited by calamjo
Iliza Shlesinger: Bumper Sticker
It said, War Is Not the Answer. I disagree. I think war absolutely is the answer. And if you dont agree with me, happy Fourth of July.
Join us on WhatsApp