Ice Cream
An elderly couple was watching television one evening. The wife said, "I am going to get a dish of ice cream now." Kindly, the husband offered to get the ice cream for his wife. "I'll write it down so you don't forget," she said.
"I won't forget," the old gent said. "But, I want chocolate syrup and nuts on it. So, I'll write it down," she replied.
"I will get you the ice cream. Don't you worry," replied the gentleman.
A few minutes later, the old man returned with bacon and eggs. His wife said, "See, I should have written it down because you forgot the toast."    
#joke
The boss of a major manufactur
The boss of a major manufacturing facility was complaining in a staff meeting the other day that he wasn't getting any respect.
Later that morning, he went to a local sign shop and bought a small sign that read, "I'm the Boss!" He then taped it to his office door.
Later that day, when he returned from lunch, he found that someone had taped a note to the sign that read, "Your wife called. She wants her sign back!"
#joke
Funny video of the day - Drifting with a bike
"The chefs argued abo
"The chefs argued about the flatbread until they realized it was a naan issue."
Before a burglary trial, the j
Before a burglary trial, the judge explained to the defendant, "You can let me try your case, or you can choose to have a jury of your peers."
The man thought for a moment. "What are peers?" he asked.
"They're people just like you – your equals."
"Forget it," retorted the defendant. "I don't want to be tried by a bunch of thieves."
#joke
A mathematician, an accountant
A mathematician, an accountant and an economist apply for the same job.
The interviewer calls in the mathematician and asks "What do two plus two equal?"
The mathematician replies "Four."
The interviewer asks "Four, exactly?"
The mathematician looks at the interviewer incredulously and says
"Yes, four, exactly."
Then the interviewer calls in the accountant and asks the same question
"What do two plus two equal?"
The accountant says "On average, four - give or take ten percent, but on average, four."
Then the interviewer calls in the economist and poses the same question
"What do two plus two equal?"
The economist gets up, locks the door, closes the shade, sits down nextto the interviewer and says "What do you want it to equal?"
#joke
Company picnic...
A wife chewed out her husband at the company picnic a while back. "Doesn't it embarrass you that people have seen you go up to the buffet table five times?"
"Not a bit," the husband replied. "I just tell them I'm filling up the plate for you....!"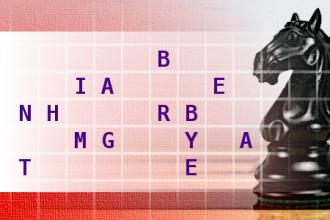 Chess Knight Move
Find the title of novel, using the move of a chess knight. First letter is N. Length of words in solution: 9,5.
Business One-liners 73
If you see a man approaching you with the obvious intent of doing you good, you should run for your life.
If you see that there are four possible ways in which a procedure can go wrong, and circumvent these, then a fifth way, unprepared for, promptly develops.
If you stand in one place long enough, you make a line.
If you step out of a short line for a second, it becomes a long line.
If you think that OSHA is a small town in Wisconsin, you're in trouble.
If you think the problem is bad now, just wait until we've solved it.
If you throw something away, you will need it the next day.
If you try to please everybody, nobody will like it.
If you understand it, it is obsolete.
If you want to be well liked, never lie about yourself, and be careful when telling the truth about others.
It works better if you plug it in.
#joke
Man with no arms
An armless man walked into a bar which is empty except for the bartender. He ordered a drink and when he was served, asked the bartender if he would get the money from his wallet in his pocket, since he has no arms.
The bartender obliged him. He then asked if the bartender would tip the glass to his lips. The bartender did this until the man finished his drink. He then asked if the bartender would get a hanky from his pocket and wipe the foam from his lips. The bartender did it and commented it must be very difficult not to have arms and have to ask someone to do nearly everything for him.
The man said, "Yes, it is a bit embarrassing at times. By the way, where is your restroom?"
The bartender quickly replied, "The closest one is in the gas station three blocks down the street."
#joke
Q: What do you call a midget p
Q: What do you call a midget psychic who just escaped from prison?
A: A small medium at large.
Is everything expensive
Is everything expensive or am i just poor?
Top 10 Mom Scoldings in the Bible
10. Sampson, get your hands off of that lion, you don't know where it's been!
9. David, I told you not to play in the house with that string! Go practice your harp. We pay good money for those lessons.
8. Abraham! Stop wandering around the countryside and get home for supper!
7. Shadrach, Meschach and Abendeco! I told you, never play with fire!
6. Cain! Get off your brother! You're going to kill him some day!
5. Noah, no you can' t help them. Don't bring home any strays.
4. Gideon! Have you been hiding in that wine press again? Look at my clothes.
3. James and John! No more burping at the dinner table, please. People are going to call you sons of thunder.
2. Judas! Have you been in my purse again?
1. Jesus! Close the door! You think you were born in a barn.
-
Joke shared by Beliefnet member Jalus
#joke
Raven & Mad Dog
Q: What do you get when you cross a raven with a mad dog?
A: A ravin' lunatic.
Mitch Hedberg: Fore!
I never got a hole in one -- but I did hit a guy, and thats way more satisfying. Youre supposed to yell Fore, but I was too busy mumbling There aint no way thats gonna hit him.
Son : Mom, when I was on the b...
Son : Mom, when I was on the bus with Dad this morning, he told me to give up my seat to a lady.

Mom : Well, you have done the right thing.

Son : But Mom, I was sitting on Daddy's lap!
Lawyer Vacancy
There was a job opening in the country's most prestigious law firm and it finally comes down to Robert and Paul.
Both graduated magna cum laude from law school. Both come from good families. Both are equally attractive and well spoken. It's up to the senior partner to choose one, so he takes each aside and asks, "Why did you become a lawyer?"
In seconds, he chooses Paul.
Baffled, Robert takes Paul aside.
"I don't understand why I was rejected. When Mr. Armstrong asked me why I became a lawyer, I said that I had the greatest respect for the law, that I'd lay down my life for the Constitution and that all I wanted was to do right by my clients. What in the world did you tell him?"
"I said I became a lawyer because of my hands," Robert replies.
"Your hands? What do you mean?"
"Well, I took a look one day and there wasn't any money in either of them!"
What she Really Means...
What she Really Means
I need = I want
We need = I want
It's your decision = The correct decision should be obvious by now
Do whatever you want = You are going to pay for this later
We need to talk = I need to complain
Sure...go ahead = I don't want you to
I'm not upset = Of course I'm upset, you moron!
You're so manly = You need a shave and you sweat a lot
You're certainly attentive tonight = Is sex all you ever think about?
I'm not emotional! And I'm not overreacting! = I have a severe case of PMS
Be romantic, turn out the lights = I have flabby thighs
This kitchen is so inconvenient = I want a new house
I want new curtains = I want new curtains, new carpeting, new furniture, new wallpaper...
I need new shoes = the other 40 pairs are simply the wrong shade
I heard a noise = I noticed you were almost asleep
Do you love me? = I'm going to ask for something expensive
How much do you love me? = I did something today you're really going to hate
I'll be ready in a minute = Kick off your shoes and find a good game on T.V.
Is my butt fat? = Tell me I'm beautiful
You have to learn to communicate = Just agree with me
Are you listening to me? = Too late, you're dead
Yes = No
No = No
Maybe = No
I'm sorry = You'll be sorry
I was wrong = Not as wrong as you
Do you like this recipe? = It's easy to fix, so you'd better get used to it
Was that the baby? = Why don't you get out of bed and walk him until he goes to sleep
I'm not yelling! = Of course I'm yelling, this is important!
#joke
Kangaroo + Leap Year =
What do you get when you cross a kangaroo with a calendar?
A leap year!