Making Memories
We didn't realize we were making memories. We just knew we were having fun.
A woman wanted to call her hus...
A woman wanted to call her husband on his phone but discovered that the battery on her phone was dead. So she instructed her young son to use his phone to pass an urgent message to his daddy.
After junior called, he told his mummy that a woman had picked up daddy's phone the three times he tried calling.
Angry, she waited impatiently for her husband to return from work and, upon seeing him in the driveway, rushed out and gave him a tight slap. And then another, for good measure. People in the neighborhood saw the commotion and came out to see what would develop further.
Noticing the gathering of neighbors, the angry woman asked her son to tell everybody what the woman on the phone had said to him when he called.
Junior said: "The woman's voice said, 'The number you have dialed is currently not in service. Please try again later.'"
#joke
Funny video of the day - Policewoman Refuses to Kiss!
"Have you read the bo
"Have you read the book about hands? It's a real page turner."
The Wrong Last Rites
"A PRIEST, PLEASE!" the dying man says again. Then out of the crowd steps a little old Jewish man of at least eighty years of age.
"Mr. Policeman," says the man, "I'm not a priest. I'm not even a Catholic. But for fifty years now I've been living behind St. Mary's Catholic Church on Third Avenue, and every Friday night I listen to the Catholic litany. Maybe I can be of some comfort to this man."
The policeman agrees and brings the octogenarian over to where the dying man lay. He kneels down, leans over the injured man, and says in a solemn voice:
"B - 4. I - 19. N - 38. G - 54. O - 72."
What's the OS of gamblers?
What's the OS of gamblers?
- Windows.
An old, stingy lawyer was dyin
An old, stingy lawyer was dying and was determined to prove wrong the old saying; "You can't take it with you." He told his wife to go down to the bank and withdraw enough money to fill two pillowcases. His plan: Put the bags directly over his bed and when he died grab them on his way up to heaven. One day the old ambulance chaser died. When his wife was up cleaning in the attic one day, she came across the forgotten pillowcases. She then said to herself, "That old fool. I knew he should have had me put them in the basement!"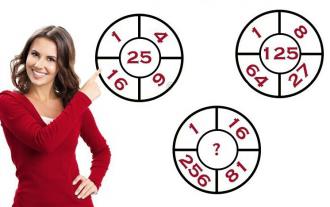 Find the missing number
Look at the numbers given in the picture and find the missing number.
"He has all the virtues I disl
"He has all the virtues I dislike and none of the vices I admire."
Winston Churchill
"A modest little person, with much to be modest about."
Winston Churchill
"I have never killed a man, but I have read many obituaries with great pleasure."
Clarence Darrow
"He has never been known to use a word that might send a reader to the dictionary."
William Faulkner (about Ernest Hemingway)
"Poor Faulkner. Does he really think big emotions come from big words?"
Ernest Hemingway (about William Faulkner)
"Thank you for sending me a copy of your book; I'll waste no time reading it."
Moses Hadas
"He can compress the most words into the smallest idea of any man I know."
Abraham Lincoln
"I've had a perfectly wonderful evening. But this wasn't it."
Groucho Marx
"I didn't attend the funeral, but I sent a nice letter saying I approved of it."
Mark Twain
"He has no enemies, but is intensely disliked by his friends."
Oscar Wilde
"I am enclosing two tickets to the first night of my new play, bring a friend... if you have one."
George Bernard Shaw to Winston Churchill
"Cannot possibly attend first night, will attend second... if there is one."
Winston Churchill, in response
"I feel so miserable without you, it's almost like having you here."
Stephen Bishop
"He is a self-made man and worships his creator."
John Bright
"I've just learned about his illness. Let's hope it's nothing trivial."
Irvin S. Cobb
"He is not only dull himself, he is the cause of dullness in others."
Samuel Johnson
"He is simply a shiver looking for a spine to run up."
Paul Keating
"He had delusions of adequacy."
Walter Kerr
"There's nothing wrong with you that reincarnation won't cure."
Jack E. Leonard
"He has the attention span of a lightning bolt."
Robert Redford
"They never open their mouths without subtracting from the sum of human knowledge."
Thomas Brackett Reed
"He inherited some good instincts from his Quaker forebears, but by diligent hard work, he overcame them."
James Reston (about Richard Nixon)
"In order to avoid being called a flirt, she always yielded easily."
Charles, Count Talleyrand
"He loves nature in spite of what it did to him."
Forrest Tucker
"Why do you sit there looking like an envelope without any address on it?"
Mark Twain
"His mother should have thrown him away and kept the stork."
Mae West
"Some cause happiness wherever they go; others, whenever they go."
Oscar Wilde
"He uses statistics as a drunken man uses lamp-posts... for support rather than illumination."
Andrew Lang (1844-1912)
"He has Van Gogh's ear for music."
Billy Wilder
#joke
Sales Help
"I'd like to buy some gloves for my wife," the young man said, eyeing the attractive salesgirl. "But I don't know her size."
"Will this help?" she asked sweetly, placing her hand in his.
"Why yes," he answered. "Her hands are just slightly smaller that yours."
"Will there be anything else?" the salesgirl queried as she wrapped the gloves.
"Now that you mention it," he replied, "she also needs some lingerie."
#joke
Husband 1.0
Last year a friend of mine upgraded from BoyFriend 1.0 to Husband 1.0 and found that it's a memory hog, leaving very little system resources available for other applications.
She is now noticing that Husband 1.0 is also spawning Child Processors which are further consuming valuable resources. No mention of this particular phenomena was included in the product brochure or the documentation, though other users have informed her that this is to be expected due to the nature of the application.
Not only that, Husband 1.0 installs itself such, that it is always launched at system initialization, where it can monitor all other system activity. She's finding that some applications such as SpendingSpree 2.4, GirlsNight 3.5 and CocktailNight 7.0 are no longer able to run in the system at all, crashing the system when selected (even though they always worked fine before).
During installation, Husband 1.0 provides no option as to the installation of undesired Plug-ins such as MotherInLaw 5.8 and BrotherInLaw Beta release. Also, system performance seems to diminish with each passing day.
Some features she'd like to see in the upcoming Husband 2.0 include:
1. A "Yes I'll cook, clean etc." button.
2. An install shield feature that allows Husband 2.0 be installed with the option to uninstall at anytime without the loss of cache and other system resources.
I myself decided to avoid the headache associated with Husband 1.0 by sticking with BoyFriend 2.0. Even here, however, I found many problems.
Apparently you cannot install BoyFriend 2.0 on top of BoyFriend 1.0; each program begins damaging the other. You must uninstall BoyFriend 1.0 first. Other users say this is a long standing bug that I should have known about. You'd think they would have fixed such a stupid bug by now! To make matters worse, the uninstall program for BoyFriend 1.0 doesn't work very well, leaving undesirable traces of the application in the system.
Another thing--all versions of BoyFriend 1.0 continually popup little annoying messages about the advantages of upgrading to Husband 1.0.
Bug Warning
Husband 1.0 has an undocumented bug. If you try to install Lover 1.1 before uninstalling Husband 1.0, Husband 1.0 will delete MS Clothing allowance files, before doing the uninstall himself.
More applications that won't run with Husband 1.0 include Chippendale 2.0, Netballwatching 3.5, Suremoreshoes 6.0, and Cleanup 4.3.
Applications that run very well with Husband 1.0, however, include Bummingaround 1.0, Pubnight 2.3, Golfing 2.7, Pokernight 5.3, and Wanderingeyes 4.9.
#joke
Addicted to Internet
Signs Your Partner is Addicted to Internet Porn
- During foreplay, he's always double-clicking your G-spot.
- His new computer includes a DVD-ROM drive, a 56k modem, and a tissue dispenser.
- When she wants you to take off your pants, she says, "Scroll down."
- C:DownloadsPorn C:DownloadsPornJuly C:DownloadsPornJuly
#joke
Whoever invented knock knock j
Whoever invented knock knock jokes should get a no bell prize.
Sausage Factory
There once was a man who owned a sausage factory, and he was showing his arrogant preppy son around his factory. Try as he might to impress his snobbish son, his son would just sneer. They approached the heart of the factory, where the father thought, "This should impress him!" He showed his son a machine and said "Son, this is the heart of the factory. With this machine here we can put in a pig, and out come sausages.
The prudish son, unimpressed, said "Yes, but do you have a machine where you can put in a sausage and out comes a pig?"
The father, furious, thought and said, "Yes son, we call it your mother."    
#joke
Bad Boomerang
Q: What do you call a boomerang that doesn't come back?
A: A stick.
3 little boys
Three little black boys sitting on a porch. The first
little black boy says, "What would you do with a million
dollars?" The second boy said, "I'd buy that blue Cadillac
over there." The third little boy said, "I'd buy the pink
Cadillac siiting over there." Then the third little boy
asked the first what he'd do with the money. The first boy
replied, "I'd cover myself in hair." The other two asked
"why?" and he said because my sister has a(2" x 2") patch of
hair and she owns both those Cadillacs!
#joke
Mark Gross: Can You Help?
A couple days ago, I was crossing this bridge, and there was this character standing there with a cup in his hand. He goes, Hey, can you help out my wife and family? I said, Sure. And I pushed him off the bridge.
The maids revenge
Just after the maid had been fired. She took five bucks from her purse, she threw it to Fido, the family dog. When asked why by her former employer, she answered, "I never forget a friend. This was for helping me clean the dishes all the time!
You might be a redneck if 28
You might be a redneck if...
Motel 6 turns off the lights when they see you coming.
There are more dishes in your sink than in your cabinets.
You think a turtleneck is a key ingredient in soup.
You've ever stood in line to get your picture taken with a freak of nature.
Your anniversary present was getting the septic tank pumped.
Your local ambulance has a trailer hitch.
You watch cartoons long after your kids get bored.
You think the French Riviera is a foreign car.
You think you are an entrepreneur because of the "Dirt for Sale" sign in the front yard.
You're still scalping tickets after the concert is over.
#joke
Pet names....
There once was a man who was so proud of the fact that he had six kids that he insisted on calling his wife "mother of six."
His wife hated this name and asked him repeatedly not to call her that, but he was a stubborn man and was very proud that he had six kids.
One evening they were at a dinner party for his company and it was getting close to the time that they should be leaving. The husband yelled from across the room over to his wife, "mother of six, are you ready to go?"
Annoyed with his question, she responded, "In a minute, Father of four."
#joke