Pizza
A college pizza delivery boy arrived at the house of Mr.Smith. He delivered the pizza to his trailer. After giving it to him, Mr. Smith asked: "What is the usual tip?"
"Well," replied the youth, "this is my first trip here, but the other guys say if I get a quarter out of you, I'll be doing great."
"Is that so?" snorted Mr. Smith. "Well, just to show them how wrong they are, here's five dollars."
"Thanks," replied the youth, "I'll put this in my school fund."
"What are you studying in school?" asked Larry.
The lad smiled and said: "Applied psychology."      
#joke
Have a low paying job? Could b
Have a low paying job? Could be a case of gross income pittance.
I'm tired of all this nonsen
I'm tired of all this nonsense about beauty being only skin deep. That's deep enough. What do you want, an adorable pancreas?
"So what if I don't
"So what if I don't know what apocalypse means!? It's not the end of the world!"
Once upon a time in a nice lit
Once upon a time in a nice little forest, there lived an orphaned bunny and an orphaned snake. By surprising coincidence both were blind from birth. One day, the bunny was hopping through the forest, and the snake was slithering through the forest, when the bunny tripped over the snake and fell down. This, of course, knocked the snake about quite a bit.
"Oh, my," said the bunny, "I'm terribly sorry. I didn't mean to hurt you. I've been blind since birth, so, I can't see where I'm going. In fact, since I'm also an orphan, I don't even know what I am."
"It's quite OK," replied the snake. "Actually, my story is much the same as yours. I, too, have been blind since birth, and also never knew my mother. Tell you what, maybe I could slither all over you, and work out what you are, so at least you'll have that going for you."
"Oh, that would be wonderful," replied the bunny. So the snake slithered all over the bunny, and said, "Well, you're covered with soft fur; you have really long ears; your nose twitches; and you have a soft cottony tail. I'd say that you must be a bunny rabbit."
"Oh, thank you! Thank you," cried the bunny in obvious excitement.
The bunny suggested to the snake, "Maybe I could feel you all over with my paw, and help you the same way you've helped me."
So the bunny felt the snake all over, and remarked, "Well, you're scaly and smooth, and you have a forked tongue, no backbone and no balls. I'd say you must be either an accountant, or possibly someone in senior management."
#joke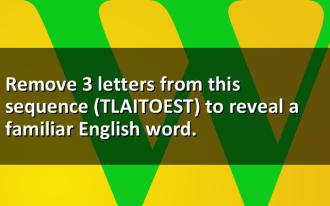 Remove 3 letters from this seq...
Remove 3 letters from this sequence (TLAITOEST) to reveal a familiar English word.
roNG>Would you like to have
roNG>Would you like to have the Joke of the Day on your site? One line of HTML will put an automatically updated Joke of the Day wherever you like. For more information,
The confession...
Henry goes to confession and says, "Bless me Father, for I have sinned. Last night I was with seven different women."
The priest says, "Take seven lemons, squeeze them into a glass and drink the juice without pausing."
"Will that cleanse me of my sins, Father?"
"No," replies the priest. "But it'll wipe that silly grin off your face."
#joke
Answering Machine Message 239

Yo. I ain't here at the moment. Leave a message at that silly beep and I'll get back... (Sniff, sniff...) Hey, what are you cooking? It smells good.


New scarf
A blonde walks into a winter clothing store. She picks out a scarf and brings it to the counter to pay for it.
When she gets home, she turns right back around and takes it back to the store.
The store clerk asks why she's returning the scarf. "Because," she says, "it's too tight!"
Submitted by Calamjo
Edited by Curtis
A Recently Spotted Bumper Sticker:
"Honk if you think I'm Jesus"
Air & Sex
Q: Why is air a lot like sex?
A: Because it's no big deal unless you're not getting any.
Perverted sex
What do you call a man who has sex with his mom?
A MOTHER FUCKER!
Once a grizzly bear threatened...
Once a grizzly bear threatened to eat Chuck Norris. Chuck showed the bear his fist and the bear proceeded to eat himself, because it would be the less painful way to die.
Arj Barker: Friends With Kids
I only have, like, three really good friends, and they get worse every year. And its gotten to the point where I think theyd rather hang out with their own kids than hang out with me. Im like, Alright, but really, wheres the loyalty, man? Ive known you for 25 years. How long have you known your baby -- like a month? Alright, Judas, whatever.
#joke
Terrorize Telemarketer
Ways to Terrorize a Telemarketer


Tell them to talk VERY SLOWLY, because you want to write EVERY WORD down.

Insist that the caller is really your buddy Leon, playing a joke. "Come on Leon, cut it out! Seriously, Leon, how's your momma?"

Tell the telemarketer you are busy at the moment and ask them if they will give you their HOME phone number so you can call them back. When the telemarketer explains that they cannot give out their HOME number, you say "I guess you don't want anyone bothering you at home, right?" The telemarketer will agree and you say, "Now you know how I feel!"

After the telemarketer gives their spiel, ask him/her to marry you. When they get all flustered, tell them that you could not just give your credit card number to a complete stranger.

Tell the telemarketer you are on "home incarceration" and ask if they could bring you a case of beer and some chips.

If they want to loan you money, tell them you just filed for bankruptcy and you could sure use some money.

If MCI calls trying to get you to sign up for the Family and Friends plan, reply, in as SINISTER a voice as you can, "I don't have any friends... would you be my friend?"

Cry out in surprise, "Judy! Is that you? Oh my God! Judy, how have you been?" Hopefully, this will give Judy a few brief moments of pause as she tries to figure out where the hell she could know you from.

If they say they're John Doe from XYZ Company, ask them to spell their name. Then ask them to spell the company name. Then ask them where it is located. Continue asking them personal questions or questions about their company for as long as necessary.

When they ask "How are you today?" Tell them! "I'm so glad you asked because no one these days seems to care, and I have all these problems; my arthritis is acting up, my eyelashes are sore, my dog just died..."

Borrowed the Car
After shopping for most of the day, a couple returns to find their car has been stolen. They go to the police station to make a full report. Then, a detective drives them back to the parking lot to see if any evidence can be found at the scene of the crime. To their amazement, the car has been returned.
There is an envelope on the windshield with a note of apology and two tickets to a music concert. The note reads, "I apologize for taking your car, but my wife was having a baby and I had to hot-wire your ignition to rush her to the hospital. Please forgive the inconvenience. Here are two tickets for tonight's concert of Garth Brooks, the country-and-western music star."
Their faith in humanity restored, the couple attend the concert and return home late. They find their house has been robbed. Valuable goods have been taken from thoughout the house, from basement to attic. And, there is a note on the door reading, "Well, you still have your car. I have to put my newly born kid through college somehow, don't I?"
#joke