Be rady for Thanksgiving
, check out our latest
Thanksgiving jokes of 2021
on:
Thanksgiving jokes collection
An 85-year-old widow went on a
An 85-year-old widow went on a blind date with a 90-year-old man. When she returned to her daughter's house later that night, she seemed upset.
"What happened, Mother?" the daughter asked.
"I had to slap his face three times!"
"You mean he got fresh?"
"No," she answered, "I thought he was dead."
#joke
After the bank was r...
"After the bank was robbed, the owner bought cows to beef up the security."
Funny video of the day - Top 5 Reasons Not to Drive A Car
The Preacher and the Frog Princess
An old country preacher was fishing one afternoon when he noticed a frog sitting next to him. The frog said, "Mister, I've had a spell cast on me. If you'll kiss me, I'll turn into a beautiful princess and I'll make you happy for the rest of your life."
The old preacher smiled, picked up the frog, and put it in his pocket. After a while, he looked into his pocket to see how the frog was doing.
The frog said again, "Mister, I've had a spell cast on me. If you'll kiss me, I'll turn into a beautiful princess and I'll make you happy for the rest of your life."
The preacher just smiled and kept on fishing. When he checked on the frog again, it said, "What's wrong with you, fella? I said I've been bewitched. Just kiss me and I'll turn back into a beautiful princess and make you the happiest man on earth for the rest of your life!"
The old preacher just smiled and said, "Frog, I'm sorry to tell you this…but at my age, I'd rather have a talking frog than a beautiful princess!"
#joke
A woman asking people question
A woman asking people questions for her company's survey walked up to a man and asked if he would be willing to participate. He said, "Sure". She asked him to name something expensive that he wished he had never bought. The man answered, "My wedding ring."
In a tiny village lived an old
In a tiny village lived an old maid. In spite of her old age, she wasstill a virgin. She was very proud of it. She knew her last days weregetting closer, so she told the local undertaker that she wanted thefollowing inscription on her tombstone:
"Born as a virgin, lived as a virgin, died as a virgin"
Not long after, the old maid died peacefully. The undertaker, true tohis word, instructed his men to inscribe on the tombstone what thelady had requested. The men went to carve it, but as they were lazyand it was close to quitting time, they decided the inscription wasunnecessarily long. So they simply carved:
"Returned unopened."
#joke
Different ways to say your not so bright...
A few clowns short of a circus.
A few fries short of a Happy Meal.
An experiment in Artificial Stupidity.
A few beers short of a six-pack.
Dumber than a box of hair.
A few peas short of a casserole.
Doesn't have all her cornflakes in one box.
The wheel's spinning, but the hamster's dead.
One Fruit Loop shy of a full bowl.
One taco short of a combination plate.
A few feathers short of a whole duck.
All foam, no beer.
The cheese slid off her cracker.
Body by Fisher, brains by Mattel.
Couldn't pour water out of a boot with instructions on the heel.
He fell out of the stupid tree and hit every branch on the way down.
An intellect rivaled only by garden tools.
As smart as bait.
Chimney's clogged.
Doesn't have all his dogs on one leash.
Doesn't know much but leads the league in nostril hair.
Elevator doesn't go all the way to the top floor.
Forgot to pay his brain bill.
Her sewing machine's out of thread.
His antenna doesn't pick up all the channels.
His belt doesn't go through all the loops.
If he had another brain, it would be lonely.
Missing a few buttons on his remote control.
No grain in the silo.
Proof that evolution CAN go in reverse.
Receiver is off the hook.
Several nuts short of a full pouch.
Skylight leaks a little.
Slinky's kinked.
Surfing in Nebraska.
Too much yardage between the goal posts.
Not the sharpest knife in the drawer.
The lights are on, but nobody's home.
24 cents short of a quarter.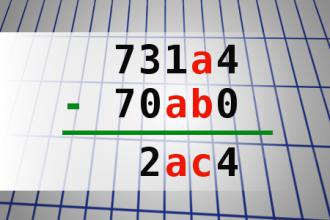 Find number abc
If 731a4 - 70ab0 = 2ac4 find number abc. Multiple solutions may exist.
Real News Headlines 08
These are actual newspaper headlines gathered from papers across the country.
Man shoots neighbor with machete: The Miami Herald, July 3
Tomatoes come in big, little, medium sizes: The Daily Progress, Charlottesville, Virginia, March 30
Dirty-Air Cities Far Deadlier Than Clean Ones, Study Shows: The New York Times, March 10
Man Run Over by Freight Train Dies: The Los Angeles Times, March 2
Scientists see quakes in L.A. future: The Oregonian, January 28
Wachtler tells graduates that life in jail is demeaning: The Buffalo News, February 26
Free Advice: Bundle up when out in the cold: Lexington Herald-Leader, January 26
Prosecution paints O.J. as a wife-killer: Fort Lauderdale Sun-Sentinel, January 25
Economist uses theory to explain economy: Collinsville Herald-Journal, February 8
#joke
What's your name?
Michael Jackson, late for court again today, you know, because of his bad back.
Well, you'd have a bad back too if every conversation you had in your life involved having to bend over and ask, "What's your name?" --Jay Leno
Two Drops
A lady went to the bar on a cruise ship, and ordered a Scotch, with two drops of water. The bartender gave her the drink, and she said, "I'm on this cruise to celebrate my 80th birthday, and it's today."
The bartender said, "Well, since it's your birthday, this one's on me."
As the lady finished her drink, a woman, to her right, said, "I'd like to buy you a drink, too." The lady said, "Thank you, how sweet of you. OK, then, Bartender, I want another Scotch, with two drops of water."
"Coming up," said the bartender.
As she finished that drink, a man, to her left, said, "I'd like to buy you a drink too." The lady said, "Thank you very much, my dear. Bartender, I'll have another Scotch, with two drops of water."
"Coming right up," the bartender said.
As he gave her the drink, this time, he said, "Ma'am, I'm dying of curiosity. Why the Scotch with only two drops of water?"
The old woman giggled, and replied, "Sonny, when you're my age, you've learned how to hold your liquor. Water, however, is a whole other issue."  
#joke
Tired sperm
Two sperms were swimming along when one says to the other "Man I'm getting tired, how far is it to the uterus anyway?"
The other sperm laughs and says "Uterus!, we aren't even through the esophagus yet."
Submitted by curtis
Edited by calamjo, Tantilazing and hottrouble1
A young man at this constructi...
A young man at this construction site was bragging that he could outdo anyone based on his strength. He especially made fun of one of the older workman. After several minutes, the older worker had enough. 
"Why don't you put your money where you mouth is?" he said. "I'll bet a week's wages that I can haul something in a wheelbarrow over to the other building that you won't be able to wheel back." 
"You're on, old man," the young man replied. "Let's see what you've got." 
The old man reached out and grabbed the wheelbarrow by the handles. Then nodding to the young man, he said with a smile, "All right. Get in."
#joke
Wedding a Virgin
A man longs to wed a maiden with her virtue intact. He searches for one but resigns himself to the fact that every female over the age of 10 in his town has been at it.
Finally he decides to take matters in hand and adopts a baby girl from the orphanage. He raises her until she is walking and talking and then sends her away to a monastery for safekeeping until marrying age. After many years she finally reaches maturity and he retrieves her from the monastery and marries her.
After the wedding they make their way back to his house and into the bedroom where they both prepare themselves for the consummation. They lie down together in his bed and he reaches over for a jar of petroleum jelly.
"Why the jelly," she asks him?
"So I do not hurt your most delicate parts during the act of lovemaking," he replies.
"Well why don't you just spit on your cock like the monks did?!"
#joke
Thai Rivera: Paying Customer
I cant stand homeless people. I dont feel bad about saying it. I dont mind saying it because I give homeless people money. I give them more money than I should, so I feel, as a paying customer, I have a right to complain.