A police officer came upon a t...
A police officer came upon a terrible wreck where the driver and passenger had been killed. As he looked upon the wreckage a little monkey came out of the brush and hopped around the crashed car.
The officer looked down at the monkey and said, "I wish you could talk."
The monkey looked up at the officer and shook his head up and down.
"You can understand what I'm saying?" asked the officer.
Again, the monkey shook his head up and down.
"Well, did you see this?"
"Yes," motioned the monkey.
"What happened?"
The monkey pretended to have a can in his hand and turned it up by his mouth.
"They were drinking?" asked the officer.
The monkey shakes his head "Yes."
"What else?" The monkey pinched his fingers together and held them to his mouth.
"They were smoking marijuana?"
The monkey shakes his head "Yes."
"What else?" The monkey motioned "kissing."
"They were kissing, too?" asked the astounded officer.
The monkey shakes his head "Yes."
"Now wait, you're saying your owners were drinking, smoking and kissing before they wrecked."
The monkey shakes his head "Yes."
"What were you doing during all this?"
"Driving," motioned the monkey.
#joke
Funny video of the day - Handskating, Handstand Inline Skating
"If you can't choose
"If you can't choose between an angry psychic and a sad psychic, you'll have to find a happy medium."
School Prayer Solution
As long as there are tests, there will be prayer in public schools.
"Look, Charlie," the coach...
"Look, Charlie," the coach said, "you know the principles of good sportsmanship. You know the Little League doesn't allow temper tantrums, shouting at the umpire, or abusive language." "Yes sir, I understand." "Good, Charlie. Now, would you explain that to your father?"
#joke
A local United Way office real...
A local United Way office realized that the organization had never received a donation from the town's most successful lawyer. The person in charge of contributions called him to persuade him to contribute.
"Our research shows that out of a yearly income of at least $500,000, you give not a penny to charity. Wouldn't you like to give back to the community in some way?"
The lawyer mulled this over for a moment and replied, "First, did your research also show that my mother is dying after a long illness, and has medical bills that are several times her annual income?"
Embarrassed, the United Way rep mumbled, "Um ... no."
The lawyer interrupts, "or that my brother, a disabled veteran, is blind and confined to a wheelchair?"
The stricken United Way rep began to stammer out an apology, but was interrupted again.
"Or that my sister's husband died in a traffic accident," the lawyer's voice rising in indignation, "leaving her penniless with three children?!"
The humiliated United Way rep, completely beaten, said simply, "I had no idea..."
On a roll, the lawyer cut him off once again, "So if I don't give any money to them, why should I give any to you?"
FLEX WORDLE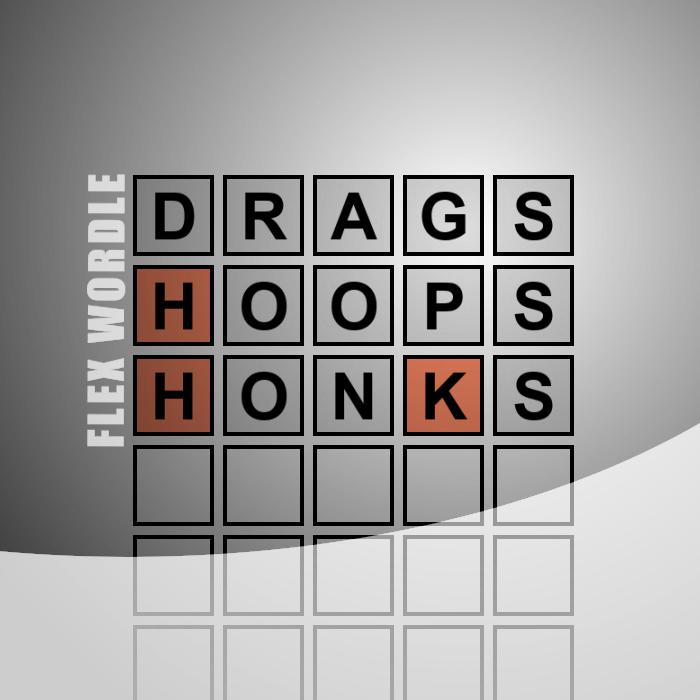 Guess the
WORDLE
in 3 tries. After each guess, the color of the tiles will change to show how close your guess was to the solution.
The interested doctor
A concerned woman phones a doctor and says, "Doctor, I'm worried about my husband. He thinks he's a dog!"
"I'm coming over right away," the doctor says.
When the doctor arrives, the woman opens the door, and her husband, on all four, starts wagging his bottom and licking the doctor's hand.
"Interesting", the doctor says, startled. "I'll examine him. Make him lie down on the sofa."
"Doctor", the woman says, "I can't! He's not allowed the sofa!"
Lease Nuclear Weapons
Lease a Nuke!
Want power and respect? Want to influence the course of world events? Want to be on CNN every night? Tired of hum-drum conventional warfare and messy bio-chemical weapons? Want to watch the citizens of your favorite arcology squirm and sweat in constant nagging fear of instant and unexpected anhilation?
Lease a nuclear device!
In the wake of the former Soviet Union's demise, there are literally thousand of high-quality nuclear weapons complete with intercontinental delivery systems going unused.
Though these systems are indeed powerful and destructive weapons of war, they are most effective when used in a more passive role. The US and USSR have proven in years of research and actual testing that nuclear devices are most effective when merely targeting an enemy. Actual detonation is not normally necessary to acheive tremendous effect in the designated target's military, political, economic and social well being.
Imagine the boost in national pride and morale when you personally announce on state radio and television that you have put long-time enemies under threat of nuclear destruction. They will praise your name as a powerful and inspired leader even without the secret police's encouragement.
Why lease?
By leasing, you not only save money developing your own nuclear technology program, you save a lot of unnecessary headaches too.
Nuclear weapons development is expensive and time consuming, not to mention easily detectable. It could take you years to aquire and build the necessary industry to manufacture weapons-grade material. Even after that, you still have to design, build and test your first device before anyone takes you seriously.
Purchasing existing nuclear hardware is also expensive and risky. Most governments are on the lookout for such activity. Many dealers are crooked. Do you really want to take a chance getting ripped off by shady weapons dealers?
Even if you succeed purchasing through the black market, you stand the risk of getting on the wrong side of international opinion. You could lose existing conventional arms contracts, face economic sanctions or even military action.
With a lease you avoid a lot of other problems too. Since the weapons are not on your property, you avoid becoming a target yourself. You can forget about the high cost of security, environmental pollution concerns and even subversion by renegade generals in your own army.
The advantages of leasing are tremendous. You just sign, point, and go! When you are through leasing, just turn in the button and walk away. You can even change your target at any time for a small fee. (Handy for preventing those nasty coup d' etats.) You can announce your target or keep it secret. Each targeted device contract comes with a certificate of authenticity and sufficient proof actual delivery capability.
The best part is, you don't pay for the whole weapon, unless you actually fire it! This alone presents a HUGE cost savings over the alternatives.
Imagine the power and prestige you will feel when you get your very own button. You can do things you never thought possible, like pounding your shoe on the UN podium. Hey, and nothing says sexy like a nuclear trigger.
Hurry, opportunities are limited! Contact Raydeax corpoaration for more details on how you too can become an instant nuclear world power.
Dr. Nuketopia,
Technology Director of the World-Wide Monetary Conspiracy
(Opinions strictly reflect the party line)
#joke
Islands
Q: What do you get when Dolly Parton does the backstroke?
A: Islands In The Stream.
Submitted by Calamjo
Edited by Tantilazing
Yo momma's breath smelled so
Yo momma's breath smelled so bad when she walked by a clock it said, "Tic Tac."
Hospital Rules
Hospital regulations require a wheel chair for patients being discharged. However, while working as a student aide, Sam found one elderly gentleman already dressed and sitting on the bed with a suitcase at his feet, who insisted he didn't need Sam's help to leave the hospital. After a chat about rules being rules, he reluctantly let Sam wheel him to the elevator. On the way down Sam asked him if his wife was meeting him. I don't know, he said. She is still upstairs in the bathroom changing out of her hospital gown.
#joke
Air & Sex
Q: Why is air a lot like sex?
A: Because it's no big deal unless you're not getting any.
Ways To Get Rid Of Telemarketers
An old one, but a good one…
1. If they want to loan you money, tell them you just filed for Bankruptcy and you could sure use some money.
2. If they start out with, "How are you today?" say, "Why do you want to know?" Or you can say, "I'm so glad you asked, because no one seems to care these days and I have all these problems, my sciatica is acting up, my eyelashes are sore, my dog just died…" When they get try to get back to the sell, just continue your problems.
3. If they say they're Joe Doe from the XYZ Company, ask them to spell their name, then ask them to spell the company name, then ask them where it located. Continue asking them personal questions or questions about their company for as long as necessary.
4. This one works better if you are male: Telemarketer: "Hi, my name is Judy and I'm with Canter and Siegel services…. You: "Hang on a second." (few seconds pause) "Okay, (in a really husky voice) what are you wearing?"
5. Crying out, in well-simulated tones of pleasure and surprise, "Judy!! Is this really you? Oh, my gosh! Judy, how have you BEEN?" Hopefully, this will give Judy a few brief moments of terror as she tries to figure out where the hell she could know you from.
6. Say, "No", over and over. Be sure to vary the sound of each no, and keep an even tempo even as they're trying to speak. This is the most fun if you can keep going until they hang up.
7. If MCI calls trying to get you to sign up with their Family and Friends plan, reply, in a sinister a voice as you can muster, "I don't have any friends…would you be my friend?"
8. If they clean rugs: "Can you get blood out, you can? Well, how about goat blood or HUMAN blood.
9. Let the person go through their spiel, providing minimal but necessary feedback in the form of an occasional "Uh- huh, really, or "That's fascinating." Finally, when they ask you to buy, ask them to marry you. They get all flustered, but just tell them you couldn't give your credit card number to someone that's a complete stranger.
10. Tell them you work for the same company they work for. Example: Telemarketer: "This is Bill from Watertronics." You: "Watertronics!! Hey I work for them too. Where are you calling from?" Telemarketer: "Uh, Dallas, Texas." You: "Great, they have a group there too? How's business/the weather? Too bad the company has a policy against selling to employees! Oh well, see ya."
11. Answer the phone. As soon as you realize it is a telemarketer, set the receiver down, shout or scream, "Oh, my goodness!!!" and then hang up.
12. Tell the Telemarketer you are busy and if they will give you their phone number you will call them back. If they say they are not allow to give out their number, then ask them for their home number and tell them you will call them at home. (This is usually the most effective method of getting rid of Telemarketers)
#joke
Join us on WhatsApp