Deep Thoughts
1. Nothing stinks more than that moment during an argument when you realize you're wrong.
2. I totally take back all those times I didn't want to nap when I was younger.
3. There is a great need for a sarcasm font.
4. Sometimes, I'll watch a movie that I watched when I was younger and suddenly realize I had no idea what was going on when I first saw it.
5. I would rather try to carry 10 plastic grocery bags in each hand than take 2 trips to bring my groceries in.
6. I think part of a best friend's job should be to immediately clear your computer history if you die.
7. Was learning to write in cursive really necessary?
8. I have a hard time deciphering the fine line between boredom and hunger.
9. How many times is it appropriate to say "What?" before you just nod and smile because you still didn't hear what they said?
10. I love the sense of camaraderie when an entire line of cars teams up to prevent a jerk from cutting in at the front.. Stay strong, brothers and sisters!
11. MapQuest really needs to start their directions on #5. Pretty sure I know how to get out of my neighborhood.
12. Obituaries would be a lot more interesting if they told you how the person died.
13. Bad decisions make good stories.
14. You never know when it will strike, but there comes a moment at work when you've made up your mind that you just aren't doing anything productive for the rest of the day.
15. Can we all just agree to ignore whatever comes after DVDs? I don't want to have to restart my collection.
16. I hate when I just miss a call by the last ring, but when I immediately call back, it rings nine times and goes to voicemail. What'd you do after I didn't answer? Drop the phone and run away?
17. I hate leaving my house confident and looking good and then not seeing anyone of importance the entire day. What a waste.
18. It should probably be called Unplanned Parenthood.
19. Even under ideal conditions people have trouble locating their car keys in a pocket and Pinning the Tail on the Donkey - but I'd bet everyone can find and push the Snooze button from 3 feet away, in about 1.7 seconds, eyes closed, first time every time...
20. I disagree with Kay Jewelers. I would bet on any given Friday or Saturday night more kisses begin with Miller Lites than Kay.
I lost some memory i...
"I lost some memory in my computer, but I didn't mind one bit."
Funny video of the day - Giant strength for the Giant - funny Indian ad starring Khali the Great
Family of the Groom
At an Easter mass, at which some young ladies were to take their final vows to become nuns, the presiding bishop noticed two rabbis enter the church just before the mass began.
They were seated at the back of the sanctuary and insisted on sitting on the right side of the center aisle. The bishop wondered why they had come but didn't have time to inquire before the mass began.When it came time for some announcements, his curiosity got the best of him. He announced that he was delighted to see two rabbis in their midst at the mass but was curious as to why they were present at this occasion where the young ladies were to become the "Brides of Christ."
The eldest of the rabbis slowly rose to his feet and explained, "Family of the Groom."
#joke
A distraught investor called h...
A distraught investor called his financial advisor. "Is my money really all gone?"
He wailed. "No, no," the advisor answered calmly. "It's just with somebody else!"
The teenage granddaughter come...
The teenage granddaughter comes downstairs for her date with this see-through blouse on and no bra. Her grandmother just pitched a fit, telling her not to dare go out like that!
The teenager tells her "Loosen up Grams. These are modern times. You gotta let your rose buds show!" and out she goes.
The next day the teenager comes downstairs, and the grandmother is sitting there with no top on. The teenager wants to die. She explains to her grandmother that she has friends coming over and that it is just not appropriate...
The grandmother says, "Loosen up, Sweetie. If you can show off your rose buds, then I can display my hanging baskets."
#joke
The new baby
A young mother finds out she is pregnant again, and she tells the good news to anyone who will listen. One day when the woman and the boy are out shopping, a friend of the mother asks the little boy if he was excited about the new baby.
"Oh, yes!" the little tyke says. And having overheard some of his parents' private conversations, he adds, "And I know what we are going to name it, too. If it's a girl we're going to call it Mary, and if it's another boy we're going to call it Quits."
#joke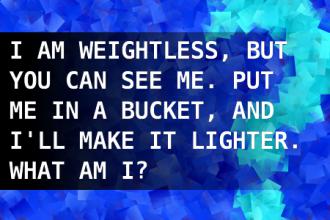 I am weightless, but you can s...
I am weightless, but you can see me. Put me in a bucket, and I'll make it lighter. What am I?
Bumper Stickers 03
All generalizations are false, including this one.
"Criminal Lawyer" is a redundancy.
I.R.S.: We've got what it takes to take what you've got!
We are born naked, wet, and hungry. Then things get worse.
Artificial Intelligence usually beats real stupidity.
Hard work has a future payoff. Laziness pays off now.
What is a "free" gift ? Aren't all gifts free?
Better to understand a little than to misunderstand a lot.
We have enough youth, how about a fountain of SMART?
Change is inevitable, except from a vending machine.
Too Much Time at the
Starting the day with a conversation between a wife and a husband who happens to be a software engineer.
Husband : (Returning late from work) "Good Evening Dear, I'm now logged in."
Wife : Have you brought the grocery? Husband : Bad command or filename.
Wife : But I told you in the morning Husband : Erroneous syntax. Abort?
Wife : What about my new TV? Husband : Variable not found ...
Wife : At least, give me your Credit Card, I want to do some shopping. Husband : Sharing Violation. Access denied...
Wife : Do you love me or do you only love computers or are you just being funny? Husband : Too many parameters ...
Wife : It was a great mistake that I married an idiot like you. Husband : Data type mismatch.
Wife : You are useless. Husband : It's by Default.
Wife : What about your Salary? Husband : File in use ... Try after some time.
Wife : What is my value in the family. Husband : Unknown Virus
#joke
A blonde, a brunette, and a re...
A blonde, a brunette, and a redhead all work at the same office for a female boss who always goes home early. "Hey girls," says the brunette, "Let's go home early tomorrow. She'll never know." The next day, they all leave right after the boss does. The brunette gets some extra gardening done, the redhead goes to a bar, and the blonde goes home to find her husband having sex with the female boss! She quietly sneaks out of the house and returns at her normal time. "That was fun," says the brunette. "We should do it again sometime." "No way," says the blonde. "I almost got caught!"
Speeding Ticket
Cop pulls over a car with a couple in it.

"What's the problem officer?"

"Sir, you were going 68 in a 50-zone."

"What, that's ridiculous! I did no such thing!"

"Sir, I caught you with my radar gun, and it's always accurate, but I'll give you some leeway and reduce it to 62.

"Well, not this time, asshole. I know I was doing 54! I'll take it to court, you son of a bitch!" The cop hands the man the ticket, and he rips it up.

"Sir, I'm going to have to insist you calm down, or I'll put you under arrest."
Suddenly, the wife interjects, "Mister, I wouldn't push it. There's no use arguing with him when he's drunk."
#joke
Pukeing drunk
Two notorious drunks are sitting at the bar. One is crying. The other asks what's wrong.
"I've puked all over myself again and my wife is gonna kill me."
The other drunk says "do what I do pal. Explain to your wife that some other drunk puked on you. Put a ten spot in your shirt pocket and tell her that the drunk was sorry and gave you ten dollars to have your clothes cleaned."
"Sounds like a great idea" says drunk number 1.
When he gets home, sure enough his wife is fuming and begins yelling at him about his clothes and how disgusting he is. The drunk starts spinning the lie and says " look for yourself, there's ten bucks in my shirt pocket."
His wife looks in the pocket and finds twenty dollars.
"Wait a minute, I thought you said the guy gave you ten for puking on you," says the wife.
"He did," says the drunk.
"But he shit in my pants too."
#joke
The chief export of Chuck Norr...
The chief export of Chuck Norris is pain.
A psychiatrist was conducting ...
A psychiatrist was conducting a group therapy session with four young mothers and their small children.
"You all have obsessions," he observed.
To the first mother, he said, "You are obsessed with eating. You've even named your daughter Candy."
He turned to the second Mom. "Your obsession is with money. Again, it manifests itself in your child's name, Penny."
He turns to the third Mom. "Your obsession is alcohol. This too manifests itself in your child's name, Brandy."
At this point, the fourth mother gets up, takes her little boy by the hand and whispers, "Come on, Dick, we're leaving."
#joke