Yo mamma so stupid her passwor...
Yo mamma so stupid her password needed 8 characters, so she typed "Snow White and the 7 dwarfs."
For birthday husband...
For birthday husband bought wife a bath scale, as a joke. For his birthday, she bought him a ruler.
Funny video of the day - Most biscuits broken with shoulder blades in one minute - Guinness World Records
After being with her all eveni
After being with her all evening, the man couldn't take another minute with his blind date. Earlier, he had secretly arranged to have a friend call him to the phone so he would have an excuse to leave if something like this happened.
When he returned to the table, he lowered his eyes, put on a grim expression and said, "I have some bad news. My grandfather just died."
"Thank heavens," his date replied. "If yours hadn't, mine would have had to!"
#joke
They just found a sw...
"They just found a sword swallower dead. The police suspect it's an inside job."
Singing In Church
A minister decided to try something a little different one Sunday morning.
He said, "Today, in church, I am going to say a single word and you are going to help me preach. Whatever single word I say, I want you to sing whatever hymn comes to your mind."
The pastor shouted out, "Cross!"
Immediately the congregation started singing in unison "The Old Rugged Cross."
The pastor hollered out, "Grace!" The congregation began to sing "Amazing Grace, how sweet the sound."
The pastor said, "Power!" The congregation sang "There is Power in the Blood."
The Pastor said, "Sex!"
The congregation fell in total silence. Everyone was in shock. They all nervously began to look around at each other, afraid to say anything. Then all of a sudden, from the back of the church, a little old 87-year-old grandmother stood up and began to sing "Precious Memories."
#joke
I'm worried about your heart...
I'm worried about your heart murmur," the doc told Jack. "I've always had a heart murmur," Jack protested. "Yeah," replied the doc, "but now the murmur has started humming." "That doesn't sound good!" Jack was getting worried now. "It's worse than you think," the doc said. "It's humming 'Nearer My God to Thee.'"
#joke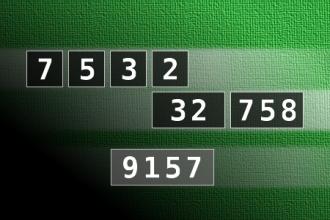 Calculate the number 9157
NUMBERMANIA: Calculate the number 9157 using numbers [7, 5, 3, 2, 32, 758] and basic arithmetic operations (+, -, *, /). Each of the numbers can be used only once.
1.) Never under any circumstan
1.) Never under any circumstances take a sleeping pill and a laxative on the same night.
2.) If you have to identify, in one word, the reason why the human race has not achieved, and never will achieve, its full potential, that word would be "meetings".
3.) There is a very fine line between "hobby" and "mental illness".
4.) People who want to share their religious views with you almost never want you to share yours with them.
5.) And when God, who created the entire universe with all of its glories, decides to deliver a message to humanity, He WILL NOT use, as His messenger, a person on cable TV with a bad hairstyle.
6.) You should not confuse your career with your life.
7.) No matter what happens... somebody will find a way to take it too seriously.
8.) When trouble arises & things look bad, there is always one individual who perceives a solution & is willing to take command. Very often, that person is crazy.
9.) Nobody cares if you can't dance well. Just get up and dance.
10.) A person who is nice to you, but rude to the waiter, is not a nice person.
11.) Never lick a steak knife.
12.) Take out the fortune before you eat the cookie.
13.) "The one thing that unites all human beings, regardless of age, gender, religion, economic status or ethnic background, is that, deep down inside, we ALL believe that we are above average drivers.
14.) You should never say anything to a woman that even remotely suggests that you think she's pregnant unless you can see an actual baby emerging from her at that moment.
15.) Your REAL friends still love you anyway.
#joke
The last word
Two husbands, Bill and Doug, were discussing their married lives. Although happily married, they admitted that there were argument sometimes.
Then Bill said, "I've made one great discovery. I now know how to always have the last word."
"Wow!" said Doug, "How do you manage that?"
"It's easy," replied Bill. "My last words are always 'Yes, Dear.'"
#joke
Bad Relationships
Two Yuppettes were shopping. When they started to discuss their home lives, one said,
"Seems like all Alfred and I do anymore is fight. I've been so upset I've lost 20 pounds."
"Why don't you just leave him then?" asked her friend.
"Oh! Not yet." the first replied, "I'd like to lose at least another fifteen pounds first."
#joke
Idiot Chicken Farmer
An idiot decided to start a chicken farm so he bought a hundred chickens to begin with.
A month later he returned to the dealer for another hundred chickens because all of the first lot had died.
A month later he was back at the dealer for another hundred chickens for the second lot had also died.
"But I think I know where I'm going wrong," said the idiot, "I think I'm planting them too deep."
#joke
Speeding Ticket
Cop pulls over a car with a couple in it.

"What's the problem officer?"

"Sir, you were going 68 in a 50-zone."

"What, that's ridiculous! I did no such thing!"

"Sir, I caught you with my radar gun, and it's always accurate, but I'll give you some leeway and reduce it to 62.

"Well, not this time, asshole. I know I was doing 54! I'll take it to court, you son of a bitch!" The cop hands the man the ticket, and he rips it up.

"Sir, I'm going to have to insist you calm down, or I'll put you under arrest."
Suddenly, the wife interjects, "Mister, I wouldn't push it. There's no use arguing with him when he's drunk."
#joke
Top 10 Reasons God Created Eve
10. God worried that Adam would always be lost in the garden because men hate to ask for directions.
9. God knew that Adam would one day need someone to hand him the TV remote.
8. God knew that Adam would never buy a new fig leaf when his seat wore out and would therefore need Eve to get one for him.
7. God knew that Adam would never make a doctor's appointment for himself.
6. God knew that Adam would never remember which night was garbage night.5. God knew that if the world was to be populated, men would never be able to handle childbearing.
4. As "Keeper of the Garden," Adam would never remember where he put his tools.
3. The scripture account of creation indicates Adam needed someone to blame his troubles on when God caught him hiding in the garden.
2. As the Bible says, "It is not good for man to be alone!"
1. When God finished the creation of Adam, He stepped back, scratched His head and said, "I can do better than that."
Hardware Store
Yo mamma is like a hardware store 10 cents a screw!
When Chuck Norris watches a po...
When Chuck Norris watches a pot, it boils immediately.
Rich Vos: Best Relationship Ever
The best relationship I ever had -- I used to go out with a homeless girl. Yeah, it was great cause after sex, I could just drop her off anywhere.