Happy Thanksgiving
Check out our latest
Thanksgiving jokes
and quotes on:
Thanksgiving jokes collection
A Kentucky mountain woman went
A Kentucky mountain woman went to the doctor and was told to go home and come back in a couple of days with a specimen.
When she got home she asks her husband, "What is a specimen?"
He replies," Heck if I know. Go next door and ask Edith. She's a nurse."
The woman goes next door and comes back in about twenty minutes with her clothes all torn and with multiple cuts and bruises on her face and body.
"What in the world happened?" asked her husband.
"Damned if I know," she replies. "I asked Edith what a specimen was, and she told me to go piss in a bottle. I told her to go piss in her hat, and then all hell broke loose!"
The champion ballet...
"The champion ballet dancer watched his feat in the video footage!"
Funny video of the day - 100 Years of Halloween Costumes in 3 Minutes
A Well-Known Monk
A wandering monk walked barefoot everywhere he went, to the point that the soles of his feet eventually became quite thick and leathery. And because he ate very little, he gradually became very frail. Several days often passed between opportunities to brush his teeth, so he usually had bad breath. Therefore, throughout the region, he came to be known as the super-calloused fragile mystic plagued with halitosis.
#joke
A woman is in the bar of a cru
A woman is in the bar of a cruise ship and she asks the bartender for a scotch and two drops of water. As the bartender gives her the drink, she says, "It's my birthday today, and I'm on the cruise to celebrate my 80th birthday."
The bartender says, "Well, since it's your birthday I'll buy you a drink; in fact, I'll take care of this one for you."
As the women finishes her drink the woman to her right says, "I guess I should buy you a drink."
The old woman says, "All right. Bartender, I want a scotch and two drops of water."
"All right," says the bartender. As she finishes her drink, the man to her right says, "Since I'm the only one around you that hasn't bought you a drink, I guess I might as well buy you one."
The old woman says, "All right. Bartender I want a scotch and two drops of water."
"Coming right up," the bartender says. As he gives her the drink he says,
"Ma'am, I'm dying of curiosity. Why the scotch and only two drops of water?"
The old woman replies, "Sonny, you learn that when you're my age, you can hold your liquor but you sure can't hold your water."
#joke
Intelligent life...
It was a celebratory mood with the boys at NASA; they had just made the scientific achievement of a lifetime.
As they were uncorking a bottle of champagne, Dr. Braun, the head scientist at NASA, asked everyone to be quiet as he had received a congratulatory phone call from the President of the United States.
He picked up a special red phone, and spoke into it. "Mr. President," said Dr. Braun, grinning broadly, "after twelve years of hard research and billions of dollars spent, we have finally found intelligent life on Mars."
He listened for a second, and his smile gradually disappeared, replaced by a frown.
He said, "But that's impossible . . . we could never do it. . . yes Mr. President," and hung up the phone. He addressed the crowd of scientists staring at him curiously.
"I have some bad news," he said, "the President said that now that we've found intelligent life on Mars . . . he wants us to try to find it in Congress."
#joke
Pimp
Q: What do you call an Alabama farmer with a sheep under each arm?
A: A pimp.
Submitted by Curtis
Edited by calamjo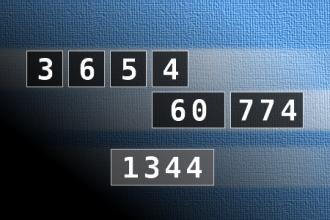 Calculate the number 1344
NUMBERMANIA: Calculate the number 1344 using numbers [3, 6, 5, 4, 60, 774] and basic arithmetic operations (+, -, *, /). Each of the numbers can be used only once.
Q: Why can't you trust an ato
Q: Why can't you trust an atom?
A: Because they make up everything.
Hunting With A Wife
A hunter visited another hunter and was given a tour of his home. Ibn the den was a stuffed lion. The visiting hunter asked, "when did you bag him?"
The host said, "that was three years ago, when I went hunting with my wife."
"What's he stuffed with," asked the visiting hunter.
"My wife."
#joke
Train Test
Tom is applying for a job as a signalman for the local railroad and is told to meet the inspector at the signal box.
The inspector decides to give Tom a pop quiz, asking: "What would you do if you realized that two trains were heading towards each other on the same track?"
Tom says: "I would switch one train to another track."
"What if the lever broke?" asks the inspector.
"Then I'd run down to the tracks and use the manual lever down there", answers Tom.
"What if that had been struck by lightning?" challenges the inspector.
"Then," Tom continued, "I'd run back up here and use the phone to call the next signal box."
"What if the phone was busy?"
"In that case," Tom argued, "I'd run to the street level and use the public phone near the station".
"What if that had been vandalized?"
"Oh well," said Tom, "in that case I would run into town and get my Uncle Leo".
This puzzled the inspector, so he asked, "Why would you do that?"
"Because he's never seen a train crash."
#joke
In light of the rising frequen...
In light of the rising frequency of human - grizzly bear conflicts, the Alaska Department of Fish and Game is advising hikers, hunters, and fishermen to take extra precautions and keep alert of bears while in the field. They advise that outdoorsmen wear noisy little bells on their clothing so as not to startle bears that aren't expecting them. They also advise outdoorsmen to carry pepper spray with them in case of an encounter with a bear. It is also a good idea to watch out for fresh signs of bear activity. Outdoorsmen should recognize the difference between black bear and grizzly bear dung. Black bear dung is smaller and contains lots of berries and squirrel fur. Grizzly bear dung has little bells in it and smells like pepper.
#joke
Two Men Camping
Two young men were out in the woods on a camping trip, when the came upon this great trout brook. They stayed there all day, enjoying the fishing, which was super.
At the end of the day, knowing that they would be graduating from college soon, they vowed that they would meet, in twenty years, at the same place and renew the experience.
Twenty years later, they met and traveled to a spot near where they had been years before. They walked into the woods and before long came upon a brook. One of the men said to the other, "This is the place!".
The other replied, "No, it's not!".
The first man said, "Yes, I do recognize the clover growing on the bank on the other side.
To which the other man replied, "Silly, you can't tell a brook by it's clover."
#joke
When Arnold says "I'll be back...
When Arnold says "I'll be back" in the Terminator movie it is implied that he's going to ask Chuck Norris for help.
The Dentist
The dentist pulls out a Novocain needle to give the man a shot, so he can extract the man's tooth. 'No way! No needles. I hate needles' the patient said.
The dentist starts to hook up the nitrous oxide and the man objects I can't do the gas thing. The thought of having the gas mask on is suffocating to me! The dentist then asks the patient if he has any objection to taking a pill. 'No objection,' the patient says. 'I'm fine with pills.'
The dentist then returns and says, Here's a Viagra tablet.'
The patient says, 'Wow! I didn't know Viagra worked as a pain killer!'
It doesn't' said the dentist, 'but it's going to give you something to hold on to when I pull your tooth.
#joke
Mike Vecchione: Gun Is Like a Penis
Having a gun, lets face it guys, is a lot like having a penis, I think. You got to keep it concealed. And if you wave it in a womans face, chances are shell call the cops.