"A hangman has a cord
"A hangman has a cord of conduct!"
A farmer named Seamus had a ca...
A farmer named Seamus had a car accident.
In court, the lorry company's fancy hot shot solicitor was questioning Seamus.
"Didn't you say, to the Garda at the scene of the accident, 'I'm fine,'?" asked the solicitor.
Seamus responded, "Well, I'll tell you what happened. I had just loaded my favorite cow, Bessie, into the..."
"I didn't ask for any details," the solicitor interrupted. "Just answer the question. Did you not say, at the scene of the accident, 'I'm fine!'?"
Seamus said, "Well, I had just got Bessie into the trailer and I was driving down the road...."
The solicitor interrupted again and said, "Your Honor, I am trying to establish the fact that, at the scene of the accident, this man told the Garda on the scene that he was fine. Now several weeks after the accident he is trying to sue my client. I believe he is a fraud. Please tell him to simply answer the question."
By this time, the Judge was fairly interested in Seamus's answer and said to the solicitor, "I'd like to hear what he has to say about his favorite cow, Bessie".
Seamus thanked the Judge and proceeded. "Well as I was saying, I had just loaded Bessie, my favorite cow, into the trailer and was driving her down the road when this huge lorry and trailer came through a stop sign and hit my trailer right in the side. I was thrown into one ditch and Bessie was thrown into the other. I was hurt, very bad like, and didn't want to move.
However, I could hear old Bessie moaning and groaning. I knew she was in terrible shape just by her groans. Shortly after the accident a garda on a motorbike turned up. He could hear Bessie moaning and groaning so he went over to her. After he looked at her, and saw her condition, he took out his gun and shot her between the eyes.
Then the Garda came across the road, gun still in hand, looked at me, and said, 'How are you feeling?'"
"Now... what would you say?"
#joke
Funny video of the day - Fat Japanese Guy kills it at Dance Arcade Video Game
Will you marry me...
There were these two elderly people living in a Florida mobile home park. He was a widower and she a widow. They had known one another for a number of years. Now, one evening there was a community supper in the big activity center. These two were at the same table, across from one another. As the meal went on, he made a few admiring glances at her and finally gathered up his courage to ask her, "Will you marry me?"
After a dramatic pause and precisely six seconds of 'careful consideration,' she answered. "Yes. Yes, I will."
The meal ended and with a few more pleasant exchanges and they went to their respective places.
Next morning, he was troubled. "Did she say 'yes' or did she say 'no'?"
He couldn't remember. Try as he would, he just could not recall. Not even a faint memory. With trepidation, he went to the telephone and called her.
First, he explained to her that he didn't remember as well as he used to. Then he reviewed the lovely evening past. As he gained a little more courage, he then inquired of her, "When I asked if you would marry me, did you say 'Yes' or did you say 'No'?"
He was delighted to hear her say, "Why, I said, 'Yes, yes I will' and I meant it with all my heart."
Then she continued, "And I am so glad that you called, because I couldn't remember who had asked me."
#joke
Getting Saved
A father asked his little boy if he knew how a person gets saved.
"We'll be saved by going to our church every Sunday," the boy said without hesitation.
His father explained that going to their church each week would not save them.
"Well, then, we better find another church!" replied the boy.
From "
The Book of Church Jokes
," published by
Barbour Publishing, Inc.
, Uhrichsville, Ohio. Copyright 2009. Used by permission of Barbour Publishing, Inc.
#joke
After a week of agonizing phys
After a week of agonizing physical training, police academy cadets still hadn't been admitted to the firing range. "I don't get it," huffed one trainee to another as they pounded out yet another five-mile jog. "What do you mean?" "We still don't know how to protect people and property, but we're getting real good at running away."
#joke
Clitoris Like Mellon
At a gynecologists convention Dr. Goldfinger began to read his paper on "The Variation of the Clitoris".
"One of the most unusual cases I ever came across," he told his audience, "was a clitoris that had a close resemblance to a watermelon."
Dr. Goldfinger was interrupted by another doctor, who said that he might have been examining an enlarged organ but to compare it to a watermelon would indeed be frivolous.
Goldfinger stared him down and replied: "I wasn't referring to size but to taste."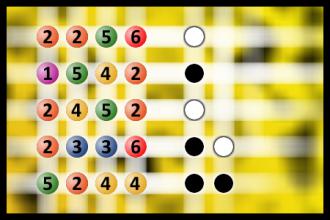 What a winning combination?
The computer chose a secret code (sequence of 4 digits from 1 to 6). Your goal is to find that code. Black circles indicate the number of hits on the right spot. White circles indicate the number of hits on the wrong spot.
Have you ever tried eating a c
Have you ever tried eating a clock? It's very time consuming.
The Iowa Wage and Hour Departm...
The Iowa Wage and Hour Department claimed a man owning a small farm was not paying proper wages to his help and sent an agent to interview him.
"I need a list of your employees and how much you pay them," demanded the agent.
"Well, there are my hired hands. One has been with me for four years; the other for three. I pay them each $600 a week, plus free room and board. The cook has been here for 18 months, and I pay her $500 a month plus free room and board. Then there's the half-wit that works here about 18 hours a day. He takes home $10 a week and I buy him a bottle of bourbon every week," replied the farmer.
"That's the guy I want to talk to; the half-wit," said the agent.
The farmer said, "That would be me."
#joke
Sharing Everything
A young man saw an elderly couple sitting down to lunch at McDonald's. He noticed that they had ordered one meal, and an extra drink cup. As he watched, the gentleman carefully divided the hamburger in half, then counted out the fries, one for him, one for her, until each had half of them. Then he poured half of the soft drink into the extra cup and set that in front of his wife. The old man then began to eat, and his wife sat watching, with her hands folded in her lap.
The young man decided to ask if they would allow him to purchase another meal for them so that they didn't have to split theirs.
The old gentleman said, "Oh no. We've been married 50 years, and everything has always been and will always be shared, 50/50."
The young man then asked the wife if she was going to eat, and she replied, "It's his turn with the teeth."
#joke
A blonde and a lawyer are seat...
A blonde and a lawyer are seated next to each other on a flight from LA to NY. The lawyer asks if she would like to play a fun game?
The blonde, tired, just wants to take a nap, politely declines and rolls over to the window to catch a few winks. The lawyer persists and explains that the game is easy and a lot of fun. He explains, I ask you a question, and if you don't know the answer, you pay me $5.00, and vise versa.
Again, she declines and tries to get some sleep. The lawyer, now agitated, says, "Okay, if you don't know the answer you pay me $5.00, and, if I don't know the answer, I will pay you $500.00."
This catches the blonde's attention and, figuring there will be no end to this torment unless she plays, agrees to the game.
The lawyer asks the first question. "What's the distance from the earth to the moon?" The blonde doesn't say a word, reaches into her purse, pulls out a $5.00 bill and hands it to the lawyer.
Okay says the lawyer, your turn. She asks the lawyer, "What goes up a hill with three legs and comes down with four legs?" The lawyer, puzzled, takes out his laptop computer and searches all his references, no answer. He taps into the air phone with his modem and searches the net and the library of congress, no answer. Frustrated, he sends e-mails to all his friends and coworkers, to no avail.
After an hour, he wakes the blonde, and hands her $500.00. The blonde says, "Thank you," and turns back to get some more sleep.
The lawyer, who is more than a little miffed, wakes the blonde and asks, "Well, what's the answer? "Without a word, the blonde reaches into her purse, hands the lawyer $5.00, and goes back to sleep.
Filming on location for Walker...
Filming on location for Walker: Texas Ranger, Chuck Norris brought a stillborn baby lamb back to life by giving it a prolonged beard rub. Shortly after the farm animal sprang back to life and a crowd had gathered, Chuck Norris roundhouse kicked the animal, breaking its neck, to remind the crew once more that Chuck giveth, and the good Chuck, he taketh away.
Not me!
A merchant captain and several of his officers were returning to the ship after a large evening ashore.
As they climbed the gangway the captain threw up all over himself.
Pointing to an apprentice seaman above him he shouted, "Give that man five days in the brig for vomiting!"
The following morning the captain was checking the log and saw that the young seaman had been sentenced to ten days and asked the chief mate why.
"Well Sir, when we got you undressed we found that he?d also shit in your pants."
Submitted by Curtis
Edited by Glaci
#joke
Barmen
Our lager,
Which art in barrels,
Hallowed be thy drink,
Thy will be drunk (I will be drunk),
At home as it is in the pub.
Give us this day our foamy head,
And forgive us our spillages,
As we will forgive those who spill against us.
And lead us not to incarceration,
But deliver us from hangovers.
For thine is the beer, the bitter and the lager.
For ever and ever.
Barmen.
A cold winter night
Lorenzo Dow, an evangelist of the last century, was on a preaching tour when he came to a small town one cold winter's night.
He entered the local general store to get some warmth, and saw the town's lawyers gathered around the pot-bellied stove, discussing the town's business. Not one offered to allow Dow into the circle.
Dow told the men who he was, and that he had recently had a vision where he had been given a tour of Hell, much like the traveler in Dante's Inferno.
When one of the lawyers asked him what he had seen, he replied, "Very much what I see here: All of the lawyers, gathered in the hottest place."