Be rady for Thanksgiving
, check out our latest
Thanksgiving jokes of 2021
on:
Thanksgiving jokes collection
A man was walking through a pa
A man was walking through a park one day when he stumbles across a ladder leading up into the clouds. Curious, he climbs the ladder and finds himself on a cloud with a fat woman.
"Screw me or keep climbing the ladder to success," she said.
Not really interested in the fat woman the man kept on climbing till he reached the second cloud.
On this cloud was an average looking woman. "Screw me or climb the ladder to success," she said.
Interested, the man decided to climb even higher to a cloud where he found a sexy lady lying on a cloud. "Screw me or climb the ladder to success," she said.
Wondering how much better this could get the man climbed even higher until he reached the next cloud to find, to his surprise, a large fat man.
"Hello, hello. I'm Cess."
#joke
Do you know who I am....
President George W. Bush decides it is time to do some public relations at a local Washington DC nursing home. The President begins his "tour" down the main hallway and passes by a little old man who doesn't seem to notice him.
Sensing this, President Bush backtracks to the resident and asks, "Do you know who I am?"
The little old man looks up from his walker and says, "No, but if you go to the front desk, they will tell you your name."
#joke
Funny video of the day - Best Fails of the Week 2 November 2015
Cat Vision
What a human sees: A Beauteful sandy beach
what a cat sees: The worlds largest litter box
WHAT A HUMAN SEES: A new couch
WHAT A CAT SEES: A new scraching post
What a human sees: a new Pet fish
What a cat sees: A Tasty snack
The Lord Is on the Phone
A Catholic priest, a Lutheran minister and an Evangelical preacher are arguing about religion one day when the phone rings.
The priest gets up to answer it. After listening for few moments, he says, "Yes, I will pass on the news," and hangs up.
Turning to the others, he says, "I have good news and bad news."
"Really? Do tell," the minister says.
"My friends," the priest announces, "that was the Lord Jesus on the phone, and he was calling to say he's back."
"Glory be!" shouts the preacher. "What could possibly be bad news now?"
"Well," the priest says, "He was calling from Salt Lake City."
-
Joke shared by Beliefnet member mytmouse57
#joke
A big city lawyer went duck hu...
A big city lawyer went duck hunting in rural North Wairarapa. He shot and dropped a bird, but it fell into a farmer's field on the other side of a fence. As the lawyer climbed over the fence, an elderly farmer drove up on his tractor and asked him what he was doing.The litigator responded, "I shot a duck and it fell in this field, and now I'm going to retrieve it."
The old farmer replied, "This is my property, and you are not coming over here."
The indignant lawyer said, "I am one of the best trial attorneys in New Zealand and, if you don't let me get that duck, I'll sue you and take everything you own."
The old farmer smiled and said, "Apparently, you don't know how we settle disputes in North Wairarapa. We settle small disagreements like this with the 'Three Kick Rule.'"
The lawyer asked, "What is the 'Three Kick Rule'?"
The Farmer replied, "Well, because the dispute occurs on my land, I get to go first. I kick you three times and then you kick me three times and so on back and forth until someone gives up." The attorney quickly thought about the proposed contest and decided that he could easily take the old codger. He agreed to abide by the local custom.
The old farmer slowly climbed down from the tractor and walked up to the attorney.
His first kick planted the toe of his heavy steel toed work boot into the lawyer's groin and dropped him to his knees!
His second kick to the midriff sent the lawyer's last meal gushing from his mouth.
The lawyer was on all fours when the farmer's third kick to his rear end, sent him face-first into a fresh cow pie.
The lawyer summoned every bit of his will and remaining strength and very slowly managed to get to his feet. Wiping his face with the arm of his jacket, he said, "Okay, you old fart. Now it's my turn."
The old farmer smiled and said, "Nah, I give up. You can have the duck."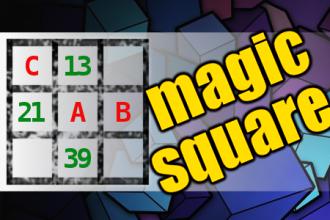 MAGIC SQUARE: Calculate A*B-C
The aim is to place the some numbers from the list (4, 5, 12, 13, 14, 17, 21, 31, 32, 39) into the empty squares and squares marked with A, B an C. Sum of each row and column should be equal. All the numbers of the magic square must be different. Find values for A, B, and C. Solution is A*B-C.
The 25 BBS Commandments
Thou shall love thy BBS with all thy heart and all thy bytes.
Thou shalt remember thy name and password.
Thou shalt only call a BBS two times a day.
Honor thy SysOp.
Thou shalt not covet thy neighbor's password, nor his or her real name, computer, software, nor any other thing belonging to him or her.
Thou shalt not post messages that are stupid, worthless, or have no meaning.
Thou shalt use the English language properly.
Thou shalt spell thy words correctly when ever possible.
Thou shalt delete thine olden messages.
Thou shalt help other users.
Thou shalt not post anonymously when offering criticism.
Thou shalt keep thy foul language to thyself.
Woe be unto the user who attempt to crash thy BBS, for he or she shalt be cast out from the sanctuary of thy hobby and must repent by doing 40 days and 40 nights of penance of voice-only communications.
Thou shalt first dial BBS numbers during the day by way of voice line to assure correct numbers.
Thou shalt not post messages while drunk.
Thou shalt confine thy messages to those of friendship, requests for assistance, aid to the needy, advice, and advancement of thy hobby; and thou art obligated to repel any who wouldst transgress upon those commandments.
If thou doth promise to reply to a message and thou doth not, then surely thou shalt spill coffee into thy keyboard and burn out thy central processing chip.
Thou shalt not giveth any false information when applying for membership to a BBS, for verily it is written that whosoever shall do so will surely be found out and thy welcome on all boards will be thus denied forever and ever.
Thou shalt log on properly and in accordance with the SysOp's rules.
Thou shalt observe BBS time limits.
Thou shalt not upload "worm" programs.
Thou shalt not ask stupid questions that are already fully explained in the BBS instructions.
Thou shalt not exchange copy protected software thru the BBS.
Thou shalt not violate applicable state/federal/local laws hand regulations affecting BBS telecommunications, or thy will feel the wrath of thy judicial system.
Thou shalt not hack.
#joke
A Jewish businessman in Americ
A Jewish businessman in America decided to send his son to Israel to absorb some of the culture of the homeland. When the son returned, the father asked him to tell him about his trip.
The son said, "Pop, I had a great time in Israel. By the way, I converted to Christianity." "Oy vey," said the father. "What have I done?"
He decided to go ask his friend Jacob what to do. Jacob said, "Funny you should ask. I too sent my son to Israel, and he also came back a Christian. Perhaps we should go see the rabbi and ask him what we should do."
So they went to see the Rabbi. The Rabbi said, "Funny you should ask.I too sent my son to Israel. He also came back a Christian. What is happening to our young people? Perhaps we should go talk to God and ask him what to do."
The three of them prayed and explained what had happened to their sons and asked God what to do. Suddenly a voice came loud and clear from Heaven. The Voice said, "funny you should ask, I too sent my son to Isreal..."
#joke
"Once I tried illustr
"Once I tried illustrating currency books for a living. I never drew a dime."
2 Reasons To Go School
Early one morning, a mother went in to wake up her son.
"Wake up, son. It's time to go to school!"
"But why, Mom? I don't want to go."
"Give me two reasons why you don't want to go."
"Well, the kids hate me for one, and the teachers hate me also!"
"Oh, that's no reason not to go to school. Come on now and get ready."
"Give me two reasons why I should go to school."
"Well, for one, you're 52 years old. And for another, you're the PRINCIPAL!"
#joke
A lady is walking down the str...
A lady is walking down the street to work and see's a parrot in a pet store. She stops to admire the bird. The parrot says to her, "hey lady, you are really ugly."
Well, the lady is furious! She storms past the store to her work.
On the way home she saw the same parrot in the window and the parrot upon seeing her says, "hey lady, you are really ugly."
She was incredibly ticked now. The next day on the way to work she saw the same parrot and once again it said, "hey lady, you are really ugly."
The lady was so furious that she stormed into the store and threatened to sue the store and have the bird killed. The store manager appologized profusely and promised the bird wouldn't say it again.
When the lady walked past the store after work the parrot said to her, "hey lady."
She paused and said," yes?"
The bird said, "you know."
#joke
Let him believe
One day in the Garden of Eden, Eve called out to God... "Lord, I have a problem!"
"What's the problem, Eve?"
"Lord, I know you've created me and have provided this beautiful garden and all of these wonderful animals, and that hilarious comedic snake, but I'm just not happy."
"Why is that, Eve?" came the reply from above.
"Lord, I am lonely. And I'm sick to death of apples."
"Well, Eve, in that case, I have a solution. I shall create a man for you."
"What's a 'man,' Lord?"
"This man will be a flawed creature, with aggressive tendencies, an enormous ego and an inability to empathize or listen to you properly. All in all, he'll give you a hard time.
But, he'll be bigger, faster and more muscular than you. He'll also need your advice to think properly. He'll be really good at fighting and kicking a ball about, hunting fleet-footed ruminants, and not altogether bad in the sack."
"Sounds great," says Eve, with an ironically raised eyebrow. "What's the catch, Lord?"
"Yeah, well.... you can have him on one condition."
"What's that, Lord?"
"You'll have to let him believe that I made him first."
Submitted by Calamjo
Edited by Yisman
#joke
Petroleum Jelly
One day while doing door-to-door market research, this guy knocks on a door and is greeted by a beautiful young housewife.
"Hello," he starts, "I'm doing some research for a petroleum jelly manufacturer. Have you ever used the product?"
"Yes. My husband and I use it during sex," she answers.
The researcher is taken aback. "Um, er, I admire you for your honesty," he continues. "Can you tell me exactly how you use it?"
"Sure, we put it on the doorknob so the kids can't get in."
#joke
Horse Pulls The Car
An out-of-towner drove his car into a ditch in a desolated area. Luckily, a local farmer came to help with his big strong horse named Buddy.
He hitched Buddy up to the car and yelled, "Pull, Nellie, pull." Buddy didn't move.
Then the farmer hollered, "Pull, Buster, pull." Buddy didn't respond.
Once more the farmer commanded, "Pull, Jennie, pull." Nothing.
Then the farmer nonchalantly said, "Pull, Buddy, pull." And the horse easily dragged the car out of the ditch.
The motorist was most appreciative and very curious. He asked the farmer why he called his horse by the wrong name three times.
The farmer said, "Oh, Buddy is blind, and if he thought he was the only one pulling, he wouldn't even try!"
#joke
A duck walks into a Dairy
A duck walks into a dairy and says
"Give me some chapstick, put it on my bill!"
But the cash register attendee doesn't speak English and cannot understand him.
He does, however, question whether his God is punishing him because as all people know, Ducks cannot speak, however, this hallucination must be punishment for a horrid misdeed.
The employee breaks down into tears and begins reciting prayer.
The duck, slightly miffed, walks out, pondering why he'd need chapstick anyway, since he has no lips... heh heh heh
#joke