Call me a pervert, but I once
Call me a pervert, but I once enjoyed watching a chickpea. Does that make me hummus sexual?
A guy goes to the supermarket...
A guy goes to the supermarket and notices an attractive woman waving at him.
She says hello. He's rather taken a back because he can't place where he knows her. So he says, "Do you know me?"
To which she replies, "I think you're the father of one of my kids."
Now his mind travels back to the only time he has ever been unfaithful to his wife, and he says, "Oh, are you the stripper from my bachelor party that I did on the pool table with all my buddies watching while your partner whipped me with wet celery?"
The woman looks sternly into his eyes and says very calmly, "No, I'm your son's teacher."
#joke
Jewish Brothers....
Four Jewish brothers left home for college, and eventually, they became successful doctors, and lawyers -- and prospered.
Some years later, they chatted after having dinner together. They discussed the gifts that they were able to give to their elderly mother, who lived far away in another city.
The first said, 'I had a big house built for Mama'.
The second said, I had a hundred thousand dollar theatre built in the house. The third said, 'I had my Mercedes dealer deliver her a SL 600 with a chauffeur.'
The fourth said, 'Listen to this. You know how Mama loved reading the Torah and you know she can't anymore because she can't see very well. I met this Rabbi who told me about a parrot that can recite the entire Torah. It took twenty rabbis 12 years to teach him. I had to pledge to contribute $100,000 a year for twenty years to the temple, but it was worth it. Mama just has to name the chapter and verse and the parrot will recite it.' The other brothers were impressed.
After the holidays Mama sent out her Thank You notes.
She wrote: Milton -- Bubbileh, the house you built is so huge, I live in only one room, but I have to clean the whole house. Thanks anyway.
Marvin -- Mine Sheyne Kindele, I am too old to travel. I stay home. I have my groceries delivered, so I never use the Mercedes and the driver you hired is a Nazi. The thought was good. Thanks.
Irving– Tataleh, you give me an expensive theatre with Dolby sound, it could hold 50 people, but all my friends are dead. I've lost my hearing and I'm nearly blind. I'll never use it. Thank you for the gesture just the same.
Dearest Melvin --you were the only son to have the good sense to give a little thought to your gift. The Chicken was delicious!!!
Scary Collection 29
A ghost joke
How do undertakers speak?
Gravely!
A vampire joke
What do vampires think of blood transfusions?
Newfangled rubbish!
A ghost joke
What did the polite ghost say to her son?
Don't spook until your spooken to!
A ghost joke
What do ghosts eat for dinner?
Ghoulash!
A cannibal joke
What happened if you upset a cannibal?
You get into hot water!
A cannibal joke
Why don't cannibals like to eat Carl Lewis?
He gives them runs!
A ghost joke
What do ghouls do when they're in hospital?
They talk about their apparitions!
#joke
There is no arguing with cowbo
There is no arguing with cowboy logic. The Sierra Club and the US ForestService were presenting an alternative to Wyoming ranchers forcontrolling the coyote population. It seems that after years of theranchers using the tried and true methods of shooting and/or trapping thepredator, the tree-huggers had a "more humane" solution. What theyproposed was for the animals to be captured alive, the male castrated andlet loose again and the population would be controlled.
This was ACTUALLY proposed to the Wyoming Wool and Sheep Grower'sAssociation by the Sierra Club and the USFS. All of the ranchers thoughtabout this amazing idea for a couple of minutes.
Finally, an old boy in the in the back stood up, tipped his hat back andsaid, "Son, I don't think you understand the problem. Those coyotes ain'tf*ckin' our sheep, they're eatin' 'em.
#joke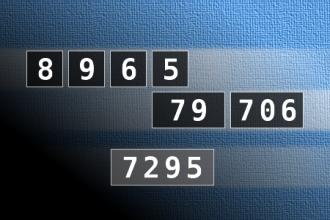 Calculate the number 7295
NUMBERMANIA: Calculate the number 7295 using numbers [8, 9, 6, 5, 79, 706] and basic arithmetic operations (+, -, *, /). Each of the numbers can be used only once.
Humor about St. Patricks Day
The Doctor was puzzled "I'm very sorry but I can't diagnose your trouble, Mahoney. I think it must be drink. "
"Don't worry about it Dr. Kelley, I'll come back when you're sober."
His wife had been killed in an accident and the police were questioning Finnegan.
"Did she say anything before she died?" asked the sergeant.
"She spoke without interruption for about forty years," said the Irishman.
Google will tell you that the
Google will tell you that the number 1 sign of alcoholism is drinking alone. I feel that the number 1 sign of alcoholism is having to Google "number 1 sign of alcoholism."
"Once I tried illustr
"Once I tried illustrating currency books for a living. I never drew a dime."
2 Reasons To Go School
Early one morning, a mother went in to wake up her son.
"Wake up, son. It's time to go to school!"
"But why, Mom? I don't want to go."
"Give me two reasons why you don't want to go."
"Well, the kids hate me for one, and the teachers hate me also!"
"Oh, that's no reason not to go to school. Come on now and get ready."
"Give me two reasons why I should go to school."
"Well, for one, you're 52 years old. And for another, you're the PRINCIPAL!"
#joke
A Silent Bomb in Church
An elderly couple were in church. The wife leaned over and whispered to her husband, "I just let out a long silent fart... what should I do?"
The husband replied, "Replace the batteries in your hearing aid."
-
Joke shared by Beliefnet member eyesoftheworld
#joke
A burglar broke into a house o...
A burglar broke into a house one night. He shone his flashlight around looking for valuables, and when he picked up a CD player to place in his sack, a strange, disembodied voice echoed from the dark saying, "Jesus is watching you."
He nearly jumped out of his skin, clicked his flashlight off and froze. When he heard nothing more after a bit, he shook his head, promised himself a vacation after the next big score, then clicked the light back on and began searching more valuables. Just as he pulled the stereo out so he could disconnect the wires, clear as a bell he heard, "Jesus is watching you."
Totally rattled, he shone his light around frantically, looking for the source of the voice. Finally, in the corner of the room, his flashlight beam came to rest on a parrot. "Did you say that?" He hissed at the parrot.
"Yes," the parrot confessed, then squawked, "I'm just trying to warn you."
The burglar relaxed. "Warn me, huh? Who do you think you are any way?"
"Moses," replied the bird.
"Moses," the burglar laughed. "What kind of stupid people would name a parrot 'Moses'?"
The bird promptly answered: "The same kind of people that would name a Rottweiler 'Jesus'!"
#joke
Nuns at the Hospital
A man suffered a serious heart attack and had bypass surgery. He awakened to find himself in the care of nuns at a Catholic hospital.

As he was recovering, a nun asked how he was going to pay the bill. He replied, in a raspy voice, "No health insurance."

The nun asked if he had money in the bank. He replied, "No money in the bank."

The nun asked, "Do you have a relative who could help you?"
He said, "Just a spinster sister, who is a nun."

The nun, slightly perturbed, said, "Nuns are not spinsters! Nuns are married to God."

The patient replied, "Then send the bill to my brother-in-law."
#joke
When Bruce Banner gets mad, he...
When Bruce Banner gets mad, he turns into the Hulk. When the Hulk gets mad, he turns into Chuck Norris.
Angelic Assistance?
An old-time pastor was riding furiously down the road, hurrying to get to church on time. Suddenly, his horse stumbled and threw him to the ground.
Lying in the dirt, his body wracked with pain, the pastor called out, "All you angels in heaven, help me get up on my horse!"
With extraordinary strength, he leaped onto the horse's back and fell off the other side.
From the ground again, he called out, "All right, just half of you angels this time!"

#joke
I checked into a hotel on a bu
I checked into a hotel on a business trip and was a bit lonely so I thought I'd get me one of those girls you see advertised in phone booths when you're calling for a cab. I grabbed a card on my way in. It was an ad for a girl calling herself Erogonique, a lovely girl, bending over in the photo. She had all the right curves in all the right places, beautiful long wavy hair, long graceful legs all the way up. You know the kind. So I'm in my room and figure, what the heck, I'll give her a call.
"Hello?" the woman says.
Wow! she sounded sexy. "Hi, I hear you give a great massage and I'd like you to come to my room and give me one. No, wait, I should be straight with you. I'm in town all alone and what I really want is $ex. I want it hard, I want it hot, and I want it now. I'm talking kinky the whole night long. You name it, we'll do it. Bring implements, toys, everything you've got in your bag of tricks. We'll go hot and heavy all night; Tie me up, wear a strap on, cover me in chocolate syrup and whipped cream, anything you want baby. Now, how does that sound?"
She says, "That sounds fantastic,...... but for an outside line Sir, you need to press 9."
#joke