Hindu Happy Birthday
Q: What does a Hindu wish someone on their birthday?
A: May you have many happy returns.
A rather large lady had saved
A rather large lady had saved her money for a long time to be able to afford a cruise on a ship to the Bahama's.
When she gets settled in her cabin she goes to the dining room for her first meal on board, and is invited to sit at the Captain's table.
As she is seated at the table a mimmicking voice behind her loudly squawks, "Aawwk, Lady! How's your hole?"
Totally embarrassed, she turns to see a parrot on his perch behind her. She says to the steward, "Will you please get rid of that foul mouthed beast?"
The steward replies, "I can't madam, that is the Captains parrot, which he dearly loves."
As the meal progresses to its end the bird continues to harass the lady with his loud squawks, "Aawwk, Lady! How's your hole?"
The embarrassed woman finally retires to her cabin and goes into a restless sleep.
In the middle of the night the ship sinks rather suddenly and the lady finds herself floating in the ocean on a chest. As daylight breaks the next morning the lady hears this loud squawk behind her, "Aawwk, Lady! How's your Hole?"
The lady turns around to see the parrot floating on some debris and she replies, "Aah, Shut Up!"
The parrot says, "Aawwk, mine too! Must be the salt water!"
#joke
Funny video of the day - Best Fails of the Month November 2015
Grasshopper
A grasshopper hops into a bar and onto a barstool. The bartender says to the grasshopper, "Did you know we have a drink named after you?"
And the grasshopper replies, "Really?! You have a drink named Steve?"
Evaluation Comments
Dictionary of Evaluation Comments
Some of you might like to know what the supervisor is really saying in all those glowing employee work performance evaluations s/he keeps cranking out.
AVERAGE: Not too bright.
EXCEPTIONALLY WELL QUALIFIED: Has committed no major blunders to date.
ACTIVE SOCIALLY: Drinks heavily.
ZEALOUS ATTITUDE: Opinionated.
CHARACTER ABOVE REPROACH: Still one step ahead of the law.
UNLIMITED POTENTIAL: Will stick with us until retirement.
QUICK THINKING: Offers plausible excuses for errors.
TAKES PRIDE IN WORK: Conceited.
TAKES ADVANTAGE OF EVERY OPPERTUNITY TO PROGRESS: Buys drinks for superiors.
INDIFFERENT TO INSTRUCTION: Knows more than superiors.
STERN DISCIPLINARIAN: A real jerk.
TACTFUL IN DEALING WITH SUPERIORS: Knows when to keep mouth shut.
APPROACHES DIFFICULT PROBLEMS WITH LOGIC: Finds someone else to do the job.
A KEEN ANALYST: Thoroughly confused.
NOT A DESK PERSON: Did not go to college.
EXPRESSES SELF WELL: Can string two sentences together.
SPENDS EXTRA HOURS ON THE JOB: Miserable home life.
CONSCIENTIOUS AND CAREFUL: Scared.
METICULOUS IN ATTENTION TO DETAIL: A nitpicker.
DEMONSTRATES QUALITIES OF LEADERSHIP: Has a loud voice.
JUDGEMENT IS USUALLY SOUND: Lucky.
MAINTAINS PROFESSIONAL ATTITUDE: A snob.
KEEN SENSE OF HUMOR: Knows lots of dirty jokes.
STRONG ADHERENCE TO PRINCIPLES: Stubborn.
GETS ALONG EXTREMELY WELL WITH SUPERIORS AND SUBORDINATES ALIKE: A coward.
SLIGHTLY BELOW AVERAGE: Stupid.
OF GREAT VALUE TO THE ORGANIZATION: Turns in work on time.
IS UNUSUALLY LOYAL: Wanted by no-one else.
ALERT TO COMPANY DEVELOPMENTS: An office gossip.
REQUIRES WORK-VALUE ATTITUDINAL READJUSTMENT: Lazy and hard-headed.
HARD WORKER: Usually does it the hard way.
ENJOYS JOB: Needs more to do.
HAPPY: Paid too much.
WELL ORGANIZED: Does too much busywork.
COMPETENT: Is still able to get work done if supervisor helps.
CONSULTS WITH SUPERVISOR OFTEN: Annoying.
WILL GO FAR: Relative of management.
SHOULD GO FAR: Please.
USES TIME EFFECTIVELY: Clock watcher.
VERY CREATIVE: Finds 22 reasons to do anything except original work.
USES RESOURSES WELL: Delegates everything.
DESERVES PROMOTION: Create new title to make h/h feel appreciated.
#joke
When I gave up coffee it was l
When I gave up coffee it was like I lost my head. I felt decaffitated.
The Card Game
Two couples were playing cards. Jeff accidentally dropped some cards on the floor. When he bent down under the table to pick them up, he noticed that Dave's wife, Sandy, was not wearing any underwear! Shocked by this, Jeff hit his head on the table and emerged red-faced. Later when Jeff went to the kitchen to get some refreshments Sandy followed him and asked, "Did you see anything under the table that you liked?"
Jeff admitted, "Well, yes I did."
She said "you can have it, but it will cost you $100."
After a minute or two, Jeff indicates that he is interested. She tells him that since Dave works Friday afternoons and Jeff doesn't, that Jeff should come to their house around 2:00 PM on Friday. Friday came and Jeff went to her house at 2:00 PM. After paying her the $100, they went to the bedroom, had sex for a few hours and then Jeff left. Dave came home about 6:00 PM and asked his wife, "Did Jeff come by this afternoon?"
Totally shocked, Sandy replied, "Yes, he did stop by for a few minutes."
Next Dave asked, "Did Jeff give you $100?"
Sandy thought, 'Oh hell, he knows!' Reluctantly she said, "Yes, he did give me $100."
"Good," Dave says.
"Jeff came by the office this morning and borrowed the $100 from me and said that he'd stop by our house on his way home and pay me back. It's so good to have a friend you can trust."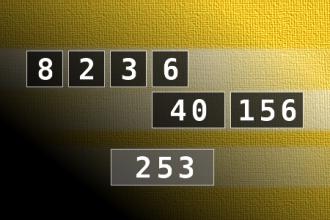 Calculate the number 253
NUMBERMANIA: Calculate the number 253 using numbers [8, 2, 3, 6, 40, 156] and basic arithmetic operations (+, -, *, /). Each of the numbers can be used only once.
A boy asks his dad...
A boy asks his dad, "What's the difference between potential and realistic?" The dad tells him to go ask the rest of his family if they'd sleep with Brad Pitt for a million dollars, and then he'd tell him the answer. The boy goes up to his mom and asks her. She responds, "A million dollars is a lot of money sweetheart. I could send you, your sister, and your brother to great colleges, so sure, I would!" He then goes and asks his sister to which she replies, "Brad Pitt? Hell ya, he's the hottest guy ever!" Next, the boy asks his brother who replies, "A million dollars? Hell yes I would. I'd be rich!" When the boy excitedly returns to his dad with the family's responses, the dad says, "Well son, potentially, we have three million dollars. Realistically, we have two sluts and a queer."
#joke
I'm shy at first but
I'm shy at first but… i do the stupidest random shit when i get comfortable with someone.
"The Pinwheel joke di
"The Pinwheel joke didn't go around fast enough."
Lawyer's Revenge
A lawyer's dog, running about unleashed, beelines for the local butcher shop and steals a roast off the counter.
The butcher goes to the lawyer's office and asks, "if a dog, running unleashed, steals a piece of meat from my store, do I have a right to demand payment for the meat from the dog's owner?" "Absolutely," the lawyer responded.
The butcher immediately shot back, "Good! You owe me $7.99 for the roast your dog stole from me this morning."
The lawyer, without a word, writes the butcher a check for $7.99. A few days later, the butcher, browsing through his mail, finds an envelope from the lawyer.
The contents read
"Consultation: $25.00."
An elderly lady phoned her tel...
An elderly lady phoned her telephone company to report that her telephone failed to ring when her friends called -- and that on the few occasions when it did ring, her pet dog always moaned right before the phone rang. The telephone repairman proceeded to the scene, curious to see this psychic dog or senile elderly lady. He climbed a nearby telephone pole, hooked in his test set, and dialed the subscriber's house. The phone didn't ring right away, but then the dog moaned loudly and the telephone began to ring. Climbing down from the pole, the telephone repairman found.....
1. The dog was tied to the telephone system's ground wire via a steel chain and collar.
2. The wire connection to the ground rod was loose.
3. The dog was receiving 90 volts of signaling current when the phone number was called.
4. After a couple of such jolts, the dog would start moaning and then urinate on himself and the ground.
5. The wet ground would complete the circuit, thus causing the phone to ring.
.....Which goes to show that some problems CAN be fixed by pissing and moaning
#joke
A little boy wanted $100.0...
A little boy wanted $100.00 badly and prayed for two weeks but nothing happened. Then he decided to write GOD a letter requesting the $100. When the postal authorities received the letter addressed to GOD USA, they decided to send it to President Clinton. the President was so impressed, touched, and amused that he instructed his secretary to send the little boy a $5.00 bill. President Clinton thought this would appear to be a lot of money to a little boy. The little boy was delighted with the $5.00 and sat down to write a thank you note to GOD, which read: Dear GOD, Thank you very much for sending the money, however, I noticed that for some reason you had to send it through Washington D.C. and, as usual, those jerks deducted $95.00.
#joke
Moshe Reads an Arab Newspaper
A story is told of a Jewish man who was riding on the subway reading an Arab newspaper. A friend of his, who happened to be riding in the same subway car, noticed this strange phenomenon. Very upset, he approached the newspaper reader.
"Moshe, have you lost your mind? Why are you reading an Arab newspaper?"Moshe replied, "I used to read the Jewish newspaper, but what did I find? Jews being persecuted, Israel being attacked, Jews disappearing through assimilation and intermarriage, Jews living in poverty. So I switched to the Arab newspaper. Now what do I find? Jews own all the banks, Jews control the media, Jews are all rich and powerful, Jews rule the world. The news is so much better!"
#joke
Waking Up for Church
One Sunday morning, a mother went in to wake her son and tell him it was time to get ready for church, to which he replied, "I'm not going."

"Why not?" she asked."I'll give you two good reasons," he said. "One, they don't like me, and two, I don't like them."
His mother replied, "I'll give YOU two good reasons why you SHOULD go to church. One, you're 54 years old, and two, you're the pastor!"
#joke
A FARMER and his wife decided ...
A FARMER and his wife decided to hold a talent show for their animals in which each contestant would recite a passage from Shakespeare. The prize would be a big marquee with a glitter ball inside. The pig performed a piece from Hamlet; the cow chose Richard III and the sheep picked MacBeth. After much deliberation the farmer and his wife picked the best entry, announcing: "Cow is the winner of our disco tent."
#joke
Senior Year
You might be a red neck if you refer to the 5th grade as "my senior year."