You Might Be A Redneck If 62
You might be a reneck if...
You've ever been stuck in your own driveway.
You refer to your dog as the dishwasher.
Your car is made out of 17 others and each part is a different color.
You repair your car in the autoparts store parking lot.
You can name all the characters from the "Dukes of Hazzard".
You recite lines from "The Dukes of Hazzard".
You keep track of all the belt holders in all the wrestling leagues.
You got married in the family car, in a drive-thru chapel.
You search your computer monitor for the dial that changes channels.
Your idea of a fancy dessert is "moon pie ala mode".
#joke
Funny video of the day - Best Sexy Pranks
Three women: one engaged, one...
Three women: one engaged, one married and one a mistress, are chatting about their relationships and decided they needed to spice up their love lives. All three agreed to wear black leather bras, stiletto heels and a mask over their eyes that evening with their respective lovers.
After a few days they meet up for lunch and compared notes.
The engaged woman: "The other night when my boyfriend came over he found me with a black leather bodice, tall stilettos and a mask. He saw me and said, 'You are the woman of my life. I love you.' Then we made love all night long."
The mistress: "Me too! The other night I met my lover at his office and I was wearing the leather bodice, heels, mask over my eyes and a raincoat. When I opened the raincoat he didn't say a word, but we had wild sex all night."
The married woman: "I sent the kids to stay at my mother's house for the night when my husband came home I was wearing the leather bodice, black stockings, stilettos and a mask over my eyes. As soon as he came in the door and saw me he said, 'What's for dinner, Batman?'"
#joke
Little Johnny and the teacher
Teacher: Johnny, give me a sentence starting with "I".
Little Johnny: I is...
Teacher: No, Little Johnny. Always say "I am."
Little Johnny: All right. I am the ninth letter of the alphabet.
Jonah's Fate
After hearing the story of Jonah at Sunday School, a little girl repeated the story at school on Monday.
Her teacher said it was physically impossible for a whale to swallow a human because, even though it is a very large mammal, its throat is very small.
The little girl said, "But how can that be? Jonah was swallowed by a whale."Irritated, the teacher reiterated that a whale could not swallow a human. "It is physically impossible!" she said.
Undaunted, the little girl said, "Well, when I get to heaven I will ask Jonah."
To this, the teacher said, "What if Jonah went to hell?"
The little girl replied, "Then YOU ask him!"
National Love Making
A Frenchman, an Italian and an Canadian were discussing love-making.
"Last night I made love to my wife three times" boasted the Frenchman.
"She was in sheer ectasy this morning..."
"Ah, last night I made love to my wife six times," the Italian responded, "and this morning she made me a wonderful omelette and told me she could never love another man."
When the Canadian remained silent, the Frenchman smugly asked, "And how many times did you make love to your wife last night?"
"Once." he replied.
"Only once?" the Italian arrogantly snorted. "And what did she say to you this morning?"
"Don't stop."
#joke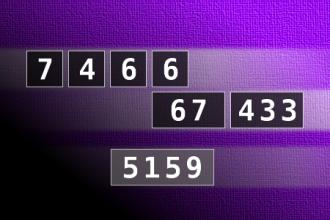 Calculate the number 5159
NUMBERMANIA: Calculate the number 5159 using numbers [7, 4, 6, 6, 67, 433] and basic arithmetic operations (+, -, *, /). Each of the numbers can be used only once.
Your mama so old
Your mama so old her first Christmas was the first Christmas.
"Although the maestro
"Although the maestro broke his wand at a farmer's market recital, he still conducted with a plum."
Who Wants to be a Millionaire
A contestant on "Who Wants to be a Millionaire" had reached the final plateau.If she answered the next question correctly, she would win$1,000,000. If she answered incorrectly, she would pocket only the $32,000 milestone money.As she suspected it would be, the million- dollar question was no pushover. It was: Which of the following species of birds does not build its own nest, but instead lays its eggs in the nests of other birds? Is it
A) the condor;
B) the buzzard;
C) the cuckoo; or
D) the vulture?"
The woman was on the spot. She did not know the answer. And she was doubly on the spot because she had used up her 50/50 Lifeline and her Audience Poll Lifeline. All that remained was her Phone-a-Friend Lifeline, and the woman had hoped against hope that she would not have to use it because the only friend that she knew would be home happened to be a blonde. But the contestant had no alternative. She called her friend and gave her the question and the four choices.
The blonde responded unhesitatingly: "That's easy. The answer is C: The cuckoo."
The contestant had to make a decision and make it fast. She considered employing a reverse strategy and giving Regis any answer except the one that her friend had given her. And considering that her friend was a blonde, it would seem to be the logicalthing to do. On the other hand -- the blonde had responded with such confidence, such certitude, that the contestant could not help but be persuaded. "I need an answer," said Regis. Crossing her fingers, the contestant said, "C: The cuckoo."
"Is that your final answer?" asked Regis. "Yes, that is my final answer."
Two seconds later, Regis said, "I regret to inform you that the answer is-...... absolutely correct.You are now a millionaire!"
Three days later, the contestant hosted a party for her family and friends including the blonde who had helped her win the million dollars. "Jenny, I just do not know how to thank you," said the contestant. "Because of your knowing the answer to that final question, I am now a millionaire.And do you want to know something? It was your assuredness with which you answered the question that convinced me to go with your choice. By the way......how did you happen to know the right answer?"
"Oh, come on!" said the blonde. "Everybody knows that cuckoos don't build nests. They live in clocks."
A man walked into a bar, s...
A man walked into a bar, sat down, ordered 3 shots of whiskey, drank them, then left. This continued daily for several weeks.
Curious, the bartender asked him one day, "Why do you always order three shots of whiskey?"
The man answered, "Because my two brothers and I always used to have one shot each, and since they've both passed on, I've continued to order the three shots in their honor."
The bartender thought that this was a very noble thing to do, and welcomed the man every time he visited the bar.
Two weeks later, the man walked into the bar for his daily visit and ordered two shots of whiskey. Surprised, the bartender asked him why he only ordered two when had had always been ordering three.
The man answered, "Oh, I've decided to stop drinking."
#joke
Bad weather
This old man went to a whorehouse and said to the manager that he wanted something different.
So the manager sent him up to room "69".
He got in there and this woman named Hurricane Sally stripped him down and began working wonders.
Suddenly she pissed on his stomach, he asked, "What the hell was that?"
She replied, "That is the cooling rain falling all over you."
She got at it again and farted in his face.
He said, "What the hell was that?"
She then again replied, "That is the warm ocean winds blowing."
Suddenly the man got up and started to get dressed.
Hurricane Sally said, "Where are you going?"
He said, "Hell, a man can't fuck with this kind of weather!"
Submitted by Curtis
Edited by Glaci
#joke
Siblings
A Sunday school teacher was discussing the Ten Commandments with her five and six year olds.
After explaining the commandment to "honor" thy Father and thy Mother, she asked, "Is there a commandment that teaches us how to treat our brothers and sisters?"
Without missing a beat one little boy (the oldest of a family) answered, "Thou shall not kill."
#joke
"Did you hear about t...
"Did you hear about the lost sausage? It was the missing link."
Flat tyre
This couple out on a date get a flat while driving along on a snowy night. He goes out to change the tire, but doesn't have any gloves so before long he comes back in, job half-done, with blue hands.
"Put your hands between my legs to warm them up," says she. So he does, and goes back out to the flat tire. It's so cold, he has to come back in one more time to warm up his hands, again at her invitation, between her legs.
He finally finishes the job and comes back into the car triumphant and puts the key into the ignition.
She looks at him and says, "Aren't your ears cold?"
#joke