I had to leave Des Moines, bec
I had to leave Des Moines, because Iowa lot of money. They threatened to Sioux. I couldn't stand to Cedar Rapid decline.
"The use of drones to
"The use of drones to deliver magazines will certainly raise some issues."
Funny video of the day - GoPro: Best of 2015 - The Year in Review
A man walks into an insurance
A man walks into an insurance office and asks for a job.
"We don't need any one," they replied.
"You can't afford not to hire me. I can sell anyone...anytime...anything."
"We have two prospects that no one has been able to sell. If you can sell just one, you have a job."
He was gone for about two hours and returned and handed them two checks, one for a $80,000 policy and another for a $50,000 policy.
"How in the world did you do that?" they asked.
"I told you I'm the world's best salesman, I can sell anyone...anywhere...anytime."
"Did you get a urine sample?" they asked him.
"Why's that?" he asked.
"Well, if you sell a policy over $40,000 the company requires a urine sample. Take these two bottles and go back and get urine samples."
He was gone for about eight hours and then he walks in with two five gallon buckets, one in each hand. He sets the buckets down and reaches in his shirt pocket and produces two bottles of urine and sets them on the desk and says, "Here's Mr. Cunningham's and this one is Mr. Stroman's."
"That's good," they said, "but what's in those two buckets?"
"Well, I passed by the school house and they were having a state teachers convention and I sold them a group policy!"
#joke
Lottery Winner
This guy runs home and bursts in yelling, "Pack your bags honey, I just won the lottery!"
She says, "Oh wonderful! Should I pack for the beach or the mountains?"
He replies, "I don't care...Just get the hell out!"
New Way To Herd Cattle
The following is supposedly a true story. To be included, besides being true, the story is most likely strange, weird, surprising, or funny.
Wednesday, October 21, 1992
A Japanese rancher told reporters in Tokyo in July that he herds cattle by outfitting them with pocket pagers (beepers), which he calls from his portable phone.
After a week of training, the cows associate the beeping with eating and hustle up for grub.
#joke
A man took his old duck to the
A man took his old duck to the Doctor, concerned because the duck wouldn't eat.
The Doctor explained to the man that as ducks age their upper bills grow down over their lower bills and make it difficult for the animal to pick up it's food.
"What you need to do is gently file the upper bill down even with the lower bill. But you must be extra careful because the duck's nostrils are located in the upper bill and if you file down too far, when the duck takes a drink of water it'll drown."
The man goes about his business and about a week later the Doctor runs into his patient.
"Well, how is that duck of yours?" the Doctor inquires.
"He's dead." declared the heartbroken man.
"I told you not to file his upper bill down too far! He took a drink of water and drowned didn't he?" insisted the Doctor.
"No." lamented the man. "I think he was dead before I took him out of the vise."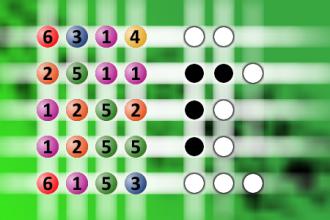 Which is a winning combination of digits?
The computer chose a secret code (sequence of 4 digits from 1 to 6). Your goal is to find that code. Black circles indicate the number of hits on the right spot. White circles indicate the number of hits on the wrong spot.
When I Was Your Age ...
The minister was passing a group of young teens sitting on the church lawn and stopped to ask what they were doing.
"Nothing much, Pastor," replied one boy. "We were just seeing who can tell the biggest lie about their sex life." "Boys, boys, boys!" he scolded. "I'm shocked. When I was your age, I never even thought about sex."
In unison they all replied, "You win!"
#joke
It seems a farm boy accide...
It seems a farm boy accidentally overturned his wagon-load of corn. The farmer who lived nearby heard the noise. "Hey Wilmer!" the farmer yelled. "Forget your troubles. Come in and have a bite with us. Then I'll help you get the wagon up."
"That's mighty nice of you," Wilmer answered. "But I don't think Pa would like me to."
"Aw, come on." the farmer insisted.
"Well okay," the boy finally agreed, and added, "But Pa won't like it."
After a hearty dinner, Wilmer thanked his host. "I feel a lot better now, but I know Pa is going to be real upset."
"Don't be foolish!" the neighbor said with a smile. "By the way, where is your Pa?"
Wilmer replied, "Under the wagon."
#joke
Whitney Cummings: Naked Photo Texts
I have girlfriends who will text message naked photos of themselves to their man. Which, I guess the whole point of that is, to be like, Heres whats waiting for you at home, big boy. If I was to do a heres whats waiting for you at home photo shoot, I would take some pictures of the frigging dishes, the bills right now. My vaginas not waiting for you at home at all.
#joke
Chuck Norris originally appear...
Chuck Norris originally appeared in the "Street Fighter II" video game, but was removed by Beta Testers because every button caused him to do a roundhouse kick. When asked about this "glitch," Chuck replied, "That's no glitch."
Shut Up and Trouble were walki...
Shut Up and Trouble were walking down a path. Trouble got lost. So, Shut Up went to the police officer. The police officer asked, "What's your name?"
He answered, "Shut Up."
He asked again "What's your name?"
"Shut Up."
The police officer asked, "Are you looking for trouble?!"
"Yeah, I lost him down a path about two miles ago."
#joke