I'm sorry, said the clerk in flower...
"I'm sorry," said the clerk in flower shop, "we don't have potted geraniums. Could you use African violets instead?"
Replied the customer sadly, "No, it was geraniums my wife told me to water while she was gone."
Funny video of the day - No Pants Subway Ride 2016
Cheerios
A 7-year-old and his 4-year-old brother are upstairs in their bedroom. The 7-year-old is explaining that it is high time that the two of them begin swearing.
When his little brother responds enthusiastically, the 7-year old says, "When we go downstairs for breakfast this morning, I'll say 'hell' and you say 'ass'." The 4-year-old happily agrees.
As the two boys are seating themselves at the breakfast table, their mother walks in and asks her older son what he would like to eat for breakfast. The 7-year-old replies, "Aw hell, Mom, I'll just have some Cheerios.
The surprised mother reacts quickly. "WHACK!"
The boy runs upstairs, bawling and rubbing his behind. With a sterner note in her voice, the mother then asks the younger son, "And what would YOU like for breakfast?"
"I don't know," the 4-year-old blubbers, "but you can bet your ASS it's not gonna be Cheerios!"
#joke
New-Fangled Ideas
An elderly priest was speaking to a younger priest. "You had a good idea to replace the first four pews with plush bucket theatre seats. It worked like a charm! The front of the church always fills first now."
As the young priest nodded, the old priest continued, "You also told me to assign a little more beat to the music because it would bring young people back to church. So, I supported you when you bought in that rock 'n' roll Gospel choir. Now, our services are consistently packed."
"Thank you, Father," answered the young priest. "I am pleased that you are open to the new ideas of youth."
"All of these ideas have been well and good," said the elderly priest. "But, I'm afraid you've gone too far with the drive-thru confessional."
"But Father," protested the young priest. "My confessions and donations have nearly doubled since I began that!"
"Yes," replied, the elderly priest. "I appreciate that, but the flashing neon sign, 'Toot 'n' Tell or Go to Hell' cannot stay on the church roof!"
-
Joke shared by Beliefnet member Lchunkylady
#joke
ISIS wine cri
ISIS wine critics are always shouting "Curse the Zinfandels!"
Indian Birth Names
This Indian boy goes to his mother one day with a puzzled look on his face.
"Say, mom, why is my bigger brother named "Mighty Storm"?
"Because he was conceived during a mighty storm."
"Why is my sister named "Cornflower"?
"Well, your father and I were in a cornfield, when we made her."
"And why is my other sister called "Moonchild"?
"We were watching the moon landing while she was conceived."
"Tell me, Torn Rubber, why are you so curious?"
#joke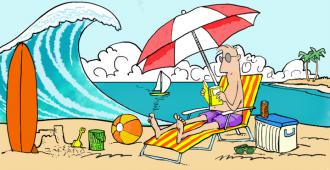 There are 9 words hidden in the picture...
There are 9 words hidden in the picture, can you find 1 of 9?
Q: What do you call a Mexican
Q: What do you call a Mexican rolling in sand?
A: A churro.
Answering Machine Message 56

Hello, this is Rip van Winkle. I'm not awake to take your call right now. Please leave your message at the sound of the snore.


The Skin Graft
A married couple was in a terrible accident where the man's face was severely burned. The doctor told the husband that they couldn't graft any skin from his body because he was too skinny. So the wife offered to donate some of her own skin.
However, the only skin on her body that the doctor felt was suitable would have to come from her buttocks.
The husband and wife agreed that they would tell no one about where the skin came from, and they requested that the doctor also honor their secret. After all, this was a very delicate matter.
After the surgery was completed, everyone was astounded at the man's new face. He looked more handsome than he ever had before! All his friends and relatives just went on and on about his youthful beauty!
One day, he was alone with his wife, and he was overcome with emotion at her sacrifice. He said, "Dear, I just want to thank you for everything you did for me. How can I possibly repay you?"
"My darling," she replied, "I get all the thanks I need every time I see your mother kiss you on the cheeks.  
A woman was having a passionat
A woman was having a passionate affair with an inspector from a pest-control company. One afternoon they were carrying on in the bedroom together when her husband arrived home unexpectedly. "Quick," said the woman to her lover, "into the closet!" and she pushed him in the closet, stark naked. The husband, however, became suspicious and after a search of the bedroom discovered the man in the closet. "Who are you?" he asked.
"I'm an inspector from Termite Busters," said the exterminator.
"What are you doing in there?" the husband asked.
"I'm investigating a complaint about an infestation of moths," the man replied.
"And where are your clothes?" asked the husband.
The man looked down at himself and said, "Those little bastards."
#joke
One night, as a couple lay ...
One night, as a couple lay down for bed, the husband gently tapped his wife on the shoulder and started rubbing her arm. His wife turned over and said, "I'm sorry honey, I've got a gynecologist appointment tomorrow and I want to stay fresh." Her husband, rejected, turned over and tried to sleep. A few minutes later, he rolled back over and tapped his wife again. This time he whispered in her ear, "Do you have a dentist appointment tomorrow too?"
#joke
I was out walking with my 4 ye...
I was out walking with my 4 year old daughter. She picked up something off the ground and started to put it in her mouth. I took the item away from her and I asked her not to do that.
"Why?" my daughter asked.
"Because it's been laying outside, you don't know where it's been, it's dirty and probably has germs" I replied.
At this point, my daughter looked at me with total admiration and asked, "Wow! How do you know all this stuff?"
"Uh," I was thinking quickly, "All moms know this stuff. It's on the Mommy Test. You have to know it, or they don't let you be a Mommy." We walked along in silence for 2 or 3 minutes, but she was evidently pondering this new information.
"OH...I get it!" she beamed, "So if you don't pass the test you have to be the daddy."
"Exactly" I replied back with a big smile on my face and joy in my heart.
#joke
Chuck Norris graduated from sc...
Chuck Norris graduated from school with a degree in Chuck Norris.
Fun at the zoo!
Little Johnny wanted to go to the zoo and pestered his parents for days. Finally his mother talked his reluctant father into taking him.
"So how was it?" his mother asked when they returned home.
"Great," Little Johnny replied.
"Did you and your father have a good time?" asked his mother.
"Yeah, Daddy especially liked it," exclaimed Little Johnny excitedly, especially when one of the animals came home at 30 to 1!"
#joke