A crusty old Marine Corps Colo...
A crusty old Marine Corps Colonel found himself at a gala event at a posh hotel, sponsored by a local liberal arts college. There was no shortage of extremely attractive, idealistic young women in attendance. One of them approached the colonel.
"Excuse me sir, but you seem to be a very serious man. Are you this way all the time? Or is there something that's bothering you?"
"No, I'm just serious by nature."
Looking over the colonel's ribbons, the young lady said, "You seem to have seen a lot of action."
"Yes, a lot of action," said the colonel rather curtly.
Finding it hard work trying to start a conversation with the colonel, the young woman said, "You know, you should lighten up a little... relax and enjoy yourself."
This didn't seem to move the colonel, who just looked at her very seriously.
Exasperated, the woman said, "You know, I hope you don't take this the wrong way, but when was the last time you had sex?"
"1955."
"Well no wonder you're the way you are! You really need to chill out a little and quit taking everything so seriously. I mean, no sex since 1955 is a little extreme!"
"I don't think so, it's only, 2130 now."
#joke
The Reverend and the golf game
The Reverend Francis Norton woke up Sunday morning and realizing it was an exceptionally beautiful and sunny early spring day, decided he just had to play golf.
So... he told the Associate Pastor that he was feeling sick and convinced him to say Mass for him that day. As soon as the Associate Pastor left the room, Father Norton headed out of town to a golf course about forty miles away. This way he knew he wouldn't accidentally meet anyone he knew from his parish.
Setting up on the first tee, he was alone. After all, it was Sunday morning and everyone else was in church!
At about this time, Saint Peter leaned over to the Lord while looking down from the heavens and exclaimed, "You're not going to let him get away with this, are you?"
The Lord sighed, and said, "No, I guess not." Just then Father Norton hit the ball and it shot straight towards the pin, dropping just short of it, rolled up and fell into the hole. It WAS A 420 YARD HOLE IN ONE! St. Peter was astonished. He looked at the Lord and asked, "Why did you let him do that?"
The Lord smiled and replied, "Who's he going to tell?"
#joke
Funny video of the day - Car Drives Itself - Throwback Thursday
Business One-liners 33
Some of it plus the rest of it is all of it.
Some see things as they are and ask 'why?'; I dream of things that never were and ask 'why not?'" - George Bernard Shaw
Someone who thinks logically is a nice contrast to the real world.
Sometimes I think we are alone in the universe. Sometimes I think we are not. In either case, the thought is quite staggering.
Sometimes too much drink is not enough.
Sometimes you're the bird, and sometimes you're the windshield.
Speak softly and own a big, mean doberman.
Stay in with the outs.
Success always occurs in private, and failure in full public view.
Success can be insured only by devising a defense against failure of the contingency plan.
#joke
A Recently Spotted Bumper Sticker...
"God please grant me chastity, but not just yet."
- St. Augustine
Clothes you can't take o
Clothes you can't take off aka linger-y.
A women accompanied her husban
A women accompanied her husband to the doctor's office. After his checkup, the doctor called the wife into his office alone. He said, "If you don't do the following, your husband will surely die:
1. Each morning , fix him a healthy breakfast.
2. Be pleasant and make sure he is in a good mood.
3. For lunch, make him a nutritious meal.
4. For dinner, prepare him an especially nice meal.
5. Don't burden him with chores as he probably had a hard day.
6. Don't discuss your problems with him.
On the way home, the husband asked his wife what the doctor said to her. "You're going to die," she replied.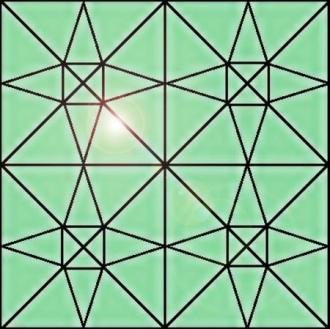 Can you find out the number ...
Can you find out the number of triangles present in the given image?
One Good Deed
A guy just died and he's at the pearly gates, waiting to be
admitted, while St. Peter is leafin' through this Big Book to
see if the guy is worthy.
St. Peter goes through the Book several times, furrows his
brow and says to the guy, 'You know, I can't see that you
ever did anything really bad in your life, but you never did
anything really good either. If you can point to even one
REALLY GOOD DEED-- you're in.'
The guy thinks for a moment and says, 'Yeah, there was this
one time when I was driving down the highway and saw a giant
group of Biker Gang
Rapists assaulting this poor girl. I slowed down my car to
see what was going on and sure enough, there they were, about
50 of 'em ripping the
clothes off this terrified young woman.
Infuriated, I got out of my car, grabbed a tire iron out of
my trunk, and walked up to the leader of the gang, a Huge Guy
with a studded leather
jacket and a chain running from his nose to his ear. As I
walked up to the leader, the Biker Gang Rapists formed a
circle around me. So, I ripped the leader's chain off his
face and smashed him over the head with the tire iron. Layed
him out. Then I turned and yelled at the rest of them, 'Leave
this poor innocent girl alone! You're all a
bunch of sick, deranged animals! Go home before I teach you
all a lesson in pain!'
St. Peter, impressed, says, 'Really? When did this happen?'
'Oh, about two minutes ago.'
#joke
At school, Little Johnny's cl
At school, Little Johnny's classmate tells him that most adults are hiding at least one dark secret, so it's very easy to blackmail them by saying, "I know the whole truth." Little Johnny decides to go home and try it out.
Johnny's mother greets him at home, and he tells her, "I know the whole truth." His mother quickly hands him $20 and says, "Just don't tell your father." Quite pleased, the boy waits for his father to get home from work, and greets him with, "I know the whole truth." The father promptly hands him $40 and says, "Please don't say a word to your mother."
Very pleased, the boy is on his way to school the next day when he sees the mailman at his front door. The boy greets him by saying, "I know the whole truth." The mailman immediately drops the mail, opens his arms, and says, "Then come give your Daddy a great big hug!"
#joke
"To curb wastage of w
"To curb wastage of water during showers everyone at the hostel was given a shower cap!"
5 Blondes celebrate
Five blondes go into a bar and one of them says to the bartender, "A round of drinks for me and my friends."
They get their drinks and the raise their glasses to a toast of, "To 51 days!" and they drink.
The "head blonde" asks the bartender to set them up again.
Again, the blondes toast "To 51 days!" and they drink. After they order a third round, the bartender says that he has to ask what the toast means.
The head blonde says, "We just finished a jigsaw puzzle. On the box it said, "two to four years" and we finished it in 51 days".
Hymns for All Professions
Dentist's Hymn: Crown Him with Many Crowns
Weatherman's Hymn: There Shall Be Showers of Blessings
Contractor's Hymn: The Church's One Foundation
Tailor's Hymn: Holy, Holy, Holy
Golfer's Hymn: There's a Green Hill Far Away
Politician's Hymn: Standing on the PromisesOptometrist's Hymn: Open My Eyes That I Might See
IRS Agent's Hymn: I Surrender All
Gossip's Hymn: Pass It On
Electrician's Hymn: Send The Light
Shopper's Hymn: Sweet By and By
Realtor's Hymn: I've Got a Mansion, Just Over the Hilltop
Massage Therapist's Hymn: He Touched Me
Doctor's Hymn: The Great Physician

Catsup
A woman was trying hard to get the catsup to come out of the bottle. During her struggle the phone rang so she asked her four-year-old daughter to answer the phone.
"It's the minister, Mommy" the child said to her mother.
Then she added, "Mommy can't come to the phone right now. She's hitting the bottle."
#joke
This guy was on the side of th...
This guy was on the side of the road hitch hiking on a very dark night and in the middle of a storm. The night was roiling and no car went by.
The storm was so strong he could hardly see a few feet ahead of him. Suddenly, he saw a car coming towards him and stop. The guy, without thinking about it, got in the car and closed the door - and only then realized that there's nobody behind the wheel!
The car starts very slowly. The guy looks at the road and sees a curve coming his way. Scared, he starts to pray, begging for his life.
He hasn't come out of shock when, just before the car hits the curve, a hand appears thru the window and moves the wheel.
The guy, paralyzed in terror, watched how the hand appears every time they are approaching a curve.
The guy, gathering strength, gets out of the car and runs all the way to the nearest town. Wet and in shock he goes into a cantina, asks for two shots of tequila, and starts telling everybody about the horrible experience he just went through.
A silence enveloped everybody when they realize the guy was crying and wasn't drunk.
About half an hour later two guys walked in the same cantina and one said to the other, "Look, Pepe, that's the asshole that got in the car while we were pushing it!"
#joke