Happy Thanksgiving
Check out our latest
Thanksgiving jokes
and quotes on:
Thanksgiving jokes collection
"What do you call key
"What do you call keys born on the same day? Twinkies!"
I recently had a visitor from...
I recently had a visitor from the state of Texas. For three days all I heard from him was "In Texas we have the best this, the largest that, the fastest that," etc. It eventually became very annoying.
Being from Niagra Falls, I thought I could outdo him by showing him the "Mighty Niagara", knowing there was nothing in Texas that could compare to this "Wonder of Water and Power".
While standing at the brink watching millions of gallons of water rushing over, I noticed the look of awe in his eyes. It was then I asked him: "Do you have anything like this in Texas?"
He waited a moment before he answered: "No, but we have a plumber that could fix it."
#joke
Funny video of the day - Best Videos of the Month January 2016
Saint Peter (Pun)
Three men die in a car accident Christmas Eve. They all find themselves at the pearly gates waiting to enter heaven. On entering they are told that they must present something "Christmassy." in order to get in.
The first man searches his pocket, and finds some pine needles from the family's Christmas tree. He is let in.
The second man presents a bow and some ribbon, from presents that were opened earlier in that night. So he is also allowed in.
The third man pulls out a pair of panties. Confused at this last gesture, St. Peter asks, "How do these represent Christmas?"
To which he replies, "Oh, . . . They're Carol's."
Testing A New Recruit

Police Chief: As a recruit, you'll be faced with some difficult issues. What would you do if you had to arrest your mother?
New Recruit: Call for backup!


E-mail Me a Prayer
I had been teaching my three-year-old daughter, Caitlin, the Lord's Prayer. For several evenings at bedtime, she would repeat after me the lines from the prayer.
Finally, she decided to go solo. I listened with pride as she carefully enunciated each word, right up to the end of the prayer:
"Lead us not into temptation," she prayed, "but deliver us some e-email. Amen."
#joke
A couple arrived at town hall
A couple arrived at town hall seconds before closing time, and caught ajudge just as he was about to leave, and asked him to marry them. Heasked if they had a license and, when they didn't, sent them off to getone.
They caught the town clerk just as he was locking up, and got thelicense from him. When they got back to the judge, he pointed out theyhad filled the names in backwards -- his where hers belonged and viceversa. They rushed back to the clerk's office, caught him again, and gotanother license.
This time, the judge noticed that the clerk had filled in the date inthe wrong format. Again they catch the clerk... After five reissuedlicenses, the judge is finally satisfied.
Judge: "I hope you appreciate why I made you keep going back. If thereare irregularities in the license, your marriage would not be legal, andany children you might have would be technical bastards."
Groom: "That's funny - that's just what the clerk called you."
#joke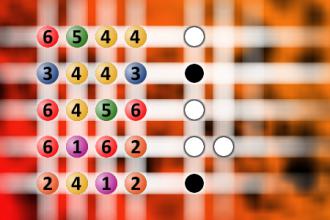 Find the right combination
The computer chose a secret code (sequence of 4 digits from 1 to 6). Your goal is to find that code. Black circles indicate the number of hits on the right spot. White circles indicate the number of hits on the wrong spot.
What do peroxide blo
What do peroxide blonds and black men have in common?
A: They both have black roots.
Who pushed the forward button on my weekend
Alright… Who pushed the forward button on my weekend?
Q: What's the difference betw
Q: What's the difference between a guitar and a fish?
A: You can tune a guitar, but you can't tuna fish.
Nuns confession
A guy is riding the bus when at a stop, the most beautiful woman he has ever seen gets on. The only problem is that she is a nun.
He decides to approach her anyway. "Sister, you are the most beautiful woman I've ever seen and I must have sex with you." he says.
"I'm sorry but I've given my body to God" she replies and then leaves.
Suddenly the bus driver turns around to the guy and says "I know a way you can get her in the sack."
The bus driver tells the guy about how the nun goes to confessional everyday at 3 in the afternoon. The bus driver tells the guy his plan and the guy leaves happy knowing he's going to get some.
The next day at 3 the guy is in the booth dressed as a priest. When the nun approaches in the darkness he says "Sister, God has told me I must have sex with you."
She replies "Well if God has said it, we must do it. However because of my strong commitment to God I will only take it up the ass."
The guy figures this isn't a problem and proceeds to have the best sex ever. After it is over he whips off his outfit and says "Surprise I'm the guy on the bus"
With that the nun turns around and says "Surprise I'm the bus driver."
#joke
Refrigerator Man
A woman goes to a psychiatrist and says, ''Doctor, you've got to do something about my husband -- he thinks he's a refrigerator!''
''I wouldn't worry too much about it,'' the doctor replies. 'Lots of people have harmless delusions. It will pass.''
''But you don't understand,'' the woman insists. ''He sleeps with his mouth open, and the little light keeps me awake.''
Why did the dude only smell go...
Why did the dude only smell good on the right side? He didn't know where to buy Left Guard!