Thanksgiving
is coming, be ready, check out our latest
Thanksgiving jokes
and quotes on:
Thanksgiving jokes collection
The man's pants zip...
"The man's pants zipper broke, but he fixed it on the fly."
A racehorse owner was furious
A racehorse owner was furious with his jockey after the horse he rode came in dead last.
"Could you not have raced any faster?" he raged.
"Sure I could have," replied the jockey, "but you know we are supposed to stay on the horse."

Funny video of the day - Top 5 First World Problems
And God created woman...
Adam was walking around the Garden of Eden feeling very lonely, so God asked Adam, "What is wrong with you?" Adam said he didn't have anyone to talk to. God said he was going to give him a companion and it would be a woman.
He said, "This person will cook for you and wash your clothes, she will always agree with every decision you make. She will bear you children and never ask you to get up in the middle of the night to take care of them. She will not nag you and will always be the first to admit she was wrong when you've had a disagreement. She will never have a headache and will freely give you love and passion whenever needed."
Adam asked God, "What will a woman like this cost?"
God said, "An arm and a leg."
Adam said "What can I get for just a rib?"
....The rest is history
#joke
Highly Religious Horse
There's this guy who had been lost and walking in the desert for about 2 weeks. One hot day, he sees the home of a missionary. Tired and weak, he crawls up to the house and collapses on the doorstep. The missionary finds him and nurses him back to health. Feeling better, the man asks the missionary for directions to the nearest town. On his way out the backdoor, he sees this horse. He goes back into the house and asks the missionary, "Could I borrow your horse and give it back when I reach the town?"
The missionary says, "Sure but there is a special thing about this horse. You have to say 'Thank God' to make it go and 'Amen' to make it stop."
Not paying much attetion, the man says, "Sure, ok."
So he gets on the horse and says, "Thank God" and the horse starts walking. Then he says, "Thank God, thank God," and the horse starts trotting. Feeling really brave, the man says, "Thank God, thank God, thank God, thank God, thank God" and the horse just takes off. Pretty soon he sees this cliff coming up and he's doing everything he can to make the horse stop.
"Whoa, stop, hold on!!!!"
Finally he remembers, "Amen!!"
The horse stops 4 inches from the cliff. Then the man leans back in the saddle and says, "Thank God."
#joke
A Recently Spotted Bumper Sticker:
"God doesn't want shares of your life; he wants controlling interest!"
All of his life George from Ca
All of his life George from Cape Breton had heard stories of an amazing family tradition. It seems that his father, grandfather and great-grandfather had all been able to walk on water on their 21st birthday. On that day, they'd walk across the lake to the boat club for their first legal drink.
So when George's 21st birthday came around, he and his pal Corky took a boat out to the middle of the lake. George stepped out of the boat and nearly drowned! Corky just managed to pull him to safety.
Furious and confused, George went to see his grandmother. "Grandma, it's my 21st birthday, so why can't I walk across the lake like my father, his father, and his father before him?"
Granny looked into George's eyes and said, "Because your father, grandfather and great grandfather were born in January, you were born in July."
#joke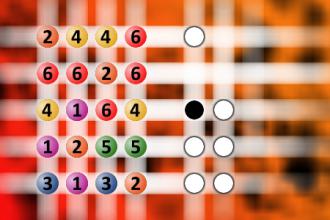 What a winning combination?
The computer chose a secret code (sequence of 4 digits from 1 to 6). Your goal is to find that code. Black circles indicate the number of hits on the right spot. White circles indicate the number of hits on the wrong spot.
Business one-liners 77
It does not matter if you fall down as long as you pick up something from the floor while you get up.
It doesn't matter whether you win or lose, until you lose.
It is a dog-eat-dog world out there and I'm wearing Milk Bone underwear.
It is a poor workman who blames his tools.
It is better to be part of the idle rich class than be part of the idle poor class.
It is better to remain silent and thought a fool than it is to speak and remove all doubt. Moral: think before you speak. Or engage the brain when engaging the mouth.
It is easier to get forgiveness than it is to get permission.
It is easier to take it apart than to put it back together.
It is important to keep an open mind, but not so open that your brains fall out.
It is impossible to build a foolproof system, because fools are so ingenious.
It just doesn't get any Beta than this.
#joke
A couple are rushing into the...
A couple are rushing into the hospital because the wife is going into labor. As they walk, a doctor says to them that he has invented a machine that splits the pain between the mother and father. They agree to it and are led into a room where they get hooked up to the machine. The doctor starts it off at 20% split towards the father. The wife says, "Oh, that's actually better." The husband says he can't feel anything. Then the doctor turns it to 50% and the wife says that it doesn't hurt nearly as much. The husband says he sill can't feel anything. The Doctor, now encouraged, turns it up to 100%. The husband still can't feel anything, and the wife is really happy, because there is now no pain for her. The baby is born. The couple go home and find the postman groaning in pain on the doorstep.
the job search
A blonde walks into the police department looking for a job. The officer asks her some questions:
Officer: What's 2 + 2?
Blonde: Ummm... 4!
Officer: What's the square root of 100?
Blonde: Ummm... 10!
Officer: Good! Now, who killed Abraham Lincoln?
Blonde: Ummm... I dunno.
Officer: Well, you can go home and think about it. Come back tomorrow.
The blonde goes home and calls up one of her friends, who asks her if she got the job.
The blonde replies excitedly, "Not only did I get the job, I'm already working on a murder case!"
A wife was making a breakfast ...
A wife was making a breakfast of fried eggs for her husband.
Suddenly, her husband burst into the ki tchen.
"Careful," he said, "CAREFUL! Put in some more butter! Oh my GOD!
You're cooking too many at once. TOO MANY! Turn them! TURN THEM NOW! We need more butter. Oh my GOD! WHERE are we going to get MORE BUTTER? They're going to STICK! Careful . CAREFUL! I said be CAREFUL! You NEVER listen to me when you're cooking! Never! Turn them! Hurry up! Are you CRAZY? Have you LOST your mind? Don't forget to salt them. You know you always forget to salt them.
Use the salt. USE THE SALT! THE SALT!"
The wife stared at him. "What in the world is wrong with you? You think I don't know how to fry a couple of eggs?"
The husband calmly replied, "I just wanted to show you what it feels like when I'm driving."
#joke
Good advice...
A mother mouse and a baby mouse are walking along when, all of a sudden, a cat attacks them. The mother mouse goes, "BARK!!" and the cat runs away.
"See?" says the mother mouse to her baby, "how important it is for you to learn a foreign language?"
The Buddhist Computer Addict
Q: What happens when a Buddhist becomes totally absorbed with the computer he is working with?
A: He enters Nerdvana.
Bertha Belch and Other Bloopers

Church Bulletin



"Bertha Belch, a missionary from Africa will be speaking tonight at Memorial Church. Come tonight and hear Bertha Belch all the way from Africa.


Ushers will eat latecomers.

Miss Mason sang, "I Will Not Pass This Way Again," giving obvious pleasure to the congregation.


The cost for attending the Fasting and Prayer Conference includes meals.

r>

r>
Church Marquee
r>


Worry is interest paid on trouble before it is due.


Under same management for thousands of years.


This joke was reprinted from "
Laugh Yourself Healthy
" by Charles and Frances Hunter, with permission of
Strang Communications
. Copyright 2008. All rights reserved.
#joke