"Where do witches bak
"Where do witches bake their cookies? In a coven."
A veterinarian was feeling ill
A veterinarian was feeling ill and went to see her doctor. The doctor asked her all the usual questions, about symptoms, how long had they been occurring, etc., when she interrupted him:
"Hey look, I'm a vet - I don't need to ask my patients these kind of questions, I can tell what's wrong just by looking. Why can't you?"
The doctor nodded, looked her up and down, wrote out a prescription, and handed it to her and said, "There you are. Of course, if that doesn't work, we'll have to have you put down."
Funny video of the day - Toddler GoPro Hide and Seek
I've been circumcised....
Two five year old boys are standing at the potty to pee.
One says, "Your thing doesn't have any skin on it!"
"I've been circumcised." the other one says.
"What's that mean?"
"It means they cut the skin off the end."
"How old were you when it was cut off?"
"My Mom said I was two days old."
"Did it hurt?"
"You bet it hurt, I couldn't walk for a year!"
#joke
Humor About The Elderly
OLD BASKETBALL players never die, they just go on dribbling
OLD BEEKEEPERS never die, they just buzz off
OLD BIKERS never die, but they're hard on tires
OLD BIOLOGISTS never die, they just ferment away
OLD BLONDES never fade, they just dye away
OLD BOOKKEEPERS never die, they just lose their figures
OLD BOOKS never die, they just go out-of-print
OLD BOWLERS never die, they just end up in the gutter
OLD BRAKES never die, they just grind down
OLD BRIDGE PLAYERS never die, they just lose their finesse
OLD BRIDGE PLAYERS never die, they just sit around on their fat aces
OLD BUDGETS never die, they are fillibustered
OLD BUREAUCRATS never die, they just waste away
OLD BURGLARS never die, they just steal away
OLD BUSINESSES never die, they just get consolidated
Miss Beatrice, the church orga...
Miss Beatrice, the church organist, was in her eighties and had never been married. She was admired for her sweetness and kindness to all.
One afternoon the pastor came to call on her and she showed him intoher quaint sitting room. She invited him to have a seat while she prepared tea. As he sat facing her old pump organ, the young minister noticed a cut-glass bowl sitting on top of it. The bowl was filled with water. In the water floated, of all things, a condom! When she returned with tea and scones, they began to chat. The pastor tried to stifle his curiosity about the bowl of water and its strange floater, but soon it got the better of him and he could no longer resist.
"Miss Beatrice", he said. "I wonder if you would tell me about this?" pointing to the bowl.
"Oh, yes" she replied, "isn't it wonderful? I was walking through the park a few months ago and I found this little package on the ground. The directions said to place it on the organ, keep it wet and that it would prevent the spread of disease. Do you know I haven't had the flu all winter?"
#joke
Insults
A man and his wife, who was 8 months pregnant, were doing some holiday shopping in crowded mall. They had been trading humorous insults for most of the evening, and the man decided that he was going to really get her. He announced in a loud voice, "If you don't stop insulting me, I'm not going to marry you!"
He was disappointed that only a few people around them reacted, but his wife managed to bring down the house when she responded, "That's OK, I won't tell you who the father is!"
#joke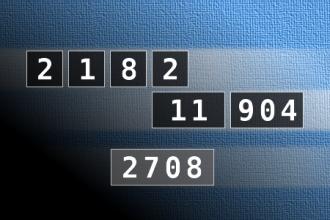 Calculate the number 2708
NUMBERMANIA: Calculate the number 2708 using numbers [2, 1, 8, 2, 11, 904] and basic arithmetic operations (+, -, *, /). Each of the numbers can be used only once.
A man was having premature eja
A man was having premature ejaculation problems so he went to the doctor. The doctor said, "When you feel like you are getting ready to ejaculate, try startling yourself." That same day the man went to the store and bought himself a starter pistol and ran home to his wife. That night the two were having sex and found themselves in the 69 position. The man felt the urge to ejaculate and fired the starter pistol. The next day he went back to the doctor who asked how it went. The man answered, "Not well. When I fired the pistol, my wife pooped on my face, bit three inches off my penis, and my neighbor came out of the closet with his hands in the air."
10 Christian Pick-up Lines
* Nice Bible.
* God told me to come and meet you.
* Excuse me, I believe one of your ribs belongs to me.
* I know a church where we could go and talk.
* What are your plans for tonight? Feel like a Bible study?
* Nice bracelet. Who would Jesus date? Oh, I mean, what would Jesus do?
* Do you believe in divine appointment?
* Have you ever tried praying at a drive-in movie before?
* Christians kiss before parting–it's an old Jewish tradition.
* Would you happen to know a Christian woman that I could love with all my heart and wait on hand and foot?
-
Joke shared by Beliefnet member qtbabe
#joke
There were four men, one from ...
There were four men, one from China, Greenland, America and one
from Australia.
One night they were bragging on how good their country are. The
Chinese said, "my country is the best cause we have the great
wall."
The Greenlander said, "no, mine is the best as we have the
greenest greenest grass."
The American said, "no, mine is the best as we have our flag 50
stars and 50 stripes."
The Australian said, "no, mine is the greatest country as we
have the kangaroo which will jump over the great wall, shit on
the greenest greenest grass and wipe its ass on the American
flag."
#joke
Angry Witch
Q. What do you call an angry Witch?
A. Ribbit

An old man goes to the Wizard ...
An old man goes to the Wizard to ask him if he can remove a curse he has been living with for the last 40 years.
The Wizard says, "Maybe, but you will have to tell me the exact words that were used to put the curse on you."
The old man says without hesitation, "I now pronounce you man and wife."
#joke
Son of a lawyer
While two families were waiting in line to see the Washington Monument, their two 5-year-old boys were getting acquainted.
"My name is Joshua. What's yours?" asked the first boy.
"Adam," replied the second.
"My daddy is a doctor. What does YOUR daddy do for a living?" asked Joshua.
Adam proudly replied, "My daddy is a lawyer."
"Honest?" asked Joshua.
"No, just the regular kind," replied Adam.
A tour bus load full of noisy
A tour bus load full of noisy tourists arrives at Runnymede, England.
They gather around the guide who says, "This is the spot where the barons forced King John to sign the Magna Carta."
A man pushing his way to the front of the crowd asks, "When did that happen?"
"1215," answers the guide.
The man looks at his watch and says, "Shoot! Just missed it by a half hour!"
#joke