Happy New Year 2021!!
In your lifetime you will find and meet the person
In your lifetime you will find and meet the person who will love you more than anybody you have ever known and will know. They will love you with every bit of energy and soul. They will sacrifice, surrender and give so much that it scares you. Someday you'll know who that is. Sometimes people realize who it was.
#joke
"Land surveyors do no
"Land surveyors do not retire they scale down and plan their final plot before they get landed into it!"
Funny video of the day - Best Videos Compilation Week 3 February 2016
Joe's wife bought a new line...
Joe's wife bought a new line of expensive cosmetics guaranteed to make her look years younger. After a lengthy sitting before the mirror applying the "miracle" products, she asked, "Darling, honestly, what age would you say I am?"
Looking over her carefully, Joe replied, "Judging from your skin, twenty; your hair, eighteen; and your figure, twenty five."
"Oh, you flatterer!" she gushed.
"Hey, wait a minute!" Joe interrupted. "I haven't added them up yet."
#joke
We thought you were a ghost!
Two men were walking home after a party and decided to take a shortcut through the cemetery just for laughs. Right in the middle of the cemetery they were startled by a tap-tap-tapping noise coming from the misty shadows. Trembling with fear, they found an old man with a hammer and chisel, chipping away at one of the headstones.
"Holy cow, Mister," one of them said after catching his breath,
"You scared us half to death -- we thought you were a ghost!
What are you doing working here so late at night?"
"Those fools!" the old man grumbled. "They misspelled my name!"
#joke
A Dollar for Sunday School
A little boy came home eating a big candy bar. Seeing the candy bar, his mother remembered he had already spent all his allowance money. Surprised, she asked him where he got it.
"I bought it at the store with the dollar you gave me," he said."But that dollar was for Sunday School," his mother replied.
Smiling, the boy said, "I know, Mom, but the Pastor met me at the door and got me in for free!"
#joke
Most Italians live outside the
Most Italians live outside the capital. Romelessness is a huge problem.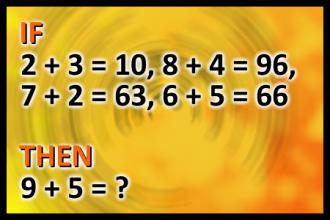 What is 9 + 5?
If 2+3=10, 8+4=96, 7+2=63, 6+5=66 then 9+5=?
A man walks into a bar, he see
A man walks into a bar, he sees two pieces of meat hanging from the ceiling. He asks the barman, "Why are those two pieces of meat hanging from the ceiling?"
The barman replies, "It's a competition which we run every night. If you can jump up and touch the meat, you get free drinks for the whole night."
"Great!" says the man, "but what if I can't reach them?"
"Then you have to buy all the drinks for everyone all night," the barman answers.
"Do you want to try?"
"No, but thanks anyway."
"Why not?", asks the barman.
"The steaks are too high."
#joke #walksintoabar
A woman seated herself in the
A woman seated herself in the psychiatrists office. "What seems to be the problem?" the doctor asked. "Well, I, uh," she stammered. "I think I, uh, might be a nymphomaniac." "I see," he said. "I can help you, but I must advise you that my fee is $80 an hour." "That's not bad," she replied. "How much for all night?"
Fly, Soup, the Usual
A diner yelled out, "Waiter! What's this fly doing in my soup?"
After taking a close look at the soup, the waiter said, "It looks like the breaststroke, sir."
A Yogi Walked into a Pizza Parlor…
What did the Yogi say when he walked into the Zen Pizza Parlor?
"Make me one with everything."
When the Yogi got the pizza, he gave the proprietor a $20 bill. The proprietor pocketed the bill. The Yogi said "Don't I get change?"
The proprietor said, "Change must come from within."

#joke
Bank Robber Stealing
The following is supposedly a true story. To be included, besides being true, the story is most likely strange, weird, surprising, or funny.
LOS ANGELES TIMES, December 9:
A man walked into a branch of the Antelope Valley Bank and handed a teller a note demanding money. The man had one hand in his pocket, as if holding a gun, so the teller began handing over the contents of her cash drawer.
When she had forked over $7,000 the robber said, "That's enough" and walked out the door. It's hard to find a bank robber who knows when he's had enough.
God and Eve in the Garden
One day in the Garden of Eden, Eve calls out to God...
"Lord, I have a problem!"
"What's the problem, Eve?"
"Lord, I know you've created me and have provided this
beautiful garden and all of these wonderful animals, and that
hilarious comedic snake, but I'm just not happy."
"Why is that, Eve?" came the reply from above.
"Lord, I am lonely. And I'm sick to death of apples."
"Well, Eve, in that case, I have a solution. I shall create
a man for you."
"What's a 'man,' Lord?"
"This man will be a flawed creature, with many bad traits.
He'll lie,>cheat, and be vainglorious; all in all, he'll give
you a hard time. But, he'll be bigger, faster, and will like
to hunt and kill things. He will look silly aroused, but
since you've been complaining, I'll create him in such in a
way that he will satisfy your ah, physical needs. He'll be
witless and will revel in childish things like fighting and
kicking a ball about. He won't be too smart, so he'll also
need your advise to think properly.
"Sounds great," says Eve, with an ironically raised eyebrow.
"What's the catch, Lord?"
"Yeah, well.... you can have him on one condition."
"What's that, Lord?"
"As I said, he'll be proud, arrogant, and self-admiring . .
. So you'll have to let him believe that I made him first . .
. So, just remember . . . it's our secret . . . Woman to
woman."
#joke
Pete Holmes: I Love New York
There are so many people in this city, so much happening, that its impossible to tell if your apartment is haunted. Think about that, thats true. Cause you can hear anything, at any hour -- theres always something to blame it on.